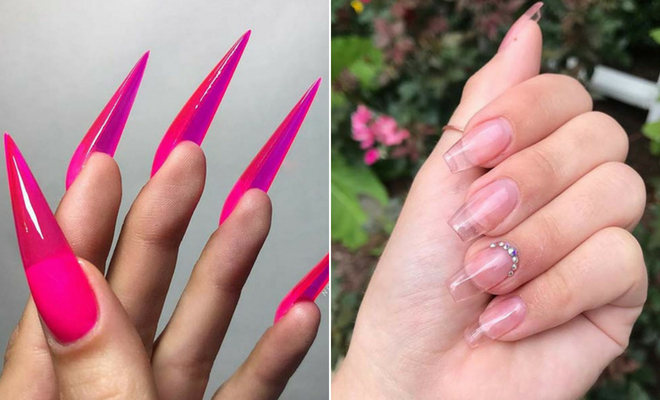 Instagram
Beauty
21 Jelly Nails You Have To Try
By
|
Translucent nails have recently been put into the style spotlight by Kylie Jenner. Ever since she was seen rocking jelly nails on Instagram it has become one of the must-have looks of the season. We love these creative and stylish nails and think you will too. So, we have put together some of the best jelly nail ideas of Instagram. We have bold pink nails, multi colors, sparkly nail designs and more. Take a look, you will find a way to wear this trend no matter what your style.
1. Statement Stiletto Jelly Nails
The first jelly nail idea we have to show you is this statement look. The stiletto nails are long and are a vibrant pink shade. Nails like these are perfect for the ladies who want a manicure that will wow. You can recreate this look or use shorter nails too. Either way a color like this will be amazing!
2. Clear Jelly Nails
Next, we have clear nails with a gem accent design. We love the clear jelly idea because it looks chic and stylish. It would be great for the ladies that want to try the trend but don't like bold colors. You can recreate with or without the gems.
3. Summer Orange Jelly Nails
Bring a summer vibe to your nails with jelly nails like these. The nails are long and are a vibrant orange tone. An orange color like this will suit all nail lengths and shapes. Jelly nails like these would also look amazing with a gem accent design too.
4. Two Color Design Idea
If you have spotted two colors that you just cannot decide between then why not wear them both? Here we have a stylish jelly manicure that features two different nail colors. We love the bold tones that have been put together, you can use similar shades to these or two different ones. Wear two vibrant colors for a statement look or two softer colors for subtler nails.
5. Pretty Pink Glitter Idea
Love sparkly, glam nails? Then our next pick is for you! Here we have pink glitter jelly nails. We love the glitter and the light shade of pink because it is such a pretty combination. The look was created with Nails By… Gel Polish in Heartbreaker with a sprinkle of glitter over the top.
6. Trendy Turquoise Jelly Nails
Add a splash of color to your look with trendy turquoise nails like these! The vibrant shade really suits the jelly style. Turquoise is perfect for the summer, vacations and the color will suit nails in all shapes and lengths. Maybe even try adding gems or glitter for some stylish sparkle.
7. Blue Jelly Nails with Shimmery Accent Nail
Look beautiful in blue with our next idea. The jelly nails are a light blue tone with a shimmering accent nail. The glitter and blue compliment each other perfectly. Recreate the look featured or just wear a similar blue shade without the glitter. Either way you will have a gorgeous manicure.
8. Classic Red Jelly Nail Idea
Red is classic nail color that will never go out of style. Here we have an idea that features a beautiful red shade on short jelly nails. As you can see, the jelly nails give the color a modern update. Red will suit nails long and short. Choose long nails if you want to make more of an impact.
9. Textured Purple Jelly Nails
Textured nails have become very popular and with trendy ideas like this one we can see why! Here we have a light purple jelly manicure with a textured accent nail. The accent design is reminiscent of a unicorn horn. We love this look because it can be recreated in some many ways. Try different colors or even add gems or glitter.
10. Jelly Nails with Rhinestones
Next, we have a super glam idea. These jelly nails are long and bright pink with a sparkly accent nail. The accent design was created with gems in different shapes and sizes resulting in a stylish twinkling look. You can recreate this manicure or create a new crystal design.