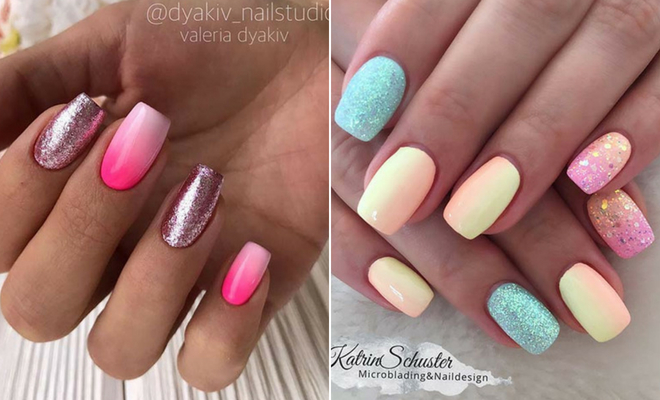 Instagram
Beauty
65 Cute & Stylish Summer Nails for 2020
By
|
31. Vibrant Multi Color Nails
Next, we have another nail look that features multiple bright shades. The nails are long and each one is painted in two vibrant colors. All of the colors then create a gradient design. This is such a trendy nail idea and it will look amazing on nail length and shape. Recreate a manicure with similar colors or choose your own summery gradient.
32. Matte Neon Orange Nails
Another cool nail trend you could try this summer is neon. Neon nail colors are one of the must-have looks and this next manicure shows how to wear it in style! The nails are long, coffin shaped and are painted in a neon orange shade. This is a bold and statement making idea. Try a similar orange shade or choose a different neon color.
33. Matte Watermelon Nail Design
Looking for a unique nail idea? Then this is for you. Here we have a long, matte manicure that features a cute watermelon design. Most of the nails are painted in vibrant pink shade with a matte finish, with one accent nail that features watermelon design. It is a fun and vibrant look that is perfect for the summer. The watermelon on the accent nail was hand-drawn but you can buy watermelon stickers so the design is even easier to recreate.
34. Neon Star Nail Design
Our next idea was inspired by Kylie Jenner's latest manicure. The nails are a light shade with a stunning star design over the top. Each nail is different but you can just repeat the same pattern if you prefer. A manicure like this is beautiful and it would be perfect for the warmer season.
Here is a YouTube tutorial for a similar nail design:
35. Palm Tree Nail Art
Next, we have another tropical look to show you. These nails feature neon v tips and there is an accent nail too. The accent nail has a sunset background with a black palm tree. It is such a funky and vibrant design. There are tutorials online to help you create v tips and you can buy palm tree nail stencils online.
36. Colorful Glitter Ombre Nails
Love ombre nails? Then you need to check out this next idea. The nails are nude and each one has an ombre design in a vibrant color. This is such a stylish nail design and it will be perfect for festivals and other fun summer events. Recreate the multi color ombre or choose one bright shade for all nails.
37. Glitter and Light Pink Nails
Glam up your look this summer with glitter nails like these! Most of the nails are light pink and there are two accent nails. The accent nails feature pink and white glitter ombre. This is a beautiful nail design that will suit all nail lengths and shapes. It will be perfect for a special occasion.
38. Cool Zebra Nail Design
Take a walk on the wild side and try animal print on your nails! Here is a gorgeous example! For this look, most of the nails are white and there is one zebra print accent nail. This is such a stylish look and it will be amazing for the summer season. You can create a similar design with a nail stencil. There are stencils available online in any animal print.
39. Nude Nails with Yellow Tips
The next nail idea features more trendy v tips. These nails are painted in a nude shade with neon yellow tips. It is such a cool and stylish look. We love v tips because you can try a vibrant color without being too bold. Recreate the summery yellow tips or try a bright color of your choice.
40. Stylish Purple and Pink Nails
If you are looking for a simple and stylish nail idea then this is for you. The nails are long, coffin shaped and are painted in vibrant purple and pink shades. Nails in a bold color like this will instantly make you look summer ready. Try purple like this or you can use any statement making color.
41. Rainbow Gradient Nail Design
Next, we have another summer gradient to show you. We love these nails because they remind us of a summer rainbow. For more rainbow nail designs and ideas, make sure to check out our other article here.
42. Pink and Orange Nail Design
Our next idea is bright and bold. The nails are painted in vibrant pink and orange shades. There is also an ombre accent nail and some gems too. This is a beautiful, tropical and summery manicure. It reminds us of cocktails and popsicles, so it is perfect for the summer season.
43. Pretty Pink Marble Nail Idea
Another nail art idea you can try this summer is marble. This next manicure shows a cute way to wear it. Each nail is painted in a different color including pink, white and sparkly silver. There is also one accent nail that features pink and white marble. It is a stylish look that will make your nails stand out from the crowd. There are lots of ways to create marble art and you can find tutorials online.
44. Vibrant Jelly Nails
Jelly nails are such a cool and fun look to try for the summer. The trend features nails in bright colors that are translucent. You could try a manicure like this one. These nails are a neon orange shade and this is the perfect color for the summer. Jelly nails look best when the nails are long.
45. Colorful Stripes
If you can't decide which bright color to try, then why not wear them all?! You could use all your summery colors to create stripe nail art like this. These nails are white, yellow, purple and pink. It is such a creative and unique look. Recreate colorful stripes like these or use your own color palette. Stripes can be created with nail tape.
46. Colorful Matte Stiletto Nails
Next, we have a colorful mani to show you. Here we have long stiletto nails. One hand has nails with pink and red shades. While the other hand uses pink, blue and yellow colors. So, each nail is a different color. One nail is also adorned with rhinestones. It is a fun, rainbow design that will add a pop of color to all of your summer outfits.
47. Nude Nails with Rainbow Tips
This next nail idea is so cute and vibrant! The mani features nude nails and each one has a rainbow colored tip. We love this because you can try the bolder colors but in a more subtle way. You can try the rainbow stripes or you can choose ten or five rainbow shades and paint the whole tip of each nail in a different color.
48. Pink and Orange Ombre with Rhinestones
If you like to wear bright nail colors, then you need to take a look at this. Here we have a vibrant ombre design. The nails start pink and then change to orange. Some nails are also decorated with rhinestones. We love the summery colors and the rhinestones look so glam! There are ombre nail art tutorials online and rhinestones can be bought online. So, you can have a go at recreating this yourself.
49. Palm Tree Nails
Nothing says summer like palm trees and the next mani shows how to wear a palm tree design in style. All of the nails use tropical pink and orange colors. Two nails use the shades with ombre art too. The ombre nails also have black palm trees. This is a stunning mani that is perfect for the summer and vacations. You can buy palm tree nail stickers and stencils. The trees can be hand-painted if you have a steady hand.
50. Elegant Neon Pink Nails
We love this next idea! Here we have cute pink nails. Some of the nails are light pink and some are sparkly pink. It is just a pretty, fun and vibrant mani that is perfect for the spring and summer. A pink design like this will suit all nail lengths and shapes. Recreate this or you can try darker pink shades.