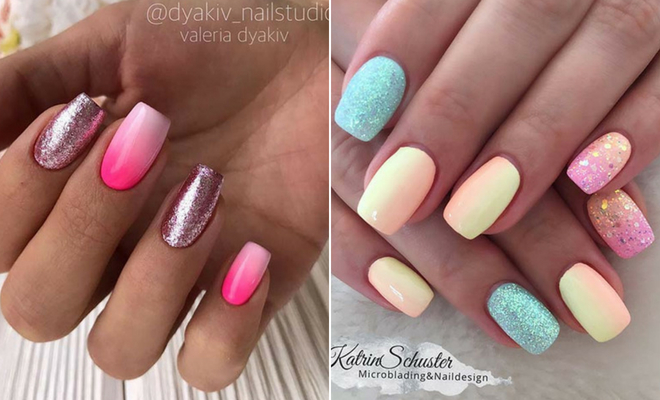 65 Cute & Stylish Summer Nails for 2020
51. Matte Pastel Nail Colors
If you love pastel colors and matte nails, then check out this ideas. Here we have six summer nail ideas. As you can see, each one features a different bright color. All of them are so summery and fun. You can wear them all separately like featured or create a rainbow mani with all of them. The colors are from GlitterDaze Space Candy Collection in shades Solar Glaze, Candy Mars, Intergalactic Sprinkles, Melted Sugar Rays, Cosmic Cake and Lunar Cravings.
52. Rainbow Gradient Nails
Next, we have another rainbow nail idea. For this look, each nail has a gradient effect from yellow to purple and back to yellow again. It is a stunning, unique and colorful mani. You can find gradient nail art tutorials online. The art will look amazing on all nail lengths and shapes. We love this vibrant nail idea.
53. Neon Ombre Nails with Glitter
The next nail idea is pink and so bright! These are long coffin nails and most of them have a different design including block color, ombre and glitter. It is a glitzy, glam and bold mani. As there is some sparkle, it would be great for nights out, parties and even summer weddings. Recreate the whole look or you can try just one or two of the designs on all nails.
54. Glitzy Pink Nails for the Summer
Love the glitzy nail ideas? If so, check this out. Each nail is different but the stand out features are the bright pink color and rhinestones. It is a sparkly and stunning mani that will make a statement in style. Nails like these are perfect for those who like vibrant nail colors and plenty of bling.
55. Purple Marble with Gold Foil
Marble art is another must-have nail look and next we have a cute way to wear it. Some nails are plain white and some are white with purple marble art. The look is finished off with gold foil. We love this because the colors are stunning, the gold foil looks luxurious and the whole design has a geode look. You can find marble art tutorials online and gold nail foils can be bought online too.
56. Nude Nails with Neon Yellow Tips
Earlier in the post we shared nude nails with colorful tips. If you liked that idea, then take a look at this. Instead of rainbow tips, these nude nails have vibrant yellow ones. This is such a fun and cute idea. Nails like these are great for those who want to try a bright color without the overall mani being too bold. A design like this will suit everyone and the sunshine yellow is perfect for the summer.
57. Peach and Pink Matte Nails
Next, we have another summery color combo to show you. These nails use dark pink and peach shades. The colors have been used on most of the nails and one nail is clear with similar colored art. It is a unique and tropical mani that will wow. You can recreate this look or you can try a lighter pink for softer and subtler design.
58. Colorful Ombre Nails with Flowers
We love this next nail idea, it is one of our favorites! Three of the nails are nude with brightly colored ombre. While the other two nails are clear with flower and butterfly sequins. The flowers are so pretty and they have a 60's look. This mani is perfect for those who like cute and quirky nail designs. You can buy flower and butterfly sequins for your nails online so you could create a similar look yourself.
59. Rainbow Ombre Nails with Glitter Stripes
If you want summer nails that will wow, then this idea is perfect for you! Here we have long coffin nails and each one has a neon ombre design which creates a rainbow look overall. If that wasn't enough, each nail also has a sparkly stripe down the center. This is such a statement making look and it is perfect for festivals and more.
60. Tropical Gradient with Butterfly Art and Rhinestones
The next idea is another one with a tropical vibe. These nails are long and most are nude with a vibrant gradient. The gradient includes pink, orange and yellow shades which creates summer sunset look. Two nails are also nude with butterfly wings. This is a stunning look that will perfect for parties, special occasions or if you want to glam up your every day look. Recreate something similar or put butterfly wings on both hands.
61. Bright and Summery Nails
Next, we have another bright and summery mani. This one features long coffin nails and most have a different design. Two nails have block color, one has ombre and the other two have a trendy foil look. We love the colors and the stylish art. These nails will make a statement this summer.
62. Neon Nail Art with Rhinestones
Neon nail colors are another must-have for summer. This mani shows a gorgeous way to wear neon. Some nails are a block color, one is nude with neon tips and one nail is covered in rhinestones. The color is amazing and the different art looks so trendy. Try this design or use a different neon color, pink or orange would look amazing.
63. Cute Heart Nails
This next mani is so cute! For this look, some nails are light pink and some nails have candy colored hearts. We love this art because it reminds us of the love heart sweets. You can recreate this or you can try adding some glitter to jazz up the nails even more. Hearts can be hand-painted or you can buy heart stencils and stickers. So, you could create a version of this yourself.
64. Pretty Pink and Orange Mani
Love the orange and pink color combo? If so, take a look at these nails. Both hands vary in design but the basic elements are there. So, some nails are nude with colorful tips, some are block color and some of the nails are sparkly. It is just a fun and vibrant nail design that will jazz up your summer outfits.
65. Short Rainbow Nail Idea
Next, we have another rainbow look. This time we have short nails and each one is painted in a bright pastel color. It is a very cute and easy to wear design. The colors will look amazing on all nail lengths and shapes to. This mani was created with polishes by Ella + Mila in shades Earth's Finest, My Rain-Beau, Team sweets, Macaruin My Diet, Hooray of Sunshine and Sugar Rush.
We hope you have found the perfect summer nails!