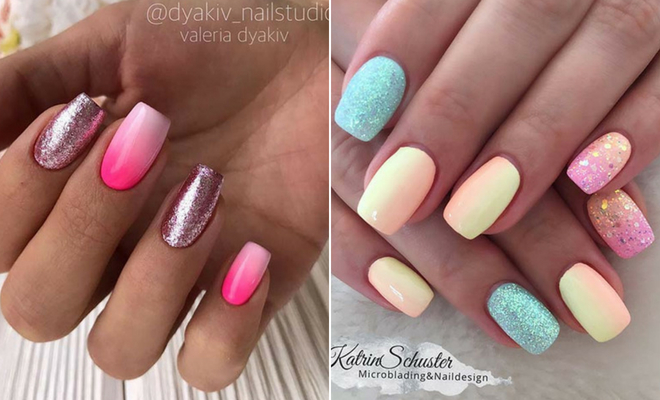 Instagram
Beauty
65 Cute & Stylish Summer Nails for 2020
By
|
11. Stylish Pink and White Nails
Looking for a creative and unique summer nail idea? Then this next pick could be for you. Here we have pink and white nail art. The colors split the nail in half with a half circle shape. This is a really cute idea that would suit any nail length and shape. You can recreate the look in different colors too.
12. Summer Glitter Nails
Blue is a great color choice for the summer and these next nails show how to wear blue in style. The nails are a dark shade with a subtle sparkle. You can just wear the glitter polish or if you feel like a challenge, then you can try the mermaid accent nail. To help you create the mermaid look, you can use a nail stencil and there are tutorials online to help you.
13. Pink and Chrome Nails
Next, we have a beautiful pink and chrome nail idea. The nails have been painted in a light pink with two chrome accent nails. Nail art like this will suit any nail length and shape. You can create the chrome look with nail polishes available online and you can choose any color combination.
14. Light Nails with Glitter Accent Nail
If you want a nail idea that is easy to create at home and looks chic and stylish, then this next idea is for you. The nails have been painted in a very light color with a silver glitter accent nail. You can recreate this look or choose an accent nail color of your choice. Stick to light colors like featured for an elegant look.
15. Pretty Polka Dot Nail Idea
Earlier in the post we featured a cute polka dot nail idea. This next pick shows how to wear polka dots in a creative and unique way. Instead of the classic polka dots, these nails feature an accent nail where the colors swap. So, the base color becomes the dot and the dot color becomes the base. You can choose any colors for your summer polka dots.
16. Tropical Palm Tree Nails
Nothing says summer like tropical palm trees! This next idea features bright pink nails with black palm trees. These would be perfect all summer and for any vacations. You can hand paint the palm tree or use a palm tree stencil. Also, try different background colors too.
17. Stylish Stripe Nail Idea
Next, we have a chic nail idea that features stripes. The fresh and cool pastel shades have been used to create different striped nails. You can create the whole look or just choose one striped nail for your recreation. For the stripes, you can use tape or a different nail color.
18. Summer Gradient Nails
Our next pick is another stylish ombre or gradient idea. These nails use three colors and we love the combination. The colors are fun, vibrant and perfect for the summer. You can use colors like the ones featured or three of your choice.
19. Vibrant Pink Nails with Funky Accent Nail
Jazz up your nails with a chevron accent nail. Chevrons can be created smaller like featured earlier or large like the nails pictured below. You can get the shape with tape or a stencil. We love the combination of bold pink, white and silver glitter. Nails like these will suit any nail length and shape.
20. Bold Red and Glitter Summer Nails
Go bold this summer and choose a hot nail color like red. These red nails are statement making and will suit anyone. You can paint all your nails red or have an accent nail. As you can see, gold glitter compliments the red perfectly. You could even try silver or another vibrant color.