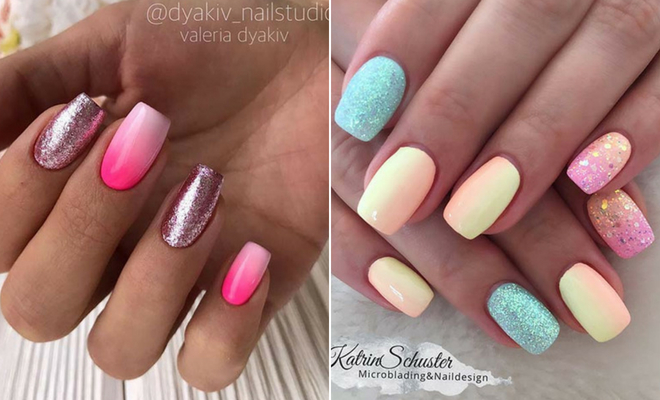 Instagram
Beauty
65 Cute & Stylish Summer Nails for 2020
By
|
21. Pink Summer Nail Idea
Next on our summer nails list are these super cute pink nails. The finished look features a polka dot nail, glitter nail, star design and two dots. You can recreate the whole look or just choose one you like. Either way, you will have a colorful and creative manicure that will look great all summer long.
22. Cute Watermelon Nails
Products used: Amigable, Tiza, Brillo gel, Escarchado by @tradexpanama and acrylic paint. If you want to re-create this nail design, down below is a quick YouTube tutorial!
23. Cactus Nail Art Design
Products used: MoYou London in shades Hipster 16 and Hipster 19, Ga-De Cosmetics in shades Pool Party and Rose Mist, OPI Matte Top Coat.
24. Matte Rainbow Coffin Nails with Glitter
Love the matte trend? This beautiful nail art design proves that you can wear matte nails during the summer. Give it a try!
25. Pretty Watermelon Nail Art Design
Products used to create this cute nail art design are: China Glaze 'Grass is Lime Greener', China Glaze 'Treble Maker' and 'Bite Me', Morgan Taylor 'Give me Gold' and China Glaze 'Shell-O'.
26. Bold Summer Nails
The next summery nail design we have to show you will add a pop of color to your look. These nails feature a colorful, tribal nail design with sparkly rhinestones. It is a fun and vibrant design that is perfect for the summer season. Recreate these artistic nails or use your own color palette.
27. Colorful Chrome and Glitter
If you want your nails to stand out from the crowd this summer, then this next design is for you. The nails have three different designs including purple chrome, matte pink and blue glitter. We love this combination because matte, chrome and glitter are three of the must-have looks. Recreate this or use different colors of your choice.
28. Chic Light Nude Nails
A lot of summer nails feature vibrant colors but if the bold shades are not for you, then why not try a design like this?! All of the nails are painted in a light, chic shade with one shimmering accent nail. The color is bright for the summer but it is soft and quite subtle. This just a stylish look that will suit everyone and the design will look amazing on any nail length and shape.
29. Nude Nails with Rainbow Tips
Our next nail idea features vibrant rainbow tips. This design is one of our favorites because it is like the classic French manicure but with a summery twist. A design like this is perfect for the ladies that want to try a new nail look without being too bold. Recreate the rainbow gradient or use one bright color on each tip. You can find tutorials online to help you create a similar look at home.
30. Funky Cherry Nails
The summer is the perfect time to try funky designs on your nails. You could try something like this. These nails feature delicious red cherries. It is such a cool design and art like this will make your nails stand out from the crowd. The look was created using red, nude and green nail shades. You will also need red rhinestones and nail glue. You can find tutorials online to help you create this type of nail art.