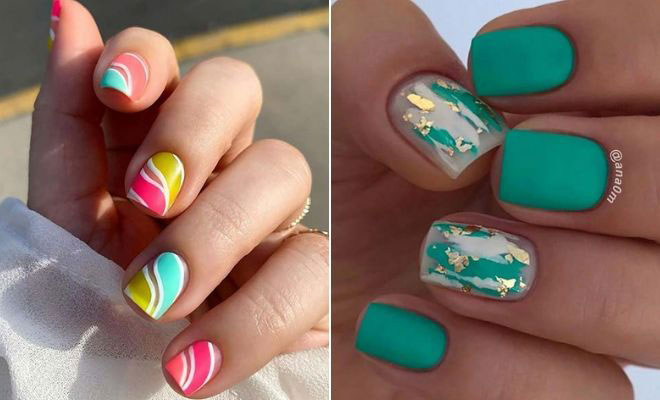 21 Short Nail Designs for Summer 2020
When looking for new nail art you will often find amazing designs for long nails only. Sometimes it can seem like the best art is for sharp stiletto nails or the popular and trendy coffin shape. But what about those with short nails? Well, we at StayGlam are here to help. We have done some of the hard work for you and have found 21 short nail designs for the summer. There are some amazing designs including ombre, flowers and animal print. You can still have stylish nails even with a short length. So, take a look, many of these can be recreated at home by you!
1. Pretty Flower Nails
The first nail idea that we have to show you features bright and beautiful nail art. So, the nails are light pink and each one has three small flowers painted in the center. It is a gorgeous idea and you can recreate this or use the flowers on one nail only. The colors used to create this design are: Earth's Finest, My Rain-Beau, Team Sweets, Macaruin My Diet, Hooray of Sunshine, Sugar Rush and Light to the Touch all by Ella+Mila.
2. Bright Pastel Nail Design for the Summer
Next, we have another bold and bright nail design of the summer. This mani uses pastel blue and yellow as the main colors. Some nails are these light shades while one nail is white with a marble and gold foil design. It is a cute and colorful idea that is perfect for the spring and summer. Try something similar or just have blue and yellow nails.
3. Ombre and Leopard Print
Leopard print is still one of the hottest nail designs and here is how to wear it in style this summer. Here we have short stiletto nails and each one has zesty orange ombre on the tips. The ombre is then covered in a classic black leopard print. It is a trendy, wild and bold design. You can find tutorials online for French ombre and leopard nail art.
4. Colorful Polka Dots
Looking for a fun and colorful design? If so, you need to see this idea. This mani features nude nails with a gold dot near the cuticle and brightly colored polka dots near the tips. We love this because the polka dots are so vibrant and the colors used are perfect for the summer. You can hand-paint the dots or we would recommend a dotting tool which will give you a neat finish.
5. Unique Candy Nail Art
This next nail idea is unique and very vivid. Here we have candy inspired nails. So, the nails are nude with colorful shapes and white outlines. The bright colors and fun design are great for the summer season. This mani will be perfect for vacations and events like festivals. You can see how the art was created on the nail artist's page.
6. Glitzy Watermelon Nail Design
Watermelon nail art is very popular during the summer season and with nails like these, we can see why! Each nail has a different design including block color, glitter and watermelon art. It is a glam and summery design that will suit any occasion. Recreate this or experiment to create your own watermelon mani. You can find tutorials online for painting watermelons and the colors used for this design are all by Essie. The shades are Watermelon, Off Tropic and Rock At The Top.
7. Cute Mermaid Nails
Give your nails a mermazing look this summer with a design like this one! The nails use bright purple and blue colors. There is also a nail with bold and sparkly mermaid scales too. It is such a fun design and it is perfect for those who love mermaids. The products used to create this mani are Holo Taco Rainbow Snow and Salon Perfect PurplePOP! & Met-Made of Money.
8. Mandala Nail Art
The next nail idea is unusual and beautiful. For this look, most of the short nails have an artistic blue, white and gold design. While the others are nude with white mandala patterns. It is such a stunning idea and the white patterns are gorgeous. Recreate this mani or you can use the white patterns on all nails. You can also buy mandala nail stickers.
9. Cute Clouds Nail Design
Next, we have another cute and quirky nail design to show you. These nails feature blue gradient art with white clouds over the top. It is a fun and unique idea and the blue skies are perfect for the summer. You can recreate these or use any weather of your choice. The clouds can be used just as an accent nail as well. This design was created with colors Snow Me white, Endless Blue and Wonder Mint and all are available at Walmart.
10. Vivid Stripes
We love this next nail idea! Here we have short stiletto nails and each nail has a creative and vivid stripe design. The colors used are amazing and the odd flash of gold really glams up the mani. You can be very artistic with this and use any colors and you can be random with stripes. There is no strict way to recreate this, so just have fun.