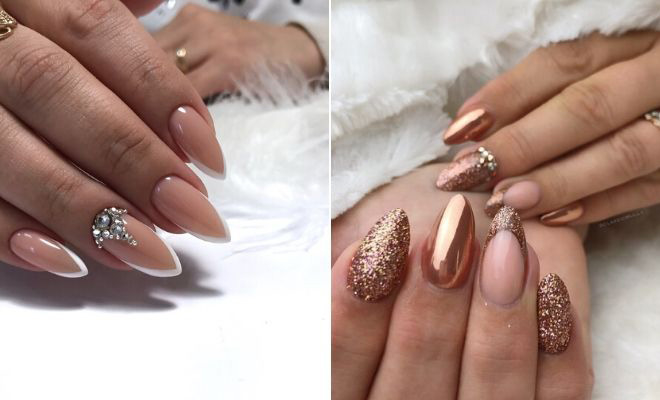 Instagram
Beauty
23 Trendy Ways to Rock Short Pointy Nails
By
|
Fed up with your nails and are looking for a new design to try? If so, we at Stay Glam have you covered because we have 23 stylish short pointy nails to show you. We have already talked about other nail shapes such as coffin but now it is time for the points. The shorter nails are easier to wear and the pointy shape looks so trendy which means there is a mani that will suit everyone. So, read on and take a look. We have glam art, bright colors and some unique nail designs too. You will want to try them all!
1. French Ombre Short Pointy Nails
First up we have these chic and short pointy nails. Each nail is decorated with French ombre art. French ombre is such a trendy and elegant look. It uses the classic French mani colors but the colors blend beautifully instead of having the striking white tip. You can find easy to follow ombre nail tutorials online.
2. Nude Nails with Red Tips
Add a pop of color to your look with a nail design like this one. All of the nails are a light nude shade and each one has dark pink tip. It is a fun and trendy nail idea and it is a subtler way to wear brighter colors. Recreate this or you can try a different vibrant color for the tips.
3. Pointy Pink Nail Design
This next idea is so sparkly and pretty. Most of the nails are light pink and one nail is pink and glittery. There is also a small rhinestone design on one nail. It is a glam look for short nails and it will be perfect for the spring and summer. You can try a similar mani or you can try a shorter nail length.
4. Gold Short Pointy Nails
Looking for a simple but bold nail design? If so, this could be perfect for you. Here we have short nails that are a dark gold color. It is a trendy and statement making design. Recreate these or you can opt for a different nail color.
5. Watercolor Mani
If you like creative and bright nail art, then take a look at this next idea. Here we have short and pointy nails. Each nail is painted with different bold colors with a watercolor effect. It is a fun and quirky nail design that will add bold color to your outfits. You can find nail tutorials online for watercolor nail art.
6. Tropical Nail Art
Next, we have a tropical and summery look. Some nails are bright orange and some have black and white stripes with tropical green leaves. It is a unique and stylish mani that will be perfect for the spring, summer and vacations. You can buy nail tape to help you create neat stripes and you can buy leafy nail stencils too.
7. Trendy Chrome Nails
We love this next idea, it is one of our favorites! Each nail is painted in a different color with a chrome effect. Right through from black to pink shades. It is a trendy and modern mani that is perfect for those who like to try new colors and textures. You can recreate this look or use five different chrome nail colors. A sharper point would look awesome too.
8. Summery Yellow Mani
The next nail idea is another summery one. Each hand is different but the overall art is similar. Some nails are bright yellow and some are light and plain or light with yellow nail art. It is a stylish and statement making mani. A vibrant yellow like this is a must-have for the spring and summer so a similar polish would be a great addition to your nail collection.
9. Elegant Nail Design
At the beginning of the post we featured a French ombre look. If you loved that design and like elegant looks, then you need to see this one too. For this look all nails are nude with French tips. There is also an accent nail with sparkly rhinestones. It is a glitzy and elegant nail design that will be perfect for special occasions like weddings.
10. Glam Short Pointy Nails
Next, we have another glam nail design for short and pointy nails. One nail is nude with rhinestones, two nails are peachy ombre and one nail is covered in chrome. We love the nail colors and different textures, they are so trendy. The rhinestones add some glitz and make the colors pop even more. This is a beautiful nail design and it will be great for parties, nights out and more.