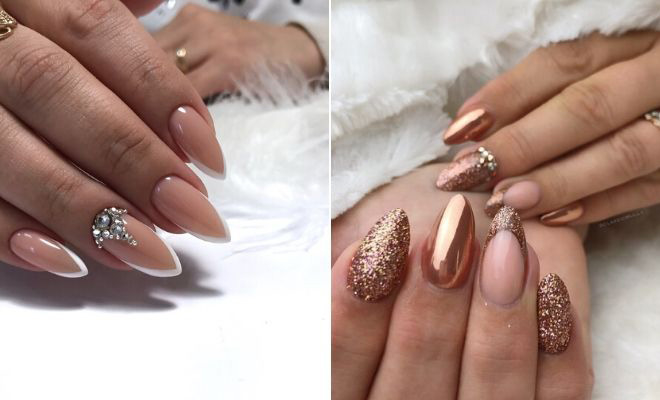 Instagram
Beauty
23 Trendy Ways to Rock Short Pointy Nails
By
|
11. Pretty and Pink Pointy Nails
Love the pink nail designs? If so, take a look at this. On one hand, the nails are all pink while on the other hand, the nails have pink, white, grey and black art. It is such a cute and funky look. Each of the designs are different so you can recreate them all or try just one. Recreate the two hands or you can have the same nail art on all nails. Either way, your nails will look super stylish.
12. Edgy Black and Silver Mani
We love this next nail idea to. These short pointy nails use different colors and textures. Some nails are glitter ombre, some matte ombre and some simply matte black. It is a trendy, edgy and unique nail idea. Darker nails like these are perfect for the fall, winter, nights out, parties and other special events.
13. Bright Stripe Nails
The next nail idea has a 70's retro look. So, the design features stripes in different colors ranging from yellow to red and dark green. Gold glitter has also been added along the cuticle. The colors are stunning and the stripes look so stylish. You can recreate the stripes with nail tape or a stencil and the colors used are CND World Shellac.
14. Colorful Moon and Stars Design
Give your nails a magical and mystical makeover with a design like this. The nails are different colors including green, blue, pink and purple. Each nail is also adorned with gold moons or stars. We love the bright colors with the out of this world decor. Recreate the whole look or just use one design on each nail. Small moons and stars can be bought online.
15. Red and Clear Nails
This next idea is just amazing! Here we have bright red nails with clear pointy tips. We love this design because you have the classic red that has been jazzed up with the modern jelly nail trend. It is a fun and bold look that is perfect for those who like to make a statement. Try a similar look or you can create a sharper point.
16. Nude Nail Design
If you love glitzy nails, take a look at this mani. Here we have short pointy nails. Two nails are dark nude with rhinestones, and two are sparkly white. We love the white with the nude because it gives the pretty color and elegant look. Nails like these will be perfect for a night out or party.
17. Pink Short Pointy Nails
Earlier in the post we featured a cute blue nail design. If you liked that bright and fun idea, then you need to see this next look too. This time the nails have a similar pointy shape but they are bright pink chrome instead. It is another bold and statement making idea. Recreate this or you can try glossy or matte pink instead of the chrome.
18. Trendy Animal Print Nails
Take a walk on the wild side and try animal print nails like these. For this look, we have short and pointy nails. Some are nude and some are white with a strip of leopard print art. It is such a trendy look and it is a more subtle way to wear leopard print. You can find leopard print nail tutorials online. This design would look amazing with a sharper point as well.
19. Chic Nude and Black Art
This next idea is another one of our favorites! Here we have nude pointy nails. Each one has a black section along the cuticle and a black stripe in the center. We love the black and nude color combo because it is so chic and elegant. Recreate with or without the gems. This mani can be worn for any occasion.
20. Unique Sparkly Mani
Next, we have a unique and sparkly nail idea. This one features pointy nails and most are painted in a light shade. One nail is also sparkly and one has trendy marble art. It is a pretty and statement making idea. A mani like this will be perfect for the spring, summer and special events. Recreate this longer nail length or you can go a little shorter if you prefer.
21. Pink and Floral Design
We love this next nail idea! For this look, one nail is pink, one is sparkly purple and the two other nails are translucent with elegant pink art. This is a glam and beautiful design. Recreate this look or you can try a similar design in a different color. Blue would look stunning.
22. Chrome and Glitter Nails
The next nail design features more chrome art. This time each nail is a different pink chrome shade. There is also one glittery pink nail. The pink chrome looks so edgy and the pink shades give the chrome a more feminine and elegant look. This mani is perfect for the spring, summer and festivals.
23. Glam Gold Nails
Last on our list of short pointy nails is this glam and gold design. Each nail has a bright marble effect in the center with gold foil around the outside of the nail. The gold looks stunning and the nail art is so unique. You can buy gold foils online to recreate a similar look, you will also find tutorials on how to apply the foil.
We hope you have found a short pointy nail design to try!