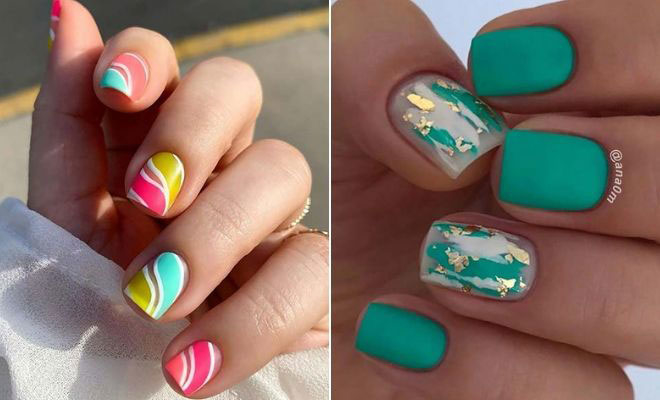 Instagram
Beauty
21 Short Nail Designs for Summer 2020
By
|
11. Pastel Rainbow Nails
This next idea is another one of our favorites because it is colorful, summery but so easy to create and wear too. For this mani, each nail is painted in a different bright pastel shade. The use of different colors make this mani so statement making. To recreate it you will need polishes in shades Earth's Finest, My Rain-Beau, Team Sweets, Macaruin My Diet, Hooray of Sunshine and Sugar Rush by Ella+Milla or shades like them.
12. Beautiful Butterfly Nail Art
Butterflies are another pretty nail design for the summer. Here is how to wear butterflies in style. This mani features pink nails with one sparkly accent nail. Four of the nails also have stunning hand-drawn butterflies. This is a gorgeous design and it can be dressed up or down to suit any occasion. You can find tutorials online on how to paint butterflies or you can buy nail stickers.
13. Stylish Watermelon Nail Art
Earlier in the post we featured trendy watermelon nail art. If you liked the fruity idea then you should see these nails to. This mani features another way to wear watermelons. Some nails are white and red, one is green and one is white with small watermelons. It is a cute idea and it shows a different way to wear the watermelon trend. The colors used are Ella+Mila Earth's Finest and OROSA Wild Flower.
14. Pink and Orange Flame Nails
Flames are another hot trend for the summer and we love this version of the trend. Most of the nails have a pink and orange ombre flame design while one nail has sparkly ombre. It is a super stylish design and the colors are perfect for the summer. You can find tutorials for the flames or you can buy nail stickers.
15. Summery Geode Nails
Next, we have a cool mani inspired by geodes. As you can see, most of the nails are light but there is one accent nail. The accent nail has a blue and gold geode design. It is a pretty, stylish and summery nail idea. You can recreate this or use any color for the geode. This mani was created with Essence nail polishes in colors Dream On, Wild White Ways and Give Me Nude Baby.
16. Cute Marble Art
The next nail idea features a cute marble nail design. Now, this is not the classic white marble, but this is water marble. For this, bright colors can be dripped into water. Then you can use a toothpick to move the colors in a design you want. Finally, dip the nail in the water. It is such a cool way to create nail art and there are plenty of tutorials online.
17. Vibrant Green Short Nails with Gold
Love vibrant colors? If so, you need to see this next nail idea. These nails are a vivid green color and some of the nails are green and white stripes with gold foil. The colors are gorgeous and the nail art is so chic. If you love color and classy designs, then this is for you. This type of design will look amazing with other colors such as purple.
18. Multi Colored Nail Idea
As it is summer, you could give you nails a fun and bright makeover. Something like this would be perfect. For this look, each nail is painted in a different bright pastel shade. The bold colors and accent nail details, really create a summery vibe. Recreate this or you could even use palm leaves or palm trees.
19. Gradient Nails with Gold Nail Tape
Next, we have a gradient look with stylish gold nail tape. So, the nails start with yellow on the thumb and end with dark pink on the little finger with all different shades in-between. This gives you a gradient look. Each nail is also decorated with gold nail tape. Nail tape is easy to apply just cut the size you want, place it on the nail, press down and complete the look with a clear top coat.
20. Chic Floral Nail Design
If you like the floral nail designs, then you need to see this! Each nail has a light base color with pink flowers over the top. The pink flowers are pretty and are perfect for the summer. This mani would be great for any occasion, even a summer wedding! Recreate something similar or use any flower type and color of your choice for the design.
21. Nude and Light Blue Nails
The last nail idea features nude and blue nails with blue art. One nail is completely blue while others have blue marble art which is placed on the nails in way that creates a water effect. We love this because it reminds of us ocean waves. When we look at this, we instantly think of beaches and the summer. This is perfect if you want a design that is more unique.
We hope you have found a stylish short nail design to try!