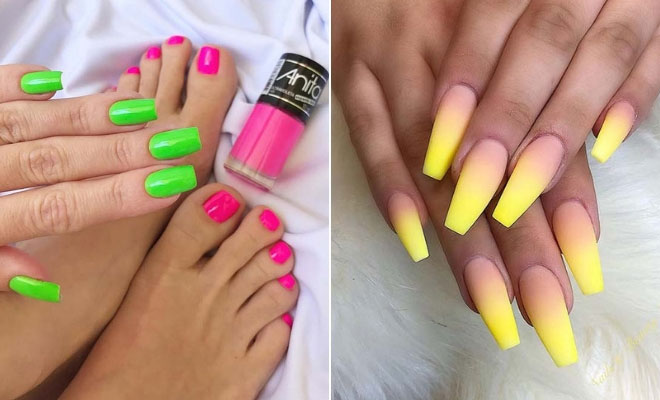 Instagram
Beauty
43 Neon Nail Designs That Are Perfect for Summer
By
|
11. Yellow and Nude Ombre Nails
Our next idea is another ombre look. These nails start nude and end in a stunning yellow shade. This is a beautiful nail idea and it is one of our favorites. It will be perfect for the spring and summer and a nail design like this will suit all nail lengths and shapes. Recreate the ombre look or use a similar yellow shade just as one color.
12. Neon Gradient Nails
Gradient nail designs have become one of the must-have looks. The gradient nail art is similar to ombre but instead of just blending the colors, the gradient color change is dark to light. Here is a beautiful example. The thumb nail has a gradient from pink to yellow. As you can see, it is so stylish! The rest of the nails have a more ombre style. This is a trendy look and you can recreate this or try any neon gradient.
13. Pink and Purple Nail Design
A stylish color combination you should consider trying is pink and purple. The two colors are bright, fun and compliment each other perfectly. Here is a gorgeous way to wear the two shades. Most of the nails are vibrant pink and there is a purple accent nail. The look is finished off with a crystal design. Recreate this look or you can swap the colors around and have the pink as the accent nail.
14. Neon Lime Green Nails
Like your nails to dazzle and have plenty of sparkle? Then this design is for you. Here we have a neon lime green manicure that features ombre, crystals and glitter. Nails like these can be created at home with practice and patience. To make it easier, you can just use a neon polish instead of using ombre effect and add rhinestones and glitter to just one accent nail. It is a statement look that is perfect for the ladies that like to be bold. You can create a similar look on any nail shape but it is best suited to longer nails.
15. Matte, Vibrant Pink Nails
Love pink? Then these nails are for you! The nails are all painted in different pink, matte neon shades. It is vibrant and fun look that will suit everyone. This manicure was created with the following colors from INK London: Neon Pink, Extreme Pink, Funky Fuchsia, Rose Quartz and Hubba Bubbalicious. Try to create a multi shade manicure like this or for a more toned down look, opt for just one or two pink shades.
16. Neon Ombre Nails with Glitter
Our next neon idea is another ombre look. Most of the nails are nude and glitter ombre while some of the other nails have either neon pink or yellow ombre. It is a trendy and sparkly design that will make your nails stand out from the crowd. Recreate this idea or just use one neon shade for the ombre effect and only one type of glitter. Either way, your nails will look vibrant and stunning.
17. Bright Red Nails with Rhinestones
Next, we have a bright red look. Some of the nails are a glossy neon shade while the others are sparkly. It is a glam and elegant nail design that will suit all nail lengths and shapes. You can try to create a similar manicure or you can choose just a neon red shade. The color will look fabulous as it is, so it can be worn without the jazzy embellishments.
18. Colorful, Neon Coffin Nails
Earlier in the post we featured neon nails that started pink on the little finger and changed shades until the thumb nail was yellow. Here is a similar idea to that. These nails start pink and gradually change color to neon green. It is the same idea just with added neon green. This is a cool and trendy idea and is perfect for the ladies that like unique nails.
19. Neon Yellow Coffin Nails
Bored of your nails and want to try something vibrant, stylish and new? Then why not go for neon yellow nails like these! The nails are just one color and they are a coffin shape. This is an easy to wear look and it will make a statement. You can buy neon nail polishes in a similar shade online to recreate the look yourself.
20. Neon Orange and Nude Ombre
If you are looking for a subtler nail idea then this is for you. The nails are nude and orange ombre. Even though the orange shade used is neon, it is still more toned down than some of the others we have featured. A nail design like this is perfect for the ladies that want to try neon without being too bold. Try the orange or a different subtle neon color.