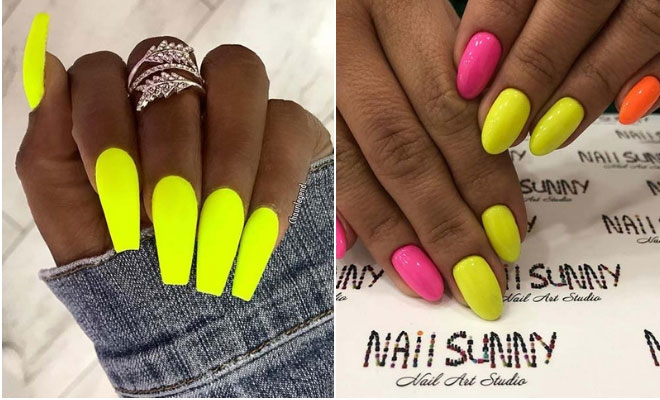 Instagram
Beauty
23 Neon Yellow Nails and Ideas for Summer 2020
By
|
Spring is just around the corner and it will be summer before you know it. So, now is the perfect time to start adding some brighter colors back into your beauty and fashion. One must-have color is neon yellow. Nails are the perfect way to wear neon because you can make the colors as bold or as subtle as you like. There is a neon look to suit everyone. Not only that, but neon nails will jazz up the simplest of outfits too. Today we have 23 super stylish neon yellow nails to show you. Neon yellow is perfect for the warmer seasons, vacations and festivals. You will find simple manis, trendy nail art and other neon color combos. Take a look to get inspired!
1. Matte Neon Yellow Nails
The first nail idea is bright, trendy and bold. Here we have long stiletto nails that are all painted in a vibrant neon shade. It is a simple mani but very statement making. Nails like these would be perfect for the summer and they will suit everyone. You can also try a similar neon yellow on other nail shapes.
2. Bold Flame Nails
Flame nail art has become a must-have. The flame trend looks amazing with neon color too. This mani features a few different designs. Some nails are covered in glitter, one nail on each hand has nude and neon ombre while the other nail is nude with a neon yellow flame! It is such a stylish and unique mani. You can buy flame nail stencils online which can help you recreate the look.
3. Stylish Yellow and Marble Nail Design
This next stylish nail idea is one of our favorites! The mani features long coffin shaped nails. Some are simply neon yellow, two nails are decorated with rhinestones and two are white with marble art. We love the neon and marble combo, it is such a trendy look. You can find easy to follow marble art tutorials online and flat back rhinestones can be bought online and stuck on with nail glue.
4. Glitzy Neon Yellow and Blue Nails
Neon yellow shades compliment many other colors. One color it suits beautifully is blue. Don't just take our word for it, check out this mani! For this look each nail is different, the designs include ombre, glitter and rhinestone nail art. The yellow is very bright and it has been paired with a vivid blue tone. This is one of our favorite color combinations because it is bold, unique and fun. It is another summery mani and you can recreate the whole look or just one or two of the designs.
5. Nude Nails with Neon Nail Art
Not all neon art has to be very bold. You can create a more low-key look and this design is the perfect way to do it. Here we have long nude nails. Each nail also has a diagonal stripe of neon yellow color near the tip. As you can see, you still get that flash of color but in a subtler way. Nail art like this suits all nail shapes but it is best suited to longer nails. You can create the stripe with nail tape. Paint your nails nude. Place the tape on the nail in the correct shape and simply paint neon on one side of the tape.
6. Black and Yellow Nail Design
We love this next nail idea! As with any other color, there are different shades of neon yellow. This one has a softer tone compared to the more vivid neons. The neon color has been used on stiletto nails and it has been paired with black. Some nails are just black and the rest have a black outline with yellow. The nails also have trendy matte finish which looks amazing. This is a fun, unique and bold mani that will make you stand out from the crowd in style. You can, of course, try different neon shades with black.
7. Neon Nail Design with Rhinestones
If you like your nails to have plenty of bling and sparkle, then this is for you. This is another mani where each nail has different art. One nail is neon with a rhinestone and the rest have yellow ombre art with either glitter or rhinestones. It is such a glam and stylish idea. Nails like these are perfect for the summer and  for special occasions like parties. You can recreate the look or put one or two designs on your nails instead of using them all.
8. Nude Nails With Neon Yellow Tips
Next, we have a trendy nude and neon look to show you. Here we have long coffin nails. These start nude and they also have neon yellow tips. We love this because it is like a vibrant version of the classic French mani. You can try a similar look or use any neon shade with the nude color. This art would look great with other nail shapes like stiletto. Not only that, but you can also try this design on shorter nails.
9. Glam Neon Yellow Nail Design
Give your nails a glam makeover with nail art like this! This mani features short and pointy nails. One nail is black and is adorned with rhinestones, two nails are silver and sparkly and two nails are neon yellow. The glitter and rhinestones give the mani a glitzy look while the yellow and black combo is so stylish. Nails like these are perfect for the times where you want to impress and stand out.
10. Neon Yellow and Glitter
This next mani is another one of our favorites! The design features coffin nails. Three nails are a glossy and vibrant neon shade while the other two nails are sparkly. The mani is quite simple but very statement making and the glitter looks stunning. These nails are easy to wear and as you can see, you can wear the design on your toes as well!