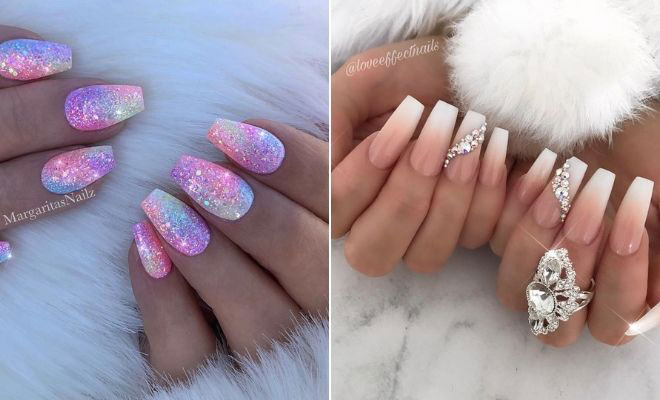 Instagram
Beauty
43 Crazy-Gorgeous Nail Ideas for Coffin Shaped Nails
By
|
Coffin or ballerina nails are one of the most popular nail shapes to wear! These nails are seen all over the internet from Pinterest to Instagram, and celebrities like Kylie Jenner and Rihanna love them too! When a nail is coffin shaped, the nail will start wide and then it will become narrower towards the tip. The tip is then squared off to give it a coffin or ballerina slipper look. Coffin shaped nails are one of our favorites because they just class up every outfit. This shape will also make you fingers look more slender too which is perfect if you like to wear rings.
To give you some nail inspiration, we have found 43 crazy-gorgeous nail ideas for your coffin shaped nails. You will find bold designs, cool patterns, beautiful colors and more. There is something to suit everyone!
1. White Coffin Shaped Nails
We would like to begin our list with this beautiful white nail design. These nails are painted in a white polish with one accent nail. The accent nail features bold and sparkly rhinestones. It is a stunning look and it would be quite easy to recreate something similar. All you will need is a white nail polish, nail glue and some sparkly rhinestones, all of which can be bought online. Paint your nails and glue the rhinestones on. A manicure like this would be perfect for a special occasion.
2. Metallic Nail Design
Looking for a design that will make your nails stand out from the crowd? If so, this is for you. Here we have long coffin nails that are painted in a trendy dark blue, metallic shade. There are also two gorgeous accent nails with pink and purple ombre nail art. This is a colorful, creative and stylish manicure that will look amazing on anyone.
3. Pretty Pink and Glitter Nails
Next, we have a pretty pink idea to show you. Most of the nails are painted light pink and there are two nails on each hand in a different color too. One nail is dark pink and the other is shimmering rose gold. Some of the nails have little rhinestones too. It is a glam and beautiful idea and is perfect for those who love pink. Recreate the whole look or just have the accent nails in one color.
4. Pastel Purple Nails with Rhinestones
Our next set of nails features another bright and glamorous design. The main color of the nails is pastel purple. Three of the nails are glittery and the other two are decorated with beautiful rhinestones. A nail design like this will be perfect for the spring and summer. If you like bolder nails, then recreate the whole look or try the pastel purple without the gems for a subtler manicure.
5. Edgy Black Coffin Nails
The color black gives the coffin nail shape such a trendy and edgy vibe. This manicure shows how to wear black nail polish in style! Most of the nails are painted in glittery black and there are two accent nails too. The accent nails are matte with an ombre effect. It is a chic idea that combines some of the must-have nail looks. Try the whole design or just the black glitter as this will be easier to recreate.
6. Summery Pink and Orange Coffin Nails
If you want to brighten up your nails for the summer, then consider a design like this one. Each nail is painted in a different shade ranging from orange to light pink with all darker tones in-between. The gradual color change is so stylish and creative! Each nail is decorated with rhinestones and gold embellishments. It is a summery color palette that will suit everyone. You will just need five similar colors, nail glue and sparkly rhinestones to recreate the look. Of course, you can recreate the design without the rhinestones for a more subtle manicure.
7. French Ombre and Rhinestones
Another nail trend that looks amazing on coffin nails is French ombre. French ombre uses the classic colors of white and nude but instead of having white tips, the colors are blended together to create an ombre look. Here is a stunning example. All of the nails are French ombre and there are two accent nails too. Sparkly rhinestones and ombre compliment each other perfectly and a manicure like this will look elegant and stylish.
8. Bold Yellow Coffin Nails
Our next nail idea is vibrant and statement making! These nails are painted in a bold yellow color and there is an accent design too. The accent nail features colorful and unique art. A manicure like this is great for the ladies that want to stand out and wow. These colors would be perfect for the summer. Recreate the whole look or just the color and rhinestones without the accent nail art.
9. Pink Nails with Glass Accent Nail
Glass nails is another stylish trend that you should consider trying. The glass look features transparent nails that can be any color. Here is a beautiful example. Most of the nails are painted in light pink and there is one clear glass nail that is covered in gems. As you can see, the glass nail just jazzes up the pink and gives the manicure a unique look. Recreate this design or you can have all glass nails. The choice is yours!
10. Dark Elegant Nail Design
Love creative nail art and intricate patterns? If so, this is for you. Most of the nails have a different design and these include: glitter, dark blue, glitter ombre and black and blue art. It is a stunning look that will make your nails stand out in style! Nail patterns like the one featured can be created with stencils. You can recreate the whole look or just use it as inspiration and try your own black and blue design.