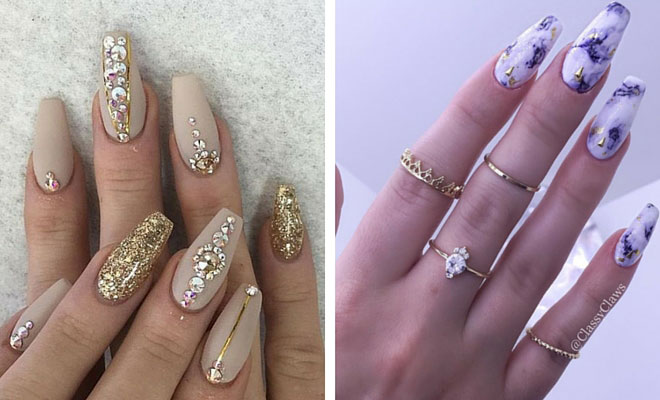 Instagram
Beauty
65 Fun Ways to Wear Ballerina Nails
By
|
Ballerina nails have become increasing popular over the past few seasons.  Nail fashion is constantly changing but we think this trend is staying around for the near future.  To create ballerina nails, you need to narrow the sides and your nail tips need to be flat.  Ballerina nails work better with longer nails as the tips need length to flatten.  In addition, when you taper the sides of your nails, you are taking away the nails support.  All colours look amazing with this nail shape and when we paint our nails, this shows off our character and flare.
Have a look through our 65 fun ballerina nails and see what colours and jazzy designs tickles your fancy.  Have fun!
1. Gold and Nude Matte Nails
Who needs glossy nails these days? Glossy nails are so last season girl, go for a matte finish to finish the look.  Many nail polish brands now offer a matte finish top coat which turns any nail polish into a matte finish.  It works the same way the shiny top coat does but just makes your nails matte, rather than a shiny look.  Gold is a colour that mixes well with a nude shade.  Add the shiny and glam to the gold nails and keep the nude nails in a matte finish.  This will enhance the ballerina shaped nails.
2. Matte Burgundy and Nude Nails
If you prefer a shiny finish to your nude shade, this would work for you. Adding a matte finish to the burgundy nails will make both nail colours stand out.  The nude nails will be immaculate with the shiny top coat whilst the burgundy nails will look amazing in the matte finish.  You can always add a few nail gems like the photo above to add the shine.
3. Gold Sequin and Dark Nude Nails
Dark nude is a great colour for nails because it is classy and elegant.  If you are wanting a subtle colour with a bit of wow, you can always team dark nude and gold.  When I say gold, I don't mean just any gold, I mean gold sequins!
4. Pink Matte Nails with Rhinestones
Having a neon pink shade will highlight your nail shape. This is a gorgeous, fun and girly colour to have.  It is vibrant and sexy, especially when you add the rhinestones!  You don't have to have a set design for your rhinestones, just go with what you like and feel at the time.
5. Mint and Neutral Nail Design
Mint is a summer colour so grab your mint shades and get painting your nails before summer is over. Having a mint shade is all you need for your nails to stand out.  It's a fun colour and we love how energizing these nails are!
6. Bright Matte Design for Summer
Painting your nails needs to be fun. Summer is fun too, so choose a vibrant summer colour for your nails.  Having a bright colour with the matte finish, looks stunning.  Add a few nail gems and designs to stand out even more so.
7. Marble Design
Are you looking for something different and unique?
Try having fun marble design nails.  This may look hard to achieve but we have given a few simple steps for you to follow.
How to marble nail design:
What you will need: cup of water, light colour base nail polish, other colours that you choose to have, nail tape, a cocktail/nail stick and nail polish remover.
Choosing your nail polish colours:  You can opt for the same colours as the photo above, or you can choose your own colours.  We think these colours create the most spectacular marble effect.
Choose your base colour and apply:  When choosing your base colour, bear in mind that it needs to be a lighter colour than your other colours you have chosen, so that the marble look will take effect.  Apply the base coat and wait for it to dry completely.   
Use nail tape:  This is for the skin around your nails so that you don't get all the nail polish everywhere.
Get your cup of water and add drips of nail polish:  Add a few drops of your chosen nail polishes, all colours you have chosen and keep adding a few drips.
Use your cocktail/nail stick to swirl: Use your stick to gently swirl the water around to create the design.
Dip your fingers into the water:  Start with one finger and drip it in the cup of water so that your nail will hit the water surface only.  You will then see the design forming on your nail.  Continue with all the other fingernails.
Once you have done all fingernails and left them to dry:  Your fingernails must be completely dry before you remove the nail taping off your skin.
Apply a topcoat:  Now you have your beautiful marble design, apply your top coat, either a matte or a shiny finish, whichever you prefer.
8. Simple, Gold Nail Design
Gold is for winners! Yes and you can be a winner too with these beautiful gold, stunning ballerina nails!
9. Matte Design with White Rhinestones
Pretty in pink and white. Mixing delicate shades will create girly, fun and cute nails. This pretty pink nail polish looks stunningly beautiful with the matte top coat and the white rhinestones.  It's almost like a fairy-tale!
10. Matte Ombre Design
If you haven't tried ombre nails, you have to! They are so much fun and create a magical finish.  Firstly, you need to choose two different nail polish colours.  We suggest you choose colours that are quite different from one another to see the contrast.
You will need:  A sponge with one flat side, cocktail/nail sticks or toothpicks, foil or baking paper.
Use the light colour that you have chosen and apply to your nails.
Wait for it to dry completely.
On a flat surface, pour both colours right next to each other, edges touching.
Using a cockstail/nail stick or a toothpick, swirl the colours together when they both joined.
Grab your sponge and dab it down on the nail colours.
Then dab the sponge straight onto your nail.
Then apply to all nails like so.
Apply a top coat.
It may take a few tries to perfect, but you can do it.
11. Long, Pink and White Ballerina Nails
Pink and white are so cute together. Long ballerina nails are the best for showing off your nail design.  They stand out and with these two colours together, they look stunning.
12. Chrome and Matte Nails
Do you want shiny but love the matte effect too? Why not have both?  Chrome and matte nails are divine!  The chrome will draw attention to your nails and the matte will add the stylish and subtle side.
13. Glitter Dust Nails
Glitter dust is a must have this season! We all love a bit of glitter and these are amazing!
14. Lime Green Design for Summer
Do you love being the center of attention? With these lime green ballerina nails you will be just that!  Lime green is a fun and summery colour that will blow every one away.
15. Cool Mint Green Design
Cool mint is the perfect vibe for summer. Subtle yet effective, mint green is a gorgeous summer and fun colour to get you in the mood for any party.
16. Purple Matte & Broken Glass Nails
Dark and mysterious comes to mind with these sexy nails. Purple matte and a bit of glitz is all you need to create this effect.  Paint your nails a sexy dark purple and wait for them to dry.  Add a sparkle, glitzy nail polish to the nail tips alone and wait for them to dry.  Don't forget to add the matte top coat for the finish effect.
17. Black Matte Design
Black matte is so sexy and fun. Have fun with your black nail polish and matte top coat.
18. Long, Pink and Blue Ballerina Nails
Pastel colours are a beautiful choice to show off your ballerina nails, especially in spring. These pastel pink and blue shades are so pretty together.  Have an accent nail like the photo above to complete the look.
19. Black & Dark Blue Glitter Nails
Just because it's summer doesn't mean you have to stick to bright colours. Dark colours set the vibe and these are fierce!
20. Matte Neutral Nails with Rhinestones
Girly, feminine and sexy! These nails are screaming sexiness!
21. Long, Gray Ballerina Nails
Long grey ballerina nails are striking. Ballerina nails are a statement alone but teamed with grey, that's when you know you mean business.
22. Ombre, French Tip Design
Now that you have the ombre steps above, try out a French tip ombre design. Use the same method above but don't mix the colours so much to keep the tip a contrast.
23. Badass Ballerina Nail Design
These are just badass nails! They are fierce, fun and striking.  You will attract so much attention with these claws!
24. Classy, Matte Nude Nails
Go for a classy and fun style with our next pick. Matte nude nails are trending at the moment and we can see why.  Add a few nail gems to your accent nail for effect.
25. Sparkly Gold & Matte Nude Nails
Did someone mention sparkly gold? Yes, and look how pretty they look.  Have fun with you ballerina claws by creating a masterpiece like these!
26. Bold Blue Ballerina Nails
Be bold in blue with these ballerina nails. The nails feature bright glossy blue, blue chrome and glitter. We love these nails because they are all blue but use different techniques to make each nail look different. It is a stylish mani that is perfect for the ladies who want to make a statement.
27. Yellow Ombre Nail Design
These next nails are just wow! The nails are a stunning dark nude shade that blends into a soft, light yellow. This color combination is just gorgeous. Nails like this will suit everyone and will glam up your look for any occasion. If you want to jazz up the nails even more, consider adding some rhinestones.
28. Statement Green Nails with Sparkle
Next, we have statement nails that demand attention. Some of the nails are green, some have glitter and two of the nails have sparkling crystals! This is a fun and stylish look that will make everyone green with envy! You can recreate nails like this with crystals that can be bought online.
29. Elegant Pink Nails
Looking for elegant and unique nails? Then these could be perfect. This nail has it all – ombre glitter, matte and shiny finish, and even some sparkly rhinestones. This is one of our favorite looks. You can have nails like these created with any combination of shades. Dark nude or dark red would be a great choice.
31. Neon Yellow Nail Design
Brighten up your look with neon yellow nails like these! The nails are vibrant yellow shade and some have clear crystals along the cuticle. There are also two marble accent nails too. Marble is super stylish and you can find tutorials online so you can create the art yourself.
32. Sparkly Light Blue Nails
If you want unique nails that will make you stand out from the crowd, then you need to check out these nails. There is so much going on here. One nail has a simple ombre look, one has blue glitter ombre, and two of the nails have gold glitter ombre. This is perfect for the ladies who like to be bold and have fun with their fashion. We love this look!
33. French Ombre Nails
Next, we have an elegant nail design. The nails are a light and chic ombre with one crystal accent nail. There are tutorials online so you can recreate a similar look yourself at home. It is a beautiful and glamorous nail idea that will look amazing for any occasion.
34. Long, Matte Red Nails
Need glam nails for a special event? Maybe you just want to jazz up your look? If so, these are the nails for you. These nails are a beautiful, chic shade with gems and shards. If you don't want both accent styles then just choose one. Try to keep the crystals simple and sparkly as they are.
35. Mermaid Chrome Nails
Mermaid nails are such a popular trend. Here is a way to wear the style but with chrome! The chrome is a blue tone with purple around the edges. It combines two of the hottest nail looks chrome and magical mermaids. This is a great idea for someone who loves statement nails.
36. Pink and White Ombre Nails
Love ombre looks? Then check out these nails! Here we vibrant pink nails that blend into a light pink, almost white shade. This is such a pretty ombre idea. Bold pink like this is perfect for the summer, vacations or during the times when you want to brighten up your look. Jazz it up even more by adding rhinestones or glitter.
37. Chic Black and Rainbow Nails
Next, we have a chic look with a twist. The nails are nude with black tips and gems, then there is a rainbow accent nail. The rainbow colors just add fun and style to the elegant black design. It is the perfect way to look stylish but express your love for color too.
38. Matte Black Nails
The next idea we have to show you are these elegant, black nails. The nails are matte black, nude, and white and each nail has a stylish pattern. To create nails like these yourself, you will need patience and it will take a while but the end result will be worth it. Recreate this look or change the colors to suit your style.
39. Blue and Nude Nails
Be a trendsetter with nails like these! For this look the nails are nude with blue 'v' tips. The added blue is chic and stylish and we love the shape. Just like with other shapes and patterns, you can create this 'v' look with nail tape. Try the blue tips like featured or use a different color that you love.
40. Glam Jelly Nails
Next, we have trendy jelly nail look. These glass nails are clear with shards and splashes of blue and green color. There are also crystals too. Nails like these are perfect for a glam mermaid. The nails are gorgeous and will look stunning on anyone.
41. Sparkly Pink Ballerina Nails
Our next nails are pretty and pink! The ballerina nails are light pink with glitter and crystals. These are super glam and would look amazing for a special occasion. If you love glitz and glamour then these are are the nails for you. You can also tone down the look by adding less gems or using less glitter.
42. Simple Nail Design for Long Nails
Make a statement with long and simple nails like our next pick. There is a few different designs used including glitter, dark and light nude and rhinestones with dark background. This look is very stylish and would be perfect for spring and days where you want to feel glam. Recreate this pretty look or come up with your own color combination. Either way, your nails will look amazing!
43. Trendy Matte Nails
Matte finish is very popular and with nails like these, we can see why! These long nails are so eye-catching. We love how the pattern has been combined with gold, stylish nail art and embellishments. It makes the nails look unique. You can have a go at creating nails like these or just use it as inspiration to come up with your own nail art.
44. Bright Green Nails
Looking for vibrant nails that are fun and stylish? Then these are you. The ballerina nails feature bold green ombre with sparkly glitter. A bright green like this is perfect for the ladies who want to try something new and who want to add a splash of color to their every day look. Try similar nails or try the green without the glitter.
45. Chic Jelly Nails
Love the jelly nail looks? Then this is for you. These nails are a frosty version of the glass nail trend. A manicure like this would be perfect for the winter and holiday season. You can leave it simple and stylish like this or glam it up with gems or glitter.
46. Glam White Ballerina Nails
Next, we have glam ballerina nails. A few different designs and colors have been used, our favorite one is the sparkly nail. The light and white color combo looks stunning while the glitter is a glitzy finishing touch. A mani like this will be perfect for a wedding or special occasion.
47. Black Nails with Colorful Foils
Like colorful and bold nail art? If so, check this out! Here we have black ballerina nails and each one is decorated with brightly colored foils. The foils start green and end in a purple shade which creates a cool gradient effect. You can buy foils online in any color and there are tutorials too. This mani can be recreated or you can use a different color palette for the foils.
48. Matte Navy Ballerina Nails
If you prefer simpler nails, then you need to see this next nail idea. This mani features long ballerina shaped nails that are all painted in a navy shade. We love the dark blue color, it is so chic and trendy. This nail design is easy to create and wear. It will look amazing on both long and short nails.
49. Glitzy Peach and Nude Mani
The next nail idea is so pretty and glitzy. Some nails are painted in a matte nude color. While the others are glossy with gold sequins. The colors look so beautiful while the gold art adds glamour. These nails will really jazz up your look and they will suit everyone. Recreate this or you can use different shades of nude and different colored sequins.
50. Edgy Nail Idea
Maybe you're looking for something more edgy and trendy? If so, this could be for you. The nails are all painted in a different shade including grey, dark blue and a metallic grey. We love these colors because they are stylish and give off more of a rock chick vibe. This mani will be perfect for a night out!
51. Bold Yellow Ombre Nails
Next, we have bold ballerina nails to show you. For this design, each nail starts nude and then changes into bright yellow! A total of three nails are decorated with rhinestones too. The yellow color is stunning and the crystals add glitz and glamour. This mani will be great for the summer and you can recreate this or try a more pastel yellow instead.
52. Nude Ballerina Nails with Colorful Tips
The next nail idea is cute and pretty! Each ballerina shaped nail is nude with a pastel colored tip. All of the tips are different colors and they have a thin and trendy shape. You can recreate this chevron or v tip with nail tape and there are tutorials online. Try something similar or you can use any bold colors for the tips.
53. Stylish Red Mani
Love red nail color? If so, you will love this next nail idea. Here we have red and glossy ballerina nails. There is also one accent nail on each hand that features a glam gold design complete with rhinestones. The rich red shade looks stunning and it is the perfect color for the fall and winter. You can recreate with or without the gold art. Silver will also compliment red.
54. Short Chrome Ballerina Nails
This next mani features shorter nails and it is so pretty! The nails are all a shorter ballerina shape and each one is colored in a light pink chrome. We love everything about this from the easy to wear length to the gorgeous pink color. This is a fun and beautiful nail idea that will look amazing on everyone.
55. Nude Nails with a Gold Stripe
The next nail idea is modern, trendy and minimalistic. For this look, all of the nails are painted nude. There is one accent nail that features a gold stripe too! It is a chic and easy to wear look. Even though it has the stripe, the overall mani is quite subtle. You can buy gold nail tape online to recreate the look. You can also try other colors instead of gold.
56. Pretty Matte Ballerina Nails
We love this next nail idea, it is so pretty and gorgeous! Each nail is painted in a light and stylish color. All are matte colors but one nail also has a marble design. This mani is complete with a rhinestone accent nail. It is a glam and beautiful design and it will be perfect for a special occasion.
57. Nude Nails with a Glitter Accent Nail
Next, we have a stunning and glam mani to show you. All of the nails except for one are a light nude. The accent nail is clear with gold glitter and sequins. The nude color is stunning while the gold accent nail jazzes it up. This mani is subtle enough to wear every day but glitzy enough for special occasions so it is versatile. Recreate this or you can try a silver or rose gold accent nail.
58. Bold Ballerina Nails with Glitter and Rhinestones
This next nail idea is another one our favorites because it is so colorful, bold and glitzy. Each nail is different and includes chrome color, glitter art and rhinestones. Because of the different art and lots of sparkle, the mani really makes a statement. These nails would be perfect for the spring and summer.
59. Matte Tie Dye Nails
Looking for unique nail art? Then check out this idea. Here we have long coffin shape nails. One is matte color, one is chrome and the rest have a stylish tie dye design. We love this because it is so quirky and the tie dye look is perfect for the summer and festivals. There are tutorials for tie dye nail art online so you can try and recreate a similar look yourself.
60. Butterfly Nail Art
This mani looks magical and so pretty! Each nail is different and includes matte color, chrome, rhinestones and butterfly nail art. The colors are stunning and the art makes the design look mystical and beautiful. You can recreate the butterfly look but similar colors and art will look amazing with a mermaid or unicorn design too.
61. Chic Black and Nude Nails
If you want to give your nails a chic and trendy makeover, then this is the way to do it. Each nail is nude with black tips but there is one black accent nail too. The black accent nail has a line of rhinestones down the side. We love everything about this mani from the stylish tips to the sparkling rhinestones. It is perfect for a party, night out or other special event.
62. Glam Pink Ballerina Nails
Next, we have another glam and pretty look to show you. Three nails are light pink while the other two either have a chrome effect or are covered in glitter. Two of the pink nails are adorned with rhinestones too. A mani like this is great for those who love pink and bling. Recreate the whole look or use one or two designs on all nails.
63. Nude Coffin Nails with Blue Art
The next nail idea is another trendy and bold one. This time the long ballerina shaped nails are nude with a stripe of blue color in the corners. The blue color is so bold and the placement is very statement making. This is a fun and modern mani that will suit everyone. Try a similar look or use any color instead of blue.
64. Colorful Butterfly Nails
Love the butterfly nail ideas? If so, this mani is for you. Here we have clear nails and each one is adorned with bright and colorful butterflies. It is a very pretty and bold look. You can recreate this or use nude nails instead of clear. The butterflies can be hand-painted or you can buy butterfly nail stickers online.
65. Pretty Blue and Pink Nail Design
Next, we have a fun and stylish nail idea to show you. For this look, the nails use a color palette of matte pink and blue. Both the pink and blue are pretty pastel tones. This is just a trendy and easy to wear nail idea that will suit everyone. The colors are perfect for the spring and summer.