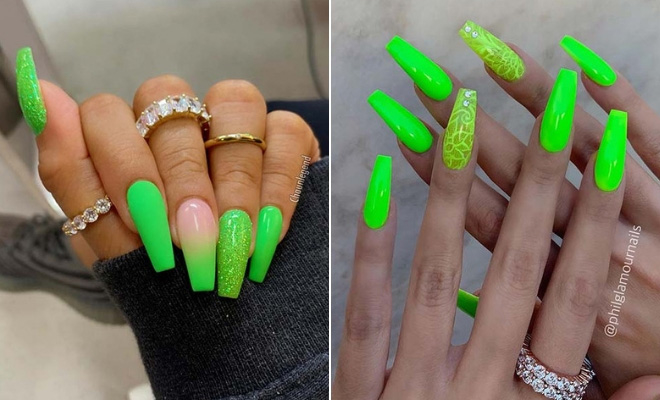 Instagram
Beauty
43 Neon Green Nails to Inspire Your Summer Manicure
By
|
Bored of classic nail colors like pink, red or nude? If so, this is the place to be! Today we want to show you ways to wear neon green nails. Neon green is such a statement making color. Not only that, but you can create amazing nail art with neon. Neon shades will definitely give your nails a bold makeover. So, read on and see 43 of the best designs on Instagram. If you didn't love daring green nails before, you will now because there is something for everyone!
1. Simple Neon Green Nails
The first nail idea is stylish and simple. This mani features all neon green nails. You can easily recreate these nails yourself. All you will need is a neon green polish which can be bought online. We love this color and think it would look amazing with other nail shapes as well.
2. Snake Print Coffin Nails
Be a little wild with your nails and choose a design like this! Each hand features different nail art. One set of nails are nude with neon green v tips and the other nails are covered in snake print. We love the combination of the trendy nail art and snake print. Nails like these are perfect for the ladies who like to make a statement. Recreate this look or try each design separately.
3. Nude and Neon Green Ombre
Next, we have a stylish ombre look to show you. Here we have coffin shaped nails. The nails start nude and then blend into neon green. As you can see, nude and neon looks amazing together. You can find ombre nail tutorials online and the vibrant art will suit all nail shapes. Keep it simple like this or add glitter or rhinestones.
4. Pretty Neon Coffin Nails
This next nail idea is one of our favorites. Most of the nails are vivid neon and there is an accent nail with pretty neon nail art. The two neon colors look amazing together and the nail art is elegant. Nails like this give you the best of both worlds. They are chic and trendy too. Recreate this look or use any pattern on your accent nail.
5. Neon Green Nails with Stylish Tips
Just like any other color there are different shades of neon. This next one is more of a pastel tone. As you can see, the shade has the brightness of neon but it is also softer because it is pastel. You can recreate this mani with trendy tips or just paint all of your nails pastel. We love the tips though, they look so cute.
6. Fun Alien Nail Design
We couldn't talk about neon nails without showing you alien nails. Neon green is perfect for a mani inspired by outer space. Here is a fun design that you could try. Some nails feature black matte design, two of the nails have a cute alien design, while the rest are matte neon green. This a unique and bold nail design. Recreate the whole look or try a simpler version that uses only neon green.
7. Vibrant Neon Nails
Next, we have another ombre idea. This time the nails use a more vivid and vibrant neon shade. Not only that, but one of the nails is also a different shape to the rest. Most of these are coffin shaped but the little finger is stiletto. The color and different shapes create such a statement making look. You could try a similar version with the nail shapes and just neon color.
8. Matte Pastel Neon Nails
The next nail idea features more pastel color. For this look, the nails are long and coffin shaped with matte green neon color. As you can see, the mani is simple and very stylish. Nails like these would be perfect for the spring and summer. A nail polish like this will suit shorter nails too. You can buy neon pastel polishes online.
9. Neon Green Flame Nails
This mani is another one of our favorites! These nails are all nude with flame nail art on the tips. We love the use of neon color on the flames because it creates such a trendy and bold look. You can find in-depth tutorials for flame nail art online. Recreate this or make the nail art even more amazing by adding glitter!
10. Glitter and Neon Tips
Speaking of glitter, our next idea is very sparkly! Most of the nails have a different design which include glitter tips and glitter nails with neon tips. We love the combination of glitter and neon, it looks so statement making and stylish. You can create tips like these with nail tape and you can find tutorials online. So, you can give this nail look a try yourself.