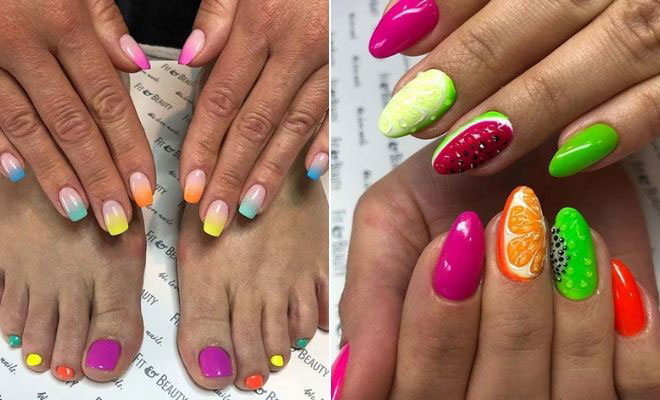 25 Nail Art Ideas and Trends to Try in 2020
We don't know about you, but we are always on the lookout for new nail art designs. The nail trends, must-have colors and more are always changing, so there is always new nail art to try. With that said, we have brought to you today 25 nail designs and ideas to get you inspired in 2020. We have so many different ideas and there are even some pedicures, too. You will find designs that can be created at home so it doesn't matter whether you are new with nails or are pro. So, take a look and give your nails a stylish makeover.
1. Cute Watermelon Nails
First up, we have these cute watermelon nails. Two nails are nude, two nails are yellow with a watermelon pattern and one nail has watermelon wedge art. It is such a fun and summery nail idea. You can recreate the whole look or just choose one of the watermelon designs. Watermelon nail art tutorials are available online.
2. Unicorn Ombre Coffin Nails
This next nail idea is perfect for those who love mermaids, unicorns and anything magical! Here we have long coffin nails with ombre art. At the bottom of the nail, a light pink shade has been used. Then towards the tips, the nail changes into a shimmery iridescent color with pink, purple and blue tones. This is a stunning nail idea and it will look amazing on everyone.
3. Elegant Almond Nails
Looking for an elegant and glam mani? Is so, this you. For this, four different designs have been used. These include white glitter, gold glitter, gold chrome and matte nude color with rhinestones. The glitter and chrome look so stylish together and the color combo is so classy. Recreate the whole look or just one or two designs on all nails.
4. Elegant Coffin Nail Art Design
Next, we have another sparkly look. This time the nails have a pink and black combo. The pink nails are light and one has black rhinestones while the black nails are sparkly. It is a pretty nail design and pink and black compliment each other perfectly. Recreate this or try the colors without the glitter and sparkle, that will look cute as well.
5. Colorful Pedicure for Summer
It's not just your fingernails that can have a stylish makeover, but your toenails too. Here is a super cool design! Most of the nails are a bright yellow and the toe nail is white with colorful art. This a fun and vibrant pedi and it is perfect for the summer and vacations. You can even have matching fingers and toes if you put the same design on your fingernails.
6. Glam and Glittery Pink Nails
Next, we have a pretty and sparkly design. This mani features long coffin nails. Some are light pink and the others are glittery and purple. The design is complete with rhinestones. It is a stunning nail idea and it will be perfect for the spring and special occasions such as the prom.
7. French Tip Mani with Lace and Flowers
This next nail idea is so trendy and chic! Two nails have the classic nude nail with white tips while the others are nude with a white lace pattern. Some nails are also decorated with flowers and silver stripes. It is such a gorgeous design that uses some of the latest nail trends. If you like your nails to stand out, then this is for you.
8. Matte Red Cherry Nails
We love this next nail idea, it is so cute and fun! Here we have long coffin nails and three different designs have been used. Some nails are matte red, one nail has light pink base and silver stripes and one nail on each hand is light pink with rhinestone cherries. The cherries are so fun and pretty. You can find red rhinestones online and you can stick them on with nail glue.
9. Matte Red Mani with Heart Nail Art
If you love bold and unique nails, then this is for you! Here we have a matte red mani. Most of the nails are just red but others have cool nail designs such as red tips or hearts. This manicure will be perfect for occasions like Valentine's Day or if you love hearts. You could even create a pink version too!
10. Vibrant Mani and Pedi Idea
Give your fingers and toes a colorful makeover with a design like this one. Five different colors have been used on the toes. Similar shades have then been used on the fingers but the fingernails have an ombre effect. It is such a cool idea and this idea is perfect for the spring and summer. Recreate this or you can use five different colors.