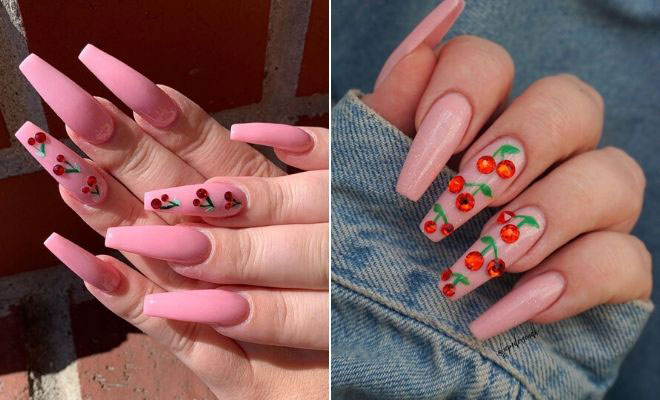 23 Ways to Wear Cherry Nails This Spring and Summer
Are you always looking for new nail art to try? If so, StayGlam is the place for you. We are always posting about new must-have nail trends. Today we would like to show you cherry nails. Cherry nail art is so cute and stylish. Not only that, but it will be perfect for the spring and summer seasons too. Cherry art can be quite simple to create. You can hand-paint the cherries with a dotting tool or a thin brush, both of which can be bought online. Any red and green polish can be used as well. With that said, we would like to show you 23 stylish nail designs. We have simple art, glittery designs and some nail ideas with rhinestone cherries.
1. Cute Cherry Nails
First up we have these super cute cherry nails. The nails are short and are painted white. Each nail is also decorated with bright red cherries. It is a stylish way to wear cherry art and the design has a vintage vibe too. This mani was created with polishes from HB Beauty Bar and you can view a short tutorial for the cherry art on the Instagram page below.
2. Black Nails with a Cherry Accent Nail
This next nail idea shows a more edgy way to wear cherries. For this look, most of the nails are black and one is white with a single cherry painted on it. The dark and rich red used for the cherry compliments the black color perfectly. This is a beautiful design and it would look amazing on longer stiletto nails too.
3. Nude Nails with V Tips and Cherries
Nude nails with white v tips has become one of the must-have looks. This is for many reasons including it being easy to wear and it is like a trendy and modern version of a French mani. These nails have got a fruity twist. One nail on each hand is decorated with a cute cherry pattern. This is a fun and stylish design that will suit everyone.
4. Fruity Nail Art
Next we have another fruity mani. This time, all the nails are nude but the nails on each hand are decorated with different fruit. One hand has peach art and the other cherry. The peaches and cherries look so cute and the mani would be perfect for the summer. You can recreate this or you can try cherries with a different fruit.
5. Pretty Pink Coffin Nail Idea
Love to wear pretty pink nail colors? If so, this is perfect for you. Here we have bright pink coffin nails with a cherry accent nail. What we really love about these nails is that the red part of the cherry is actually rhinestones instead of paint. This is such a glam way to wear cherry art. You can buy red rhinestones online and you can stick them on with nail glue.
6. Blue Nails with Cute Cherries
This next nail idea is one of our favorites. The cherry art was inspired by Cath Kidston and as many will know, the brand creates so many fun and bright patterns. These nails are a pale blue color with a small and cute cherry pattern. This mani would be perfect for the spring because of the light blue shade. Recreate this mani or you can try and paint bigger cherries.
7. Nude Nails with a Black Cherry Accent Nail
When you search for cherry nail art you will usually come across red cherries. However, if you are looking for something a little different, then you should give black cherries a try. This nail idea is a great example of what you could wear. Most of the nails are nude and there is one cherry accent nail. The cherries are small and black which is such a trendy look. We love this idea because it is unique and chic. This is a subtler way to wear cherries.
8. Pink and Red Nail Design
The next nail idea is so trendy and fun! For this look, some nails are red and some are pink. There is also one nail that has clear and pink stripes. Most of the nails are decorated with cherries. It is a statement making mani and you will stand out from the crowd in style if you wear it. Recreate the pink look or you can try a similar design in a different color. White or blue would be great color choices.
9. Blue Nails with Rhinestone Cherry Art
Add some glitz and glamour to your nails with a design like this one. Two nails are a chic navy blue and the others are light with rhinestone cherries. The red parts of the cherries feature different sized crystals and there is a small green gem acting as a leaf too. It is such a unique and sparkly design. You can buy rhinestones online that will give you a similar look. Try this design or put rhinestone cherries on all nails.
10. Clear and Sparkly Pink Nails
We love this next nail idea too! This mani features long nails that are clear, pink and sparkly. There are also two rhinestone cherries. This is another one of our favorites because colorful and clear nails like these are so trendy and they look so cute with the cherries. This would be a great mani for the summer season. You will be able to buy full cherries like these online and stick them on your nails.