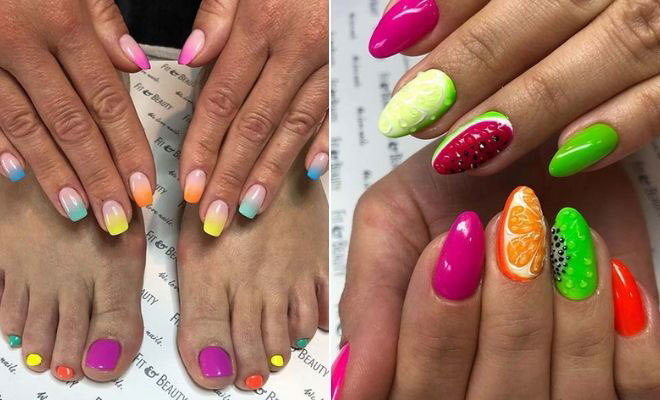 Instagram
Beauty
25 Nail Art Ideas and Trends to Try in 2020
By
|
11. Fun and Fruity Nails
This next nail idea is one of our favorites! Here we have a fun and fruity mani. Some nails are block colors such as pink, orange or green. There are also two fruity nails on each hand that feature orange, lime, watermelon and kiwi art. It is a brilliant idea and it is perfect for the summer. Recreate the whole look or just use one fruit design on all nails or as an accent nail.
12. Cute Heart Nail Art
If you like the cute nail designs, then you need to check this out. Two nails are sparkly and the rest are light with heart art. The hearts look so pretty and the overall mani is so trendy. You can hand-paint hearts or use a stencil. Either way, you can find tutorials for heart art online.
13. Neon Orange Nails with Ombre Stripes
Looking for a summery nail design? If so, this could be perfect. Here we have short nails. Some are light and bright orange while some are white. The white nails have stripes with orange and gold glitter ombre. It is such a pretty idea and the ombre stripes are so trendy. Try a similar mani or you can have block color stripes. You can easily add stripes to your nails with nail tape.
14. Nude and Silver Glitter Coffin Nails
Next, we have more glam and glitzy nails. This mani features long coffin nails with a pink, white and silver glitter color palette. Most of the nails are a block color but the white nail has silver stripes. This is a stylish and easy to wear design. It will suit every nail shape and all occasions.
15. Pretty Butterfly Nail Art Design
Love butterflies? If so, this nail idea is perfect for you! For this look, the nails are bright pink and two nails are light pink with butterfly wings. Each nail has one butterfly wing so when the nails are together, the butterfly looks complete. Recreate a cute version like this or you can use any butterfly wing design.
16. Neon Nail Design
Rainbow nails have become a big trend and here is how to wear bright colors in a more unique way. Here we have long nude nails and each nail has a different colored stripe down the center. It is a stylish and bold design. You can create a neat stripe by using nail tape or a stripe stencil. You can easily try this one at home.
17. French Ombre Nails with Rhinestones
Another popular nail trend is French ombre and this is a beautiful way to wear it. As you can see, the nails are long and feature the light pink and white ombre. The nails are also adorned with sparkling rhinestones. It is such a glitzy and elegant design. This would be perfect for special occasions such as weddings and more. You can buy rhinestones online and stick them on with nail glue.
18. Simple Nude and Silver Glitter Coffin Nails
The next nail idea is another pretty nude nail design. For this look, some of the coffin nails are painted nude and some are silver and sparkly. It is a very elegant nail idea and the nude and silver look beautiful together. You can recreate this or for a bolder mani, you can use a darker shade of nude or opt for any other nail color. Silver glitter will go with every shade.
19. Nude Nails with Elegant Flower Art
This next nail design is another one of our favorites. Here we have matte nude nails and there are two white nails as well. The white nails are decorated with beautiful flowers. This is a very pretty and stylish nail design and it is perfect for the spring, summer and weddings. You can hand-paint the flowers or buy nail stickers online.
20. Pretty Purple Nail Art Design
Earlier we featured a magical mani and here is another one with a magic vibe. Each nail is different and includes matte purple shades, chrome and glitter. Some nails are also decorated with gems. It is a stunning design and the textures and colors give it a mystical unicorn vibe.
21. Cute Cherry Mani & Pedi
If you liked the cherry nail design at the beginning of the post, then you need to see this one too. This cherry idea features a pretty and cute mani pedi. So, both the fingers and toes have the same dark red design with cherry accent nails. It is a stylish idea and this look is perfect for the summer.
22. Cute Rainbow Nail Design
We love this next idea! Some of the nails use pastel colors but it is the accent nails that make this mani amazing! One accent nail has a pastel design and the other has rainbow stripes. Both are adorned with cute white starts and hearts. This is a fun look and this also reminds us of unicorns.
23. Stunning 3D Flower Nail Art
Love floral nails? If so, take a look at this. Some nails are simple and light. While the others use the same color but with pink 3D flowers. It is a stunning nail design and it is perfect for special occasions like the prom and weddings. Recreate this or use different colored flowers.
24. Matte French Ombre Nails
Next, we have a trendy mani to show you. For this look, we have coffin shaped nails. The nails have a matte French ombre design with silver stripes and rhinestones. We love the silver with the French ombre because it gives the overall look a stylish edge. You can buy silver nail tape online, so you can create a similar look.
25. Glam Nail Design for Short Nails
The last nail idea is simple and cute. These nails have a color combo of nude, white and dark gold. It is such a gorgeous color palette and the overall nails look so chic and glitzy. The design can be used on any nail length and shape. Silver glitter will look amazing as well. You could even use a darker shade of nude.
We hope you have been inspired by these nail ideas!