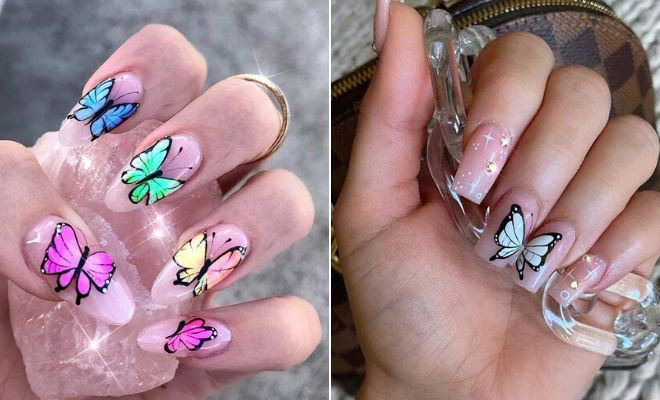 Instagram
Beauty
23 Ways to Wear Trendy Butterfly Nails This Spring
By
|
Butterflies have become one of the most popular designs in nail art. This is because butterflies are beautiful, you can create so many different designs, the intricate wing patterns look stunning and celebs like Kylie Jenner have also been seen wearing butterfly nails. With all that said, we love these designs and know that you will too. So, to give you some nail inspiration, we have found 23 of the best butterfly nails on Instagram. You will find cool patterns, amazing color combos and more. Take a look, you want to try them all!
1. Colorful Butterfly Nails
The first butterfly nail idea that we have to show you is stunning. The base is almost clear and each nail is decorated with a colorful butterfly. Nail art tutorials can be found online which can show you how to hand-paint butterflies like these. The design can be recreated on any nail length and shape.
2. Blue Butterflies
There are different ways to decorate your nails with butterflies. You can have the whole butterfly, just the wings or maybe just the pattern. These nails use butterflies in a clever way. The nails are all nude and each one is hand-painted with blue butterflies. One nail has a whole butterfly but two nails have a wing and when the nails are together, they create one butterfly. That is such a stylish and pretty design idea. The butterfly art will require practice but you can create a simpler version of the butterflies instead.
3. French Ombre Nails with Butterflies
Love to wear trendy ombre nails? If so, this design could be perfect for you. This mani features French ombre art. Two of the nails are decorated with pretty butterflies in purple, pink and light blue colors. It is a beautiful nail idea and it is quite a subtle way to wear butterflies. You can find ombre nail art tutorials online and you can use nail stickers to recreate the butterflies.
4. Purple Nails with Clouds and Butterflies
Next we have a bright and pretty nail design to show you. These nails are long and are pastel purple. Each nail features cloud art and colorful butterflies. It is a stunning design and it would be perfect for the spring and summer. This look was created with nail colors by The GelBottle Inc in shades pastel V005, Papaya, Periwinkle, Marilyn and Daisy. A similar mani can be created with similar pastel colors and with butterfly nail stickers.
5. Bright Butterfly Nail Idea
This next nail idea is super cute and fun! Each nail is matte and painted in a different color. They are all decorated with bright butterflies and leopard print in the same color. It is a beautiful nail idea and it will suit everyone. You can recreate this art on all nail shapes and lengths.
6. Nude Nails with Bold Butterflies
Like bold nail art? If so, you need to see this design. Here we have long nude nails and two nails on each hand have vibrant butterfly art. These butterflies make more of a statement because of the vivid colors used. A mani like this would be great for the summer season. You can buy pretty butterfly nail stickers that will create a similar look. Try this design or put butterflies on all nails.
7. Colorful Butterflies
This next nail idea is one of our favorites! These nails are inspired by different types of butterflies. We love this because they are beautiful, magical and they are also on trend. Not only that, but this idea is so fun and screams spring! So, for this look, all of the nails have a matte nude base. Each nail is decorated with two types of butterflies, and two of the nails even have a light blue glitter. You can hand-paint nails like these or use stickers.
8. Pink Nails with Butterfly Nail Art and Glitter
If you are looking for a more glam butterfly mani, then this design could be perfect. For this look, two nails are bright pink, one nail is glittery pink and the other nail features beautiful butterfly wing art. Butterfly wings like these can be created by first painting the gradient or ombre. Then you can use a stencil or hand-paint the black wing over the top, then finish with the white dots. You can find tutorials for the gradient and you can use a dotting tool for the dots. If you don't have one, a toothpick can work as well!
9. Dark Nails with Purple Butterflies
Butterfly nails don't have to be bright. You can opt for darker shades and this mani is a great example. Each nail is matte with black tips. The butterflies are delicate and stunning and they add a touch of glamour. We think this is a chic way to wear butterflies. If you want to be even subtler, you can just have the butterfly accent nail or opt for a different tip color. This mani is perfect for the fall and winter.
10. Simple Butterfly Nail Art
Looking for a simple and stylish nail design? Then check this out. Here we have short and light nails. Two nails also have one half of a butterfly wing so when the nails are together, a whole butterfly is created. The butterfly itself has a simple black design with no intricate patterns on the wings which means you could recreate this yourself. All you will need is a light polish, a black nail polish with a thin brush and a steady arm, of course!