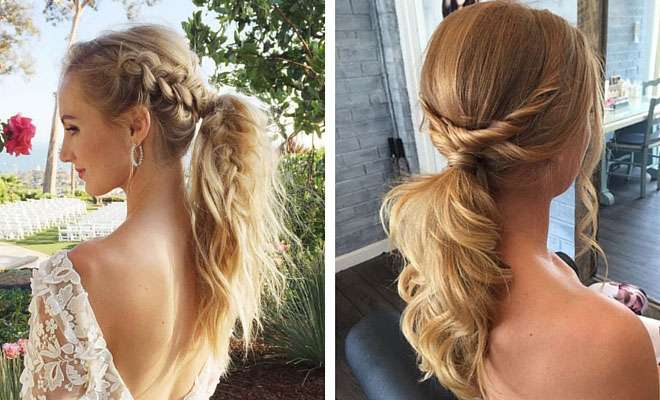 45 Elegant Ponytail Hairstyles for Special Occasions
31. Trendy Bubble Ponytail Idea
Bubble ponytails have become a must-have look! We have seen ponytails like these on celebs like Kendall Jenner, Blake Lively and more. Here is a beautiful example of a bubble ponytail. This one is a little different to the others as it has braids around the sections instead of just hair ties. You can recreate it with or without the braids and there are plenty of online tutorials to help you.
32. Faux Hawk Braid into a Ponytail
This next idea features half of a braid that ends in a cute ponytail. If you can already create braids then a ponytail like this should be a simple and trendy hairstyle for you. This will look amazing for weddings and you could even glam it up with some hair accessories.
33. Sleek, Low Ponytail
Look stylish and sophisticated with a sleek ponytail. Here is a gorgeous example. The hair has been styled into a straight, low ponytail. There is a little volume at the top and there is a wrap of hair around the hair tie. This is a stunning style that will make you steal the spotlight at any special event.
34. Braided Ponytail Idea for Medium Length Hair
Next, we have another two braid ponytail. This one has longer and looser braids than the one we featured earlier. The different braid style gives the hair a glam, boho look. A ponytail like this would be perfect for a bohemian theme wedding.
35. Dutch Braid Faux Hawk Pony
Make a statement with a ponytail like this one! The hair has been styled into a large and loose Dutch braid along the center of the head with smaller braids down the sides. A hairstyle like this shows off your trendy and edgy style but it does so with glamour. So, it is perfect for any special occasion.
36. Stunning Low Ponytail Idea
Our next idea is another low ponytail. This one is just wow! The hair is sleek at the top and then once the ponytail starts, the hair becomes wavy and full of volume. This is a stunning hairstyle and something like this will give everyone hair envy!
37. Simple and Elegant Low Ponytail
Next, we have an elegant twist ponytail to share with you. The ponytail has volume at the top because a section of the hair has been clipped up with a slight twist and the twist carries on until it reaches the ponytail. For the actual ponytail, the hair is beautifully waved. This is another gorgeous ponytail that has a vintage vibe.
38. Sleek Ponytail with Braids
Love sleek ponytails? Then check out this next look. The ponytail has been styled high and the hair is so smooth and sleek. There are also braids added to the hair which gives the style a trendy look. We love this idea because it is another hairstyle that makes you glam but shows off your own unique style too.
39. Beautiful Messy Braids and Ponytail Idea
Here we have another version of the double braid ponytail. This one has mid length braids that are loose with a beautiful textured ponytail. It would be the perfect style for a bridesmaid or for someone going to a prom. It is stylish and chic look that will suit everyone.
40. Half Up, Half Down Ponytail with Waves
Some ladies may avoid wearing a ponytail because they do not like all of their hair styled up. So, we have a great solution. This hairstyle features a half-up ponytail. A section of the hair has been put into a high ponytail and the rest of the hair is left loose. The hair is also beautifully curled. It is a gorgeous hairstyle and it is another one that gives you the best of both worlds.
41. Edgy Braided Ponytail
Next, we have an edgy but elegant ponytail to share with you. For this look the hair on the top of the head is in a very loose braid and the sides of the hair have been styled into fishtail braids. The ponytail is straight an textured. All of these elements create one trendy ponytail that looks cool but glam for a special event.
42. Simple and Stylish Ponytail
If all the the braids and other intricate styles are not for you, then you can try a simpler look like this one. This ponytail is subtle but super stylish. The hair has volume at the top and then the ponytail is waved. It looks effortlessly beautiful and you will look like the belle of the ball with a ponytail like this.
43. Half French Braid Pony
Earlier we featured half of a braid with a ponytail. Here is another way that you can wear this style. This is a half French braid with a long curled ponytail. There is also loose hair at the front. It is a chic and stunning look that will suit everyone. We love this ponytail idea!
44. Side Braid Ponytail Idea
Our next idea is another side braid ponytail. This one is different to the previous one because there are two side braids instead of one. The double braid just gives the hair a stylish and unique look. After the braids there is a curled ponytail. This is a glam hairstyle that will make you look stunning for any occasion.
45. Trendy Ponytail with Braids
Want to look trendy, edgy and glam? Then this is the hairstyle for you. Here we have a straight ponytail with volume and a stunning braid. We love this idea because it is a ponytail that allows you to let out your inner rock chick in style!
To create the volume on your crown you can tease / back comb and then grab your hair and tie it back. You won't find an easier ponytail you can do in less than a few minutes. This is ideal for relaxing, going shopping, going to work or going on a date.