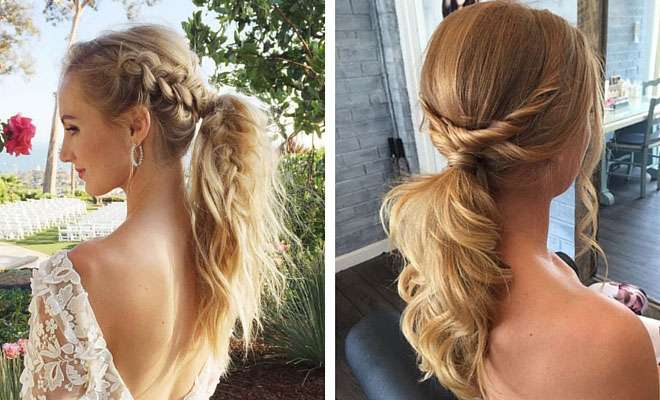 Instagram
Beauty
45 Elegant Ponytail Hairstyles for Special Occasions
By
|
21. Ponytail for Brides or Bridesmaids
If you are getting ready to be a bride and are wondering what kind of hairstyle you are going to have for your big day, think about having this style.
It is elegant and gorgeous. Simple and not time consuming so you won't have to start getting ready so early on your wedding morning. This works well when you have a few side bangs that can dangle. Tease your crown and loosely tie your hair back. It's also great for a bridesmaid.
22. Simple but Eye-Catching Low Ponytail
This is a stunning and simple twist hairstyle.
Grab a few stands of hair and twist. Use bobby pins to pin the twists and tie your back. Remember, less is better so only twist two sections on each side. Natural waves look great for the ponytail section and the front hanging strands.
23. Messy Braided Style
The trick to this hairstyle is that there are no rules.
When styling your own hair, it's always best to work on your own style and intuition. You can style your hair into a messy braided ponytail by braiding the side section and intertwine with your ponytail.
24. Dutch Mohawk Ponytail
Make your ponytail stand out by adding a Dutch Mohawk.
The Dutch braid will create you a much higher life on the top of your head, giving you more volume. You can always curl your ponytail so it gives the illusion of fuller and thicker hair.
25. Super Long & Super Messy High Ponytail
Uber long hair looks elegant and gorgeous, especially when you have a messy, simple ponytail.
26. Vintage Glamour Ponytail
Add some vintage glamour to your look with this ponytail. The ponytail is styled quite high with volume at the top and the hair itself is beautifully curled. A ponytail like this is perfect for an event where you want to look chic. It is an easy to wear hairstyle that will suit everyone.
27. Double Braid Ponytail
Next we have a double braid ponytail. For this look the hair has been styled into a middle parting with a beautiful braid on each side. Then both braids meet and turn into a high ponytail. It is a combination of modern and trendy hairstyles with an elegant ponytail. So, you can look glam but show off your own unique style too.
28. Boho Low Ponytail Hairstyle
Love boho style but need to glam up a little for a special occasion? Then this is the hairstyle for you. The hair has a fishtail side braid and then a trendy, textured ponytail. There is some loose hair at the front too. We love this hairstyle because you get the best of both worlds. You can look stylish and Bohemian but also chic and elegant.
29. Elegant Side Braid and Curly Ponytail
Next, we have another ponytail idea with a side braid. This one has a halo look to it. The hair has been braided beautifully around the head and then the braid blends into a ponytail. It is an elegant, pretty and romantic hairstyle that would be perfect for a wedding, date night or prom.
30. Glam Twist Low Ponytail
Prefer a subtler hairstyle? Then take a look at our next idea. This ponytail is styled low and features a stylish twist design. The hair has been beautifully curled too. It is a stunning and glam hairstyle that looks effortless. A ponytail like this would look amazing with sparkling earrings!