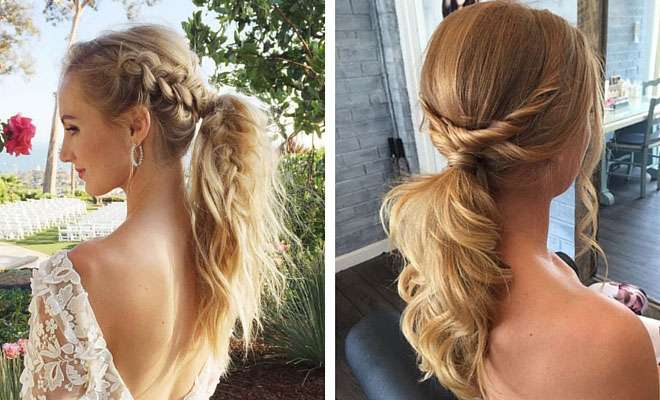 45 Elegant Ponytail Hairstyles for Special Occasions
There is no need to have the standard basis ponytail these days. There are so many different hairstyles to choose from, depending on your style and the length of your hair. If you have mid to long hair and you live a hectic and busy life, occasionally you want to tie your hair back and get on with the day, without having to think about what your hair looks like. Having your hair down, can make us feel irritated and make us feel flustered, especially if you work in an air-conditioned office that makes your hair static and dry.
Maybe you are bored with the standard ponytail hairstyle so you need to try our 45 elegant ponytail hairstyles that will make you look amazing and chic. These stunning hairstyles will make you wonder why you didn't try them sooner!
1. Curly, High Ponytail
Add some curls to a standard ponytail and you instantly feel the glam and look amazing.
This is simple and easy to do. You can either curl your hair before you tie it back or for the girl-on-the-go, tie it back and start to curl the ponytail section only. If you have natural curly hair then you have the advantage of not having to curl your ponytail but just remember, you can use hair serum to make it easier to tie back. It must be sleek. This is a contrasting style with having tight hair and curly, bouncing hair at the back.
2. Messy Ponytail with a Braid
Messy hair is trending all over the world right now and having a messy ponytail looks fabulous.
Add a side braid to your messy 'do and loosely tie you hair back to create a stunning hairstyle. This is a great look for music concerts, gigs, festivals and weddings. So get partying with your ponytail braid. This is also perfect for a bride-to-be. It will make you feel like a Goddess.
3. Twisted Low Ponytail
Need a hairstyle for the office that can be easily an evening look too?
There are always these random days when you go to meet a friend after work, or have a date. If so, go for a twisted low ponytail. This style looks so elegant and girly. This is quite a messy hairstyle but still holds the classy look. It looks stunning from the back and the front. For the best result, make sure your twists are as low as possible so you create the natural life above.
4. Vintage Ponytail
Vintage is everywhere at the moment and people seem to be going crazy for the high-rise crown.
This style looks amazing and intricate. The best advice for this style is hairspray and teasing. It is very feminine and would suit any occasion. This works better with longer hair due to having to wrap the bottom section underneath your ponytail.
5. French Braid into Low Side Ponytail
This a stunning braid into a side ponytail.
The low ponytail will show off how spectacular your braid looks. Remember to use a hair serum or coconut oil to ensure the back of your hair stays sleek and chic. This is a neat look so you need to ensure you tame any loose hairs. If you're going to an event where you know you'll be photographed, have this style and ensure you're captured on your braid side. You will look amazing.
6. Fishtail Braid Low Ponytail for Long Hair
It's Coachella season so now is the time for Coachella styles.
If you have really long hair, the choices of hairstyles is endless. Take this gorgeous fishtail braid mixed with a low ponytail. This is a style for all of you that love the messy hairstyles and fishtails. You don't need to be an expert at fishtails for this style due to the fishtail being so small. Try it and see. I can guarantee you will love it. It has a great boho, music festival vibe.
7. Voluminous, Low Ponytail
If in doubt, add volume.
This hairstyle is elegant and perfect for work, parties and any other time. A voluminous, low ponytail will create a style of its own so you don't have to be flamboyant with your outfit, keep it simple and chic. You can team with heavy makeup to show off your beautiful face, as the hair will be entirely tied back.
8. Bubble Low Ponytail
This is so simple to do and yet so effective.
The bubble low ponytail, teamed with a stunning half up fishtail braid looks effortless and elegant. These two words as well as stylish, on-trend and inspired, are to be used to describe this hairstyle. Get ready for the summer and create this feminine and girly style today.
9. Messy Ponytail
It's truly unbelievable how incredible you can make your hair look different and sexy, just by having a loose and messy ponytail.
This works better with mid to long hair. Grab your hair and loosely tie it back. Then start to gradually pull a few sections out from the front and let them hang. This all creates the messy look so don't be afraid to pull as many as you like and if more fall out during the day, leave them.
10. Braided Half-Up Ponytail
To show off your long fabulous hair, try this braided half-up ponytail.
Make three front sections and start to make three half braids. They only need to be braided until you reach the ponytail area, ensure that all braids are directed to this point and tie your hair in a band to secure. Alternatively, you can choose to not use a hair band and wrap you hair around to act as a band.