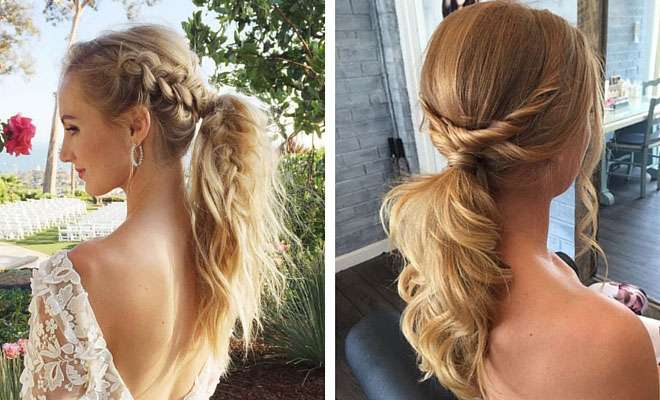 45 Elegant Ponytail Hairstyles for Special Occasions
11. Dutch Braid into a Ponytail
The best thing about a Dutch braid it that it looks hard to style but it's easy when you know how.
If you are great at making French braids, then try this. It's the opposite of doing a French braid – you plait under each other, not over. Sounds complicated but everything always does before you master it! Try this style when you are going out with your friends and they will be so impressed. They will probably ask you to teach them how to do this with their hair! Finish the look with a cute ponytail.
12. Fishtail Braids into a Side Ponytail
Instead of simple twisting a few front strands, try fishtailing them.
This will show off your creative style and add a side ponytail for that delicate finish. This elegant, feminine, easy to do style will make you feel like a Princess, so style your hair today and this will probably turn out to be your go-to hairstyle for any event.
13. Braids into a High Ponytail
Having section braids looks elegant and sophisticated.
Section your hair for the braids and pin back to make it easier to handle. Ensure you have a high ponytail and wrap a section of hair around your hairband to finish the look. Ideal for any occasion even if you're just popping to the shops. Rock your braids girl!
14. French Braided Low Ponytail with Volume at the Crown
The simplicity of a French braid is truly wonderful.
Make your French braid unique by creating volume at the crown. Part your hair to the side and tease the crown to pump it up. It's easier to braid your ponytail if you tie it first, this way, it will be secure, neater and tighter than a braid that isn't tied. You can make this neat or messy; it's entirely up to your preference. If you would like the braid to be a loose braid, like the photo, when you have finished braiding, tie it with a band and start to pull either sides of the braid. You will notice that it starts to loosen up. Don't worry, it won't lose it's braid style but shorter hairs may dangle. Let them hang out and enjoy your style.
15. Curly High Ponytail + Braided Hair Tie
Are you looking for a prom, party or wedding hairstyle that will look magnificent and make you feel special?
This curly high ponytail will be ideal for you. Simple grab your hair, tie it back with a hair band. Then grab a section from your ponytail and braid it. Wrap the braid around your hair band. To finish this look, curl the bottom half of your ponytail for that extra wow effect.
16. Curly Ponytail with the Teased Crown
Many people use the term back comb and when teasing is used, we tend to get confused as to what this is.
Teasing and backcombing are the same things guys so don't worry, there's not a new trend for volumising your hair, it's just different wording which can catch us off guard. Now you know, it's entirely up to you which term you use. This style uses teasing (or backcombing!) to create the style. You need to tease the crown to add a more drama and bulk result. Curl your beautiful locks so your ponytail has volume too. Get teasing girls!
17. Dutch Braids into a Low, Curly Ponytail
When thinking of braids, people tend to think of fishtails, French braids but rarely a Dutch braid.
That is why you must try it. This will get peoples heads turning and you will receive so many complements during the day. Make sure you have a low ponytail and that it's volumised by adding a few curls. The Dutch braid is a perfect summer style so get practicing now.
18. Half-Up Ponytail for Mid Length Hair
If you are craving longer hair, to give the impression that your mid-length hair is exactly longer than it is, try this half-up ponytail.
Leave the bottom section down and roughly tie your top section up. Once it's tied up, make sure you bunch it up to create more volume. You could loose-curl your hair too for a natural looking wave, which looks fantastic.
19. Perfect Formal Ponytail
Sometimes, we haven't got the time during our morning routine to style our hair in an detailed way.
If you need a hairstyle for work or college, that doesn't take long to do, try a simple, perfect formal ponytail. To achieve the natural crown lift, make sure you do this on hair that you haven't just shampooed and cleaned. When hair hasn't been washed for a day or so, you can create better long-lasting, higher styles without having to use as much hairspray. To make sure loose strays don't fall out during the day, use bobby pins to pin the shorter locks.
20. Bubble Ponytail with Hair Accessories
This is a fun and creative hairstyle that looks more detailed with the accessories added.
A bubble ponytail along looks innovative and stylish, but when you start to add flowers or delicate hairbands, it looks amazing. Try this and see for yourself. You can add any colour flower bands you like, we think white looks amazing with blonde hair and it will also suit darker shades.
Last modified on February 7, 2019