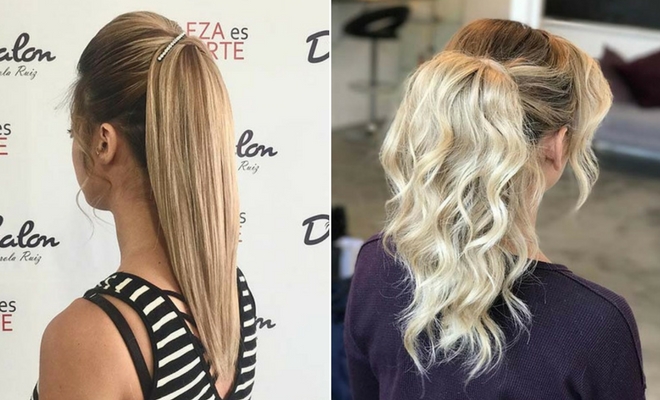 Instagram
Beauty
21 Elegant Ponytail Hairstyles for Special Occassions
By
|
Ponytails can be thought of as a casual style. However, ponytails can be styled into beautiful hairdos. Not only can you wear a ponytail for any occasion but these hairstyles are also great for the summer. You can look stylish and keep cool at the same time. We have found 21 elegant ponytail hairstyles that would be perfect for a party, wedding and more.
1. Elegant Ponytail with Waves
First up we have this stunning low ponytail. The hair is wavy and has a wraparound of hair where the hair tie is. A hairstyle like this will wow for any occasion. Pair with bold makeup for a night out and with soft makeup for a special occasion like a wedding. This hairstyle would also look beautiful with straight hair to.
2. Ponytail Updo
Next, we have a very elegant ponytail that is sleek and straight. It has been placed high on the head and has volume at the top. It has been finished off beautifully with a sparkly accessory. You could choose any accessory for this style. To make it extra glam you could even add in some curls.
3. Short Curly Ponytail
Looking for a bridesmaid style or prom style? Then this could be for you. Our next pick features a cute and curly short ponytail. It has been finished off with some dainty flowers. Something like this would be perfect for a special occasion. It is also great for the ladies with short hair as updos can be tricky. Wear with or without the accessory.
4. Braided Ponytail
Want a style that is a little funkier? Then you might like this next style. It features a trendy fishtail braid with a wraparound. This style could be worn for any occasion. Something like is both causal and but can be dressed up to. You could recreate this look or just use the fishtail braid idea.
5. Pretty Wrap Around Ponytail
Our next pick is pretty and simple. It features a lightly curled ponytail with a wraparound. You could recreate this style as it is or maybe add more curls. It would also look beautiful with straight hair to. We love that it doesn't look too complicated it is just subtle elegance.
6. Accessorized Ponytail
Ponytails can be jazzed up with accessories. This ponytail with volume would look stylish as it is but the added accessory just steps up the style game. We love the simple but statement making design. You could add a funky accessory to your ponytail. It is an easy way to refresh your style for a low cost.
7. Wavy High Ponytail
If you liked the wavy style from the beginning of the post, you might like this one to. This high ponytail features beautiful waves. As the ponytail is high on the head it creates more of a bold statement. This hairstyle will suit everyone and could be simply recreated at home. An elegant ponytail like this is great to learn because you can wear it for any occasion.
8. Braided Boho Ponytail
Boho never goes out of fashion. It always come back into the style spotlight especially around the summer time. Our next pick shows how you can create a braided boho ponytail that looks elegant. This would look casual with jeans or pair it with a pretty dress and you will have a stunning look. Consider something like this if you are going to a beach wedding.
9. Elegant Ponytail with Volume
Our next pick has a vintage vibe. It features a chic low waved ponytail. The style also has volume on the top. This combination reminds us of the glamorous styles that have been and gone. Hair like this would look perfect with winged eyeliner and red lip. It is important that your hair and makeup complement each other.
10. Sleek High Ponytail
Prefer your hair to look sleeker? Then this style is for you. This ponytail sits very high on the head and features a wraparound. It is a simple but very stylish style. You could wear this for any occasion. It would look amazing for a night out or party.
11. Pretty Textured Ponytail
If you have an edgy style but want to look elegant then this hairstyle is the perfect combination. It has the chic volume and curls but it is textured. The textured look means it is not as sleek as other styles. This just gives the prettiness and edge. We love this ponytail.
12. Glamorous High Ponytail with Braided Wrap
Our next pick is a ponytail that will wow! This style features a ponytail very high on the head with a braided wrap around. The ponytail is full of volume and has a vintage glamour vibe. An elegant hairdo like this is perfect for a night out, date night and more.
13. Stylish Ponytail with Hair Rings
Hair rings have become the must have hair accessories. Celebrities love these and we do to. These trendy hair rings can be used to create an elegant look. This hairstyle features a low ponytail with a wrapped style and subtle hair rings. It shows how stylish trends and classic chic styles can be used together to create a beautiful hairstyle.
14. Ponytail with Side Braid
This fashionista shows how to rock a side braid ponytail with elegance! This style can be worn for both casual occasions and more formal ones. It is a versatile style that is great to learn. You could create this hairstyle in a few ways. Try a straight ponytail, a higher one or try a bigger braid. However, you choose to style your side braid ponytail, you can be sure it will look gorgeous.
15. Bouffant Ponytail
A voluminous bouffant will add glamour to any hairstyle. It is especially true with a ponytail. A little volume has transformed this style from casual to elegant. You could wear a hairstyle like this for any occasion. You could even add in some accessories like a flower.
16. Low Ponytail with Ribbon
Next, we have this low ponytail that features a black ribbon. The addition of the ribbon jazzes up the style. You could add any ribbon to your hair. Maybe to match your outfit. Black is always a chic color choice. Try adding a ribbon to both curly and straight ponytails to create a different look.
17. Textured Ponytail
Here is another elegant waved ponytail. This one is slightly more textured than the others featured. It is trendy and chic. It would suit any lady of all ages. We love this look because it would look great for work and for a night out to. Something like this would be good for people with short hair to.
18. Elegant Side Braid Ponytail
Our next elegant ponytail looks like a hairstyle straight out of a fairy-tale. It is long, has volume and features a beautiful braid. A hairstyle like this would suit any princess. We love this look and it would be perfect for a special occasion like a wedding. It would be a beautiful choice for date night to.
19. Ponytail for a Special Occasion
Next, we have this gorgeous low ponytail that features pretty, white flowers. The hairstyle also features two side braids. Something like this would be perfect for a beach wedding for either the bride or bridesmaid. You could add any flower to this style. Maybe something tropical for the summer.
20. Simple and Chic Ponytail
This hairstyle is very simple but stylish. It is a high ponytail with subtle waves. Sometimes less is more and this is true with this ponytail. It is elegant on its own and could be dressed up or down to suit any occasion. If the minimalist look isn't for you, you could add a wraparound or add more curls.
21. Loose Braid and Wrap Around Ponytail
Last on our list is this funky braided style. It is a loose braid with a wraparound. This can be worn as casual style but you can glam it up with makeup and an elegant outfit. Pair with light makeup and a pretty dress for chic summer look.
We hope you have found inspiration from our elegant ponytail hairstyles.