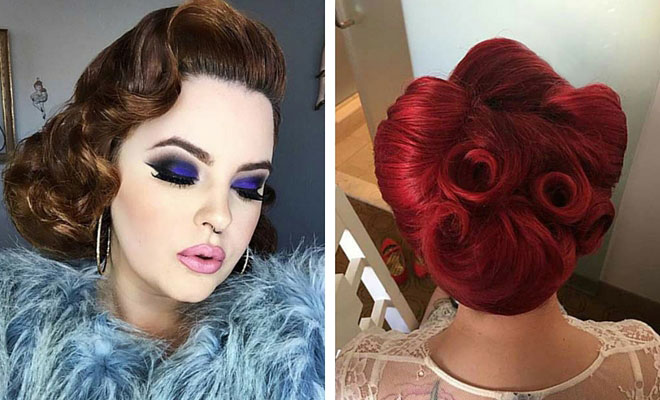 Instagram
Beauty
21 Pin Up Hairstyles That Are Hot Right Now
By
|
Originating from the 30's, 40's and 50's, these 21 pinup styles are so hot right now, you'll kick yourself for not trying them sooner. Some of them are simpler than they actually look and all of them are completely achievable with a little bit of practice. Without any further ado, let's present to you…
The 21 Pin Up Hairstyles That Are Hot Right Now: 
1. Glamorous Wavy Style
Everyone thinks you need curling irons to recreate many of the pinup looks you see but the reality is… You don't. You can easily achieve some of these looks, especially this glamorous wavy style, with the help of some smart blow-drying, your hair straighteners and some hair grips.
If you're shaping your hair rather than curling your hair, your hair straighteners will help to create the flick or curl as long as you flick it out as you pull it down your hair. Once achieved, hold the curls in place with grips until they've set and you're basically ready to go.
2. Pin Up Curls
If you're going to use curling tongs, make sure you brush the curls out to achieve this beautiful pin up curls look. This is just an original, curly look but touseled and released so rather than being curls, they're waves instead.
The side parting helps to make things super glam here. In fact, the side parting is a great way to add instant glam to any hairstyle. Just a clever little trick for you to remember!
3. Cute Updo with a Scarf
Whatever the weather, a scarf is a great idea. If your hair won't go right, cover it with a scarf. If your hair needs washing but you can't be bothered / don't have the time, cover it with a scarf. Need a look that will accessories and colour-match your outfit completely, cover your hair with a scarf…
Every self-respecting pinup girl knows that her look just isn't complete without the right accessories. So get accessorising!
4. Tight Curls & Short Bangs Hairstyle
Tight curls are quite scary for some, especially with short hair and bangs but somehow, this orange / redheaded look just works perfectly… Don't you think?
It's almost Gatsby-inspired but not quite. It is however, super cute, super simple and works really well with the right length of bang. Not everyone can achieve this super short look but if you can, be bold with it! Rock it!
5. Victory Rolls Updo
Victory rolls are the very essence of the pinup style so you better learn how to do these and fast! There's a trick to it you see…
You'll want to start with one day post-washed hair. If you have cleaned and conditioned hair, it'll be too 'fluffy' and light unless you use loads of hairspray and back-combing (which isn't great for your hair by the way). Grab your sections from the front half of your head and pin the rest out the way or hold it back with a ponytail. Split in half and you have the two chunks you'll be transforming.
Using a little light back-combing along the way if you need to, and spraying some hairspray along the way will help, guide the hair so that it starts to curl around, using your fingers to help guide the strands in place. When in position, hold with bobby pins, and if you have blonde hair, use blonde pins to ensure they're not too visible. Black pins look very obvious sometimes and can spoil the look. Spray with hairspray, pin the remainder of the hair up, and add a scarf for a real pinup touch.
6. Retro Bridal Hairstyle
This look is another one great for one day post-washed hair, and with this look you can actually get away with it being a little on the greasy side too.
If you had curls the night before, don't waste them the morning after. Brush them out with a large paddle brush, using gel or hairspray as you go, and coax into this wavy style. Curling the front is super easy with your hair straighteners, simply flicking the hair under as you go, and once again, gel will help keep that front-facing wave in place.
7. Modern Bettie Page Look
Short bangs aren't an easy look. Baby bangs are high maintenance, need to be kept regularly in-check, and don't work well with all face types. However, if you have the time and dedication necessary for this look, and your eyebrows are 'on fleek', this is a great one to go for.
If you have a round face, this is brave one to go for as the blunt and straight bangs can often make shortness and fullness to be much more accentuated. Oval faces can find blunt bangs very flattering when done in the right way (although keeping it a bit longer is often more advisable than wearing them super-short).
8. The Bombshell Hairstyle
It's a classic pinup, bombshell hairstyle and one that we can't help but fall in love with. Heated rollers will be your best friend if you want an easier way to coax your hair into a look like this. You don't always need to rely on curling tongs and hair straighteners to achieve the look.
A light volume-infusing mousse can help to add oomph and protection before using a blow dryer, and using a large, round brush whilst drying can also help. Drying your hair upside down will also help to add volume at the roots.
9. Victory Rolls Half Updo
Here's a little tip for you if you want to keep your victory rolls in check when trying this stunning look, make sure you're using them the right way!
The wavy side should be the side that faces your head, not the straight side like so many of us do. Also, before you use your bobby pins, spread them out over a piece of kitchen paper and give them a light spritz with some hairspray. This will help them to stay right where you want them to!
10. Bumper (Faux) Bangs
If you've ever tried a victory roll, this is basically the same but rather than curling it over the side to get that spiral look, you simply roll under to create these bumper (faux) bangs.
These bangs are a great idea if you're not brave enough to have your own cut in, plus they are a classic 50's pin up style which is what makes them so great. Using the longer lengths of your hair, simply backcomb and curl, affixing into place with some grips and a quick burst of hairspray. Obviously the headscarf just helps to complete the look.