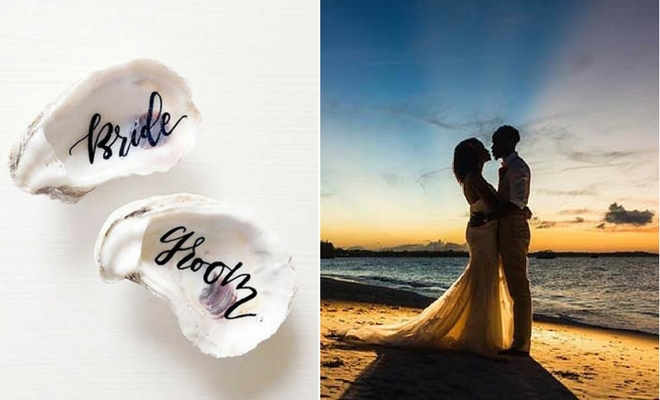 Instagram
Lifestyle
21 Ideas for a Blissful Beach Wedding
By
|
Beach weddings are very romantic. There is something about the exotic location, beautiful weather and the sound of ocean waves that evokes feelings of happiness and bliss. If you are planning to tie the knot at the beach, then have a look at these ideas to get some inspiration. We have decor ideas and more. Any of these will help you create a stunning beach wedding that you and your guests will love.
1. Tropical Bouquet
Match your bouquet to the tropical setting with bright blooms. This gorgeous flower arrangement features multi tone flowers including pink and vibrant orange with rich green leaves. Flowers like these would match any dress. You could re-create your bridal bouquet with a tropical theme but with different flowers types, colors and plants.
2. Message in a Bottle Invites
Next, we have some fun and unique invitations that anyone would love to receive. These invites have been designed to look like messages in bottles. Invites like these suit a beach wedding theme perfectly. If you like crafts this could be a great diy project.
3. Simple Beach Wedding Dress
When choosing a dress for a beach wedding there a couple of things to consider. You have to pick a dress that suits the weather and one that is suitable for the sand. A big, puffy dress in the heat won't be fun and your movements will be restricted. So, try something simple like this. You get the gorgeous bridal look, with a slim fit that will suit the beach.
4. Elegant Wedding Reception
Beach weddings can often have a relaxed vibe but don't let that stop you adding glamorous touches. This reception table uses influences from the beach with the blue shades. It also has glam flashes of gold and is finished off with roses. All these elements create stunning tables perfect for the beach, it is a great source of inspiration.
5. Bridal Barefoot Sandals
Sandy shoes are not great. So, ditch the shoes and try barefoot sandals! These marvelous things allow you to be free and barefoot on the beach but you also have the look of a gorgeous shoe. Bridal ones like these feature pearls and gems. Something like this would suit any dress.
6. Beach Theme Wedding Cake
The wedding cake designs for a beach wedding are endless. So, if you want to wow go for something unique like this. This cake features a sandy beach with cute deckchairs with the bride and grooms name. It is a gorgeous creation that would look amazing at any wedding.
7. Floaty Bridesmaid Dresses
Choosing the bridesmaids dresses is very important. You want the dresses to suit yours and to look great. The last thing you need are unhappy bridesmaids. An easy way to get the dresses right for a beach wedding is to choose something floaty and simple like these. Dresses like these suit every girl and will compliment any bride's dress.
8. Creative Oyster Place Cards
Make your tables unique with these cute oyster place cards! These shells feature stunning calligraphy and suit the beach theme. You could re-create these or you could use any shell found on the beach. Try mix and matching shells for a natural look.
9. Wedding Photography
Your wedding photos are important. It is a way that you, your family and friends will remember the special day. Beach locations make stunning backgrounds on photos. There are so many amazing photos created in blue waves but how about a gorgeous sunset photo like this. It really captures the romance of the day. A picture like this is great inspiration for how you want your photos to look.
10. Floral Wedding Aisle
A lot goes into wedding planning. One of the important things to think about is how you want the aisle designed. Take a look at this stunning aisle to get inspired. This features a floral walkway with stunning white chairs. The big blooms look amazing dotted around. Something like this will make the day special and will wow the guests.