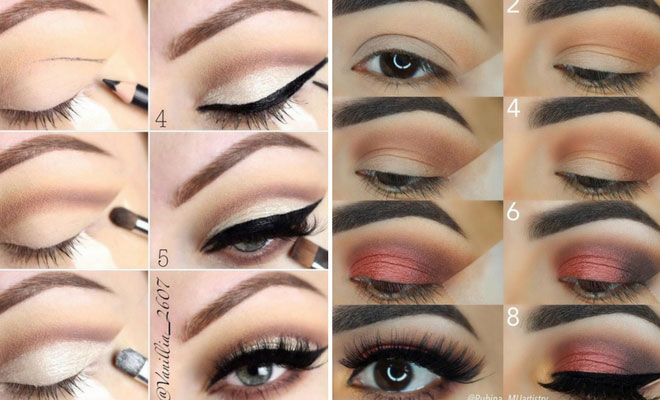 Instagram
Beauty
21 Easy Step by Step Makeup Tutorials from Instagram
By
|
One of the best things about the internet is the vast array of Instagram and Youtube tutorials you can now watch, on any particular topic you like. That's if you ask us anyway. One genre of tutorial that has grown in popularity over the last few years is that of the Youtube and Instagram makeup tutorial, enabling "normal" people (just like you and me) to learn the latest makeup tricks and put them into practice in our every day lives.
If you want to update your makeup look, or just learn a few tricks and tips from the pros, here are 21 easy step by step makeup tutorials from Instagram:
1. Blue & Brown Smokey Eye
Once upon a time, you would need to sign up to a class in order to learn the latest makeup and beauty techniques. With the increasing popularity of Youtube, this is no longer the case. If you wanted a big and grand makeup look for a big event, just like this blue-popped beauty, you would need to pay out a lot of money for an expensive makeup artist. Now, however, you just need to take a peek on Instagram and Youtube and the tutorials are right there are your fingertips. You can learn in real time with the pros, and that sort of experience is just priceless.
2. Peachy Eye Makeup Tutorial
Peach shades of eye makeup are such a big trend right now, especially with the latest Two Faced 'Sweet Peach' palette. It's quite a brave shade if you've never rocked it before though. With such a vast array of shades in the palette itself, it's hard work knowing which ones you should (and shouldn't) be pairing with which. This pretty eyeshadow look shows you how to use the darker shades in the crease of your eye, while accentuating the main lid with that beautiful shimmering shade.
3. Simple Eye Look for Beginners
Eyeliner is a nightmare, especially when you're using liquid eyeliner, and definitely when you're in a rush! It never goes right on both eyes. You can spend the entire day just trying to even up that one flick, only to end up with massive black eyes at the end of it because you got carried away … We know the stress, we live it every day, but helpful easy step by step makeup tutorials from Instagram make life a lot less stressful!
4. Gold Glitter Eyes
Need a look to really make your eyes pop? This gold and glittery number is definitely one to check out. To make life even easier for you, there's even a step by step guide on how to achieve it. As you can see here, translucent powder has been used underneath the eye, and also around the external corner of it. This is to catch those loose bits of glitter that always fall on your face. You simply dust the powder away and the glitter will dust right away with it.
5. Burgundy Look
For something a bit darker, look towards the darker shades in your palette and easy step by step makeup tutorials from Instagram just like this one. The simple peach shades have been used to start with, creating a base for that darker red and burgundy pops of color to be added over the top. Just remember to blend it all well with a large and fluffy blending brush, and use a decent eyeshadow primer before you get started to ensure the look stays for the entire duration of your event. You don't want this beautiful look to slip halfway down your face, that's for sure!
6. Purple Smokey Eye
For something purple, we can't recommend this shimmering purple look enough. It's spring now too, so there has never been a better time to rock those pastel shades. This look starts with the eyeshadow primer, of course, before adding a nude base. Then  build up the colors, incorporating different shades of lilac and almost-pink tones, until you're ready for that glitter pop right in the center. Throw on your eyeliner, add your lashes, and you're good to go. Not as scary as you first may have thought, right?
7. Black Smokey Eye with a Pop of Gold
And for those nights when you need a really smokey look, how about this black smokey eye with a beautiful pop of gold? The smokey eye look is great for so many occasions too – a hot date, for example, or even night out on the town with your best girlfriends. The trick to looks as deep and dark as this one is to start off light and build your way up. By just slapping the black eyeshadow on your eyelids, you're going to look more horror-scare than night-out. Add a little, blend it, then add a little more. It's easier to add more than it is to take some away.
8. Smoked Eyeliner
For those days when you don't have time to mess around with liquid eyeliner, easy step by step makeup tutorials from Instagram like these definitely come in handy. Just use your regular eyeshadow in the place of eyeliner, using a thin angled brush to dust it along. It gives you a much ofter finish than the harsh lack lines of regular eyeliner.. It's much quicker to do in the morning also. Winning all round!
9. Pink Glitter Look
One thing you may notice will most of these easy step by step makeup tutorials from Instagram, is that they all start with the same / similar base. There's an eyeshadow primer, and a nude / neutral base color. With that base, you can build up a number of different looks, using a wide range of shades in your palettes. This look, for example, adds a darker hue to the outer corner and crease, keeping things sparkly and light with that beautiful pink pop towards the center / front of the lid.
10. Pop of Purple
Purple is a great shade to play around with when you have deep brown eyes. That dusky peach towards the center and inner corner stops the look from being too dark or "purpley". In fact, if you're worried that a dark black or grey smokey eye might be a little too much for a particular event, tone things down with a playful pop of purple
11. Cut Crease Tutorial
Another look, another cut crease – it's one of those looks you'll end up learning eventually, just because you get so frustrated that everyone else is doing it and you're not. That's what prompted us to find Youtube and Instagram tutorials for pretty and bold looks like this anyway. What event has brought you here?
12. Bronzed Eyes
Need a good look for a summery, evening event? These bronzed eyes are an absolute winner, another of the easy step by step makeup tutorials from Instagram. Start with that nude / peachy-shade base and primer, as we suggested before. Then build things up, taking it easy. Add a more pink-tinged shade to the outer corner and crease, filling in the center with that beautiful bronze shade, taking it into the inner corner. Add your liner and lashes – the two most important L's – and you're good to go.
13. Teal Smokey Eye
What about when you're not in the mood for something subtle? How about those times when you need dramatic eyes to go with that stunning dress. You know – when you want to make a real entrance. These teal smokey eyes are a great twist on the classic smokey eye. It also shows you how you could play around with a number of the shades in your palette to create different looks, all using the same (or similar) techniques.
14. Brown and Gold Eyes
Brown and bronze eyes look great on green, blue and brown eyes, which makes them a great go-to look for when you something easy and quick. Add your primer and nude base, and then build up beautiful tones of brown and bronze. Keep the darker shades to the outer corner, a lighter shade on the inner corner. Finally, add a bright, glittery finish in the middle for a beautiful and dramatic, yet simple look.
15. Brown and Green Smokey Eye
If you have blue eyes, cooler and more neutral tones tend to work well, but that doesn't mean you can't incorporate them into a stunning and dramatic style. Easy step by step makeup tutorials from Instagram like this one show that a quick addition of dramatic lashes can make the world of difference to how your makeup turns out. This beautiful green shade could also be used in much lighter summery looks also, minus lashes, and without the smokey build up.
16. Makeup Tutorial for Hooded Eyes
Hooded eyes are often pain-in-the-butt eyes, but there are a plethora of tricks that you can use to make your life much easier. A primer, for example, should never be forgotten, and you should try to work on that crease build-up when your eyes are open, rather than shut. If your eyes are shut, you may not follow the natural crease-line, and this can ruin the entire effect completely.
17. Purple Smokey Eye for Blue Eyes
Blue eyes look great with a deep and rich smokey purple look, and purple has been known for years to be one of the most luxurious colors. Once upon a time, it was so difficult to get the color purple (because it uses a lot of different, expensive pigments) that only the rich people could afford to wear it in their clothes. If that wasn't the perfect excuse to rock a killer makeup look like this, we don't know what is.
18. Golden Eyes
Gold is a great color to wear at any time of year. During the summer, the color adds a wonderful glow to your face, and in the fall, you match the beautiful brown, gold and bronze shades that associates itself with the season. Use a lighter and peachier / coral shade for the warmer months, and add more of a darker, brown tinge when the weather turns colder.
19. Party Look
Do you need a quick go-to party look that will easily take you from daytime chic to nighttime party gal? This shimmering and sparkly look is definitely one to bear in mind, especially when you consider that it's the simple addition of some silver sparkle that brings this look to life. Just do your regular smokey eye, and add some extra light to it. Great idea, right?
20. Gold & Burgundy Look
When you're working with shimmery and glittery eyeshadows, make sure you do your eye look. The reason for this is that it definitely will go everywhere, because it always does, and if you've already done your foundation, etc. you'll have to ruin it to wipe the glitter away. By doing your eyes first, and the rest of your face last, you can wipe it away and then put your concealer, color corrector, foundation, etc. on over the top. Smart, right?
21. Everyday Look
Nudes and browns make for the perfect every day look, and it only takes a few moments to achieve with the right tools. A big and fluffy blending brush will make that brown-smudge-ness a breeze, and you just need a decent and well-packed brush to pop the shimmer and glitter in the center of your lid over the top. Add a quick spritz of setting spray over the top, and your look will stay damn fabulous of the entire event.
And there you have them – easy step by step make up tutorials from Instagram that you can easily copy with a few moments to spare. We're urging you to think outside the box – play around with those shades that you never touch, and learn how to use them with other shades and blending techniques to create unique and individual makeup looks that everyone will want to copy. Don't forget to show us what you come up with!