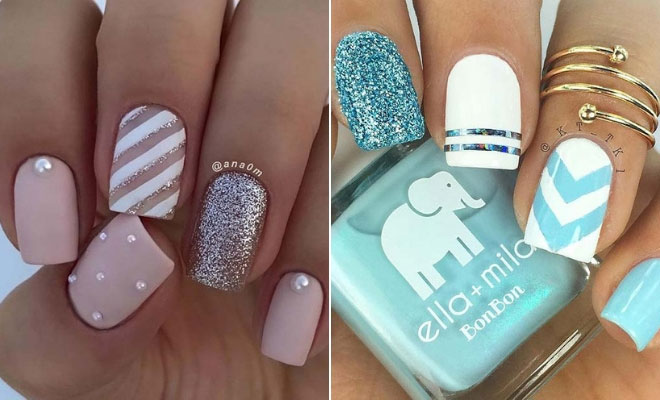 Instagram
Beauty
63 Super Cute Nails You Can Totally Do at Home
By
|
41. Cherry Rhinestone Nails
Another cute nail art design that you can try is fruit and here is a stylish example! Here we have red and white nails with cute cherries created using red rhinestones. It is a unique idea that would be perfect for the summer season. Recreate the cherries or choose a different fruit. Oranges or lemons are popular.
42. Coffin Butterfly Nails
Love the butterfly nail designs? If so, you need to check out this next look. All of the nails are light purple shade with clear tips and sparkly butterflies. Nails are long and coffin shaped. It is such a cute idea! Something like this will suit everyone and it will look great on any nail length and shape. You can recreate the look or choose one nail color instead of two.
43. Neon Nails with Black and White Stripes
Next, we have another stripe nail idea. This design features black and white stripes with gold rhinestones. Three of the nails are neon pink, two are neon orange and one is black. As the stripes are not on all nails, this is great for those who are new at creating stripe nail art. It is a cute and creative look that will suit everyone.
44. Adorable Teddy Bear Nails
Next, we have adorable teddy bear nails. These nails are long and feature a light polka dot pattern. Each nail is also decorated with a cute brown bear. This is a fun and unique nail idea. You can create the polka dots with a dotting tool or a thin brush and the bears can be hand-painted. There are easy to follow tutorials online.
45. Cute Disney Inspired Nails
If you are a Disney fan, you will love this. Here we have long coffin nails and each nail has a different design. Some nails have trendy art such as leopard while others are Disney inspired and feature Minnie and Mickey Mouse. It is a pretty and cute design. The look was created with colors from Semilac in shades: Girl on Fire , Frappe , Black Diamond , 259 Platinum Silver , 075 Stylish Brown , Semiart Red, White and Black.
46. Nude and Pink Glitter Coffin Nails
This next nail idea is pretty and easy to wear. Here we have nude nails with two accent nails. One accent design features nude and pink glitter while the other nail is covered in pink sparkle. It is a gorgeous design that is perfect for parties and the summer. Recreate these nails or you can try any glitter color with nude.
47. Cute Polka Dot Nails
Looking for a bright and fun mani? If so, this is perfect for you! Here we have long oval nails. The bottom section of the nail is nude with white polka dots and the rest of the nail is a bright mustard color. We love this more unusual yellow shade that has been used because it is so vivid and bold. These nails are perfect for the summer. Create the polka dots with a dotting tool and create a neat line separating the two colors with nail tape as a guide for your line.
48. Bright Floral Nail Art
The next nail idea is colorful and cute. Here we have round nails and each one is painted with a bright and pretty pattern. Three nails are block color and two are nude with vibrant flowers. This is a gorgeous mani that is great for the spring and summer. You can hand-paint the flowers or buy nail stickers to create a similar look.
49. Sunflower Nails with Rhinestones
Add a pop of color to your look with this next nail idea. All of the nails are a light or nude shade but three are decorated with bright sunflowers! The vibrant yellow petals really make a statement and brighten up the otherwise simple design. This mani is a must-have for the summer. Recreate the 3D flowers or you can simply paint them on the nails.
50. Nude Nails with Silver Stars
Next, we have a cute star design. So, most of the nails are nude, one is silver and one nail on each hand is adorned with stars. The stars are so pretty and the silver sparkle looks stunning. A design like this will suit all nail shapes and lengths. You can also buy star shaped nail stencils online so you can recreate the look.