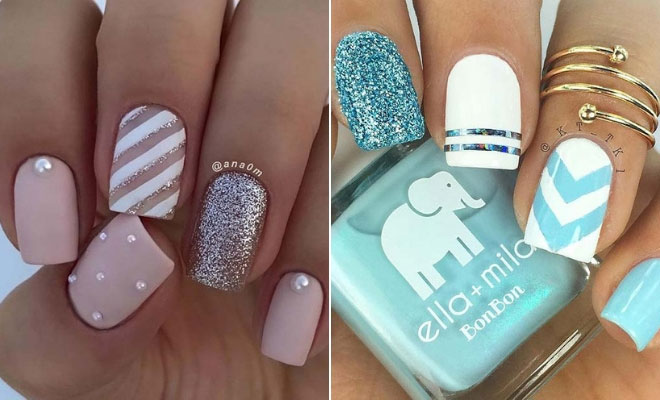 Instagram
Beauty
63 Super Cute Nails You Can Totally Do at Home
By
|
31. Pastel Hearts and Stars
Our next nail idea is super cute! These nails are painted in light colors and each nail has a cut-out heart or star design. We love the cut-out design because it is trendy and unique. You can recreate this look with any nail color. The cut-out can be created with a sticker of the heart or star or with tape. There are tutorials online that can show you step by step instructions.
32. Nude Nails with Colorful Polka Dots
Next, we have another polka dot design to show you. For this look, the nails are nude with a vibrant polka dot pattern over the top. The colors used are beautiful and bright. It is a fun look that is perfect for the ladies who like to make a statement. You can use a dotting tool to create neat polka dots. Recreate this look or try different colors for the dots. You could also have the polka dots as an accent nail and leave the rest of the nails nude for a subtler look.
33. Cute Nails with Hearts
The next nail idea is cute and pretty. Each nail is a beautiful light pink color with small red hearts in red color. The hearts are so stylish and they will jazz up the plainest of nail colors. You can buy hearts online in any color and they can be stuck on the nail with nail glue. This look is perfect for Valentine's day! Recreate this exact design or you can add the hearts to just one nail for an accent design.
34. Gold Star Coffin Nails
Next, we have another star design. All of the nails are painted in a nude color and each one is decorated with gold stars and white dots. We love the gold stars because they are so glam and cute! A design like this would be perfect for a special occasion and the stars would be great for the holiday season too.
35. Nude Nails with Neon Stars
If you love the neon nail design, then you need to check out this look. Each nail is painted nude and there is a colorful star pattern painted over the top. The nude color really makes the neon stars stand out even more! We love this color combination. it's perfect for summer. You can recreate this or use any colors for the stars.
36. Watermelon Nails
Looking for a cute nail design for the summer? If so, this could be perfect for you! Some of the nails are light pink and two are white. Both white nails feature different art, one has black dots and the other has a pretty watermelon pattern. Watermelon nails are summery and quirky. Try and recreate this look or you can create your own watermelon art.
37. Colorful Chrome Nails
Our next idea features more cute hearts. For this look, each nail is painted nude and there is a small gold decoration. There are also colorful heart shapes on each nail too. All of the hearts are a different color and the nail art really makes a statement. Nails like these would be perfect for Valentine's Day or date night. You can recreate it in any color.
38. Simple Burgundy Nail Design
Next, we have a glam nail idea to show you. Some of the nails are burgundy, one is pink and the other nail is sparkly. The colors compliment each other perfectly and the glitter really jazzes up the look. Nails like these would be perfect for a special occasion or party. This design would look beautiful on longer nails too.
39. XOXO Nails
The next nail idea would be perfect for Valentine's Day or a date night. For this look, some of the nails are black, one is red and there are two white nails too. The white nails feature XOXO art and a kiss. It is a cute and stylish design. You can buy stencils to help you recreate the look. The colors used were Live Love Polish in Linen, LBD and Marilyn.
40. Cute Animal Nail Art
If you love cute and quirky nail art, then this is for you! Most of the nails are light blue and there are two accent nails. One nail is yellow with polka dots and the other nail has an adorable animal face. A nail design like this is quite simple to create. You can try this look or choose an animal of your choice.