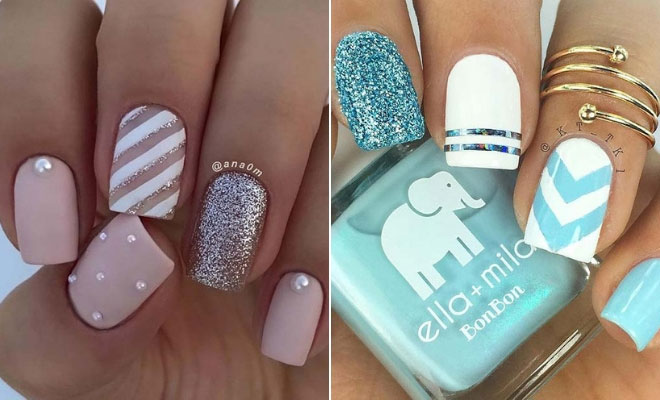 Instagram
Beauty
63 Super Cute Nails You Can Totally Do at Home
By
|
21. Easy Striped Nails
Next, we have another stripe look. For this one some of the nails have been painted in a light peachy polish with embellishments and there are two accent nails. One accent nail is gold glitter and the other features all the colors with stripes. It is a cute and pretty idea that will suit anyone.
22. Cute Nails with a Paw Print
Our next nail idea is perfect for animal lovers! Here we have nails that feature trendy purple, silver glitter and an adorable paw print accent nail. This is a beautiful idea that shows your love of nail art and your love for pets too! You can recreate this look or try paw prints with any nail color. If the stripes and glitter are not for you, just choose one color with the paw print design.
23. Pink and Black Polka Dot Nails
The next set of cute nails we have to show you are these chic polka dot nails. What makes these polka dot nails different to the rest is the stunning sparkly bow! This beautiful bow has really jazzed up the popular polka dots and give the finished manicure a glam look. You can buy 3D bows like this online and use them with any nail color and art.
24. Pretty & Simple Star Nails
Next, we have a stunning and simple nail idea to show you. For this look the nails are all painted in a beautiful nude color. Most of the nails have a white dot too but one nail has shooting star nail art. The star nail features one small star with a little glitter. It is such a cute and pretty idea. You can create nails like this with any nude, glitter and white nail polishes and a small star. Similar stars can be bought online.
25. Chic Leopard Print Nail Idea
Make your nails look fierce and stylish with a design like this one. Most of the nails are painted in a dark shade. There are some nude nails too. Each hand also has one accent nail and this nail features a chic leopard print pattern. We love the leopard print because it is so cute and trendy. You can create leopard nail art with a toothpick or a thin brush. There are lots of tutorials online to help you.
26. Pastel Yellow Nails with Butterflies
Brighten up your look with nails like these! These nails are a beautiful pastel yellow shade and there is one accent nail on each hand too. The accent nail features a super cute butterfly. Butterflies can be hand-painted or you can use butterfly nail stickers which can be bought online. Stickers will just make recreating the look a little easier. Nails like these would be perfect for the spring.
27. Colorful Gradient Nails
Next, we have a colorful nail design. Each nail has been painted with bright colors to create a rainbow nail design, glitter has been added too. It is a fun and vibrant look that is perfect for the summer. Nail art like this will suit all nail lengths and shapes. Recreate this look or use your own colors. Gradient nails can be created with a makeup sponge.
28. Cute Chevron Nails
Looking for a bright and stylish nail design? If so, this could be perfect for you. The nails feature chevron nail art with gold glitter and peachy shades. Three of the nails have a simple peachy shade. The color combination creates a summery and trendy manicure. You can get stencils to help you recreate this look and there are tutorials online with step-by-step instructions.
29. Neon Polka Dot Nails
Polka dots are easy to create and look super cute too! Don't just take our word for it, check out this next look. Each nail is painted in a  vibrant matte color with a white polka dot design over the top. Polka dots like this can be created with a dotting tool. You can recreate this look with stripes and polka dots or opt just for one design.
30. Sparkly & Peachy Nail Design
Love peachy shades? If so, you need to check out this nail idea. For this look, each nail has been painted in a different peachy design and there are two sparkly nails. One nail has an ombre effect, too. This is easy to wear, easy to recreate and it will suit everyone. You can try the peachy look or use different shades of another color.