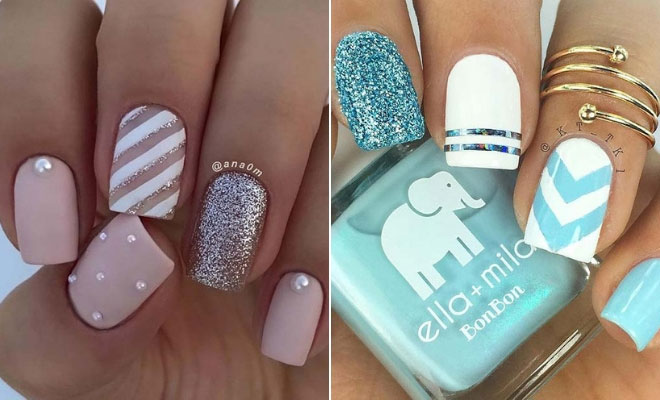 Instagram
Beauty
23 Super Cute Nails You Can Totally Do at Home
By
|
11. Cute Panda Nails
Next we have a nail idea that takes inspiration from adorable pandas! The nails feature two white nails with a dot design, a sparkly nail and finally super cute panda nail art. A design like this will take some practice but the end result will be worth it. Try the whole look or try just the panda with black or white nails.
12. Polka Dot Accent Nail
Red and polka dots is a gorgeous combination. These nails are a beautiful example. Some of the nails are bold red then gold glitter and finally black and white polka dots. This is a pretty and glam idea. A design like this will suit all nail lengths and shapes. Try this look or use the red to create the polka dot nail art.
13. Stylish Blue Nail Design
Another cute and stylish color is blue. Here is a stunning nail idea that uses a light blue color beautifully. Each nail has a different look including a chevron design and glitter. You can check out a tutorial on how to create this look, plus the polishes used on the artist's page below.
14. Bright Matte Nail Design with Gems
Add a pop of color to your look with a manicure like this one. Each nail is a different shade from light pink to dark purple. It is a fun, cute and vibrant look. Two of the nails also have gems too. Recreate these nails or try two of the colors with gems. A design like this will suit all nail lengths and shapes.
15. Dots and Stripes
Stripes always look stylish and once you learn the nail art technique, you can create endless looks. Here is a gorgeous example how to combine polka dots and stripes. As you can see, the nails are light blue shade with two cute accent nails. This is a beautiful nail design that can be recreated in any color. There are tutorials online to help with the stripes.
16. Pretty Heart Nail Design
Next, we have another heart design. The heart for this nail look has been paired with stripes and polka dots . We love the color combo of white, nude and  light pink. It is so elegant and pretty. You can create a heart like the one featured with stencils. There are lots of different heart stencils available online, so you can use this idea as inspiration and create a manicure that is cute and unique.
17. Cupcake Nails
Got a sweet tooth? Give your nails a fun and guilty-free look with this next idea. These vibrant nails feature a quirky cupcake and ice cream print. We love this design as it is unique and super cute.
18. Simple Star Nail Design
Our next nail idea features stylish stars! These nails are a mix of colors including black, purple and white. The black and white star art looks amazing with a bold color like purple. This is a pretty, statement making manicure that will suit everyone. You can buy star stencils to help you easily create a look like this yourself at home.
19. Matte Ombre Nails with Pearls and Rhinestones
Looking for cute nails for a special event? Maybe you just want to feel glam? If so, you need to check out these nails! Here we have light and soft nails that have been decorated with pearls and rhinestones. The pearls and rhinestones really glam up the manicure and make it look stylish and chic. You can create so many different looks with embellishments like these. Recreate this look or experiment with different patterns.
20. Bold Pink Nail Design
Love pink? Then this nail idea is for you. These nails feature three different pink nails with one white accent nail. We love this nail art because each nail has a trendy design. One nail is chrome, the next is glittery, then glossy with gems and finally white glitter. It uses the must-have nail looks all in one.
21. Easy Striped Nails
Next, we have another stripe look. For this one some of the nails have been painted in a light peachy polish with embellishments and there are two accent nails. One accent nail is gold glitter and the other features all the colors with stripes. It is a cute and pretty idea that will suit anyone.
22. Cute Nails with a Paw Print
Our next nail idea is perfect for animal lovers! Here we have nails that feature trendy purple, silver glitter and an adorable paw print accent nail. This is a beautiful idea that shows your love of nail art and your love for pets too! You can recreate this look or try paw prints with any nail color. If the stripes and glitter are not for you, just choose one color with the paw print design.
23. Pink and Black Polka Dot Nails
The last set of cute nails we have to show you are these chic polka dot nails. What makes these polka dot nails different to the rest is the stunning sparkly bow! This beautiful bow has really jazzed up the popular polka dots and give the finished manicure a glam look. You can buy 3D bows like this online and use them with any nail color and art.
That is the end of our top picks, we hope you have found a super cute nails to try! We know we did.