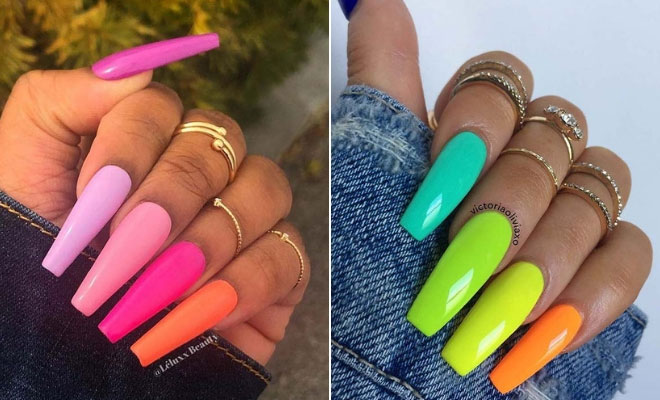 Instagram
Beauty
43 Colorful Nail Art Designs That Scream Summer
By
|
Bored of the classic nail designs or do you always wear light colors and want a change? Maybe you just want to add some color to your look? If so, this is the place to be! We have found 43 of the best colorful nails that are easy to do. There are so many bold and vibrant designs from ombre to neon colors. Any of these manicures will make you stand out from the crowd in style! The bright colors are perfect for the upcoming summer season too. Take a look, you will love them all!
1. Long Coffin Colorful Nails
The first colorful nail idea we have to show you is vibrant and super stylish. Here we have coffin shaped nails and each one is painted in a different color. This is a stunning set of nails that will be perfect for the summer. The look was created with Floss Gloss colors in shades El Capitan, Wet, Con Limon, Hella Hilite and Neon Nacho.
2. Vibrant Coffin Nail Design
Looking for a design that will make your nails stand out from the crowd? Then check out this next look. This manicure features long nails and each nail is painted in a different bold color. We love the colors used as they are so bright and beautiful. Recreate this colorful look or choose five different vivid and vibrant shades.
3. Neon Ombre Coffin Nails
A stylish way to add color to your nails is with ombre. You can choose any color combination when creating ombre but nude and bright colors looks beautiful. Here we have a stunning example. These nails are painted in a nude shade and each one has a different colored ombre. The colors include pink tones, orange and yellow. It is a gorgeous nail design that reminds us of tropical vacations and cocktails. Try these colors or you can use one similar color on all nails.
4. Colorful Matte Nails
Another cool nail trend you can try is matte. The next look shows how to wear colorful matte nails in style! These nails are coffin shaped and each one is painted in a different color. One hand uses pink and yellow shades while the other has purple and blue tones. Recreate this look with similar colors or you can try just one of the color combinations instead of two different ones on each hand. Either way, it look amazing.
5. Colorful Tips
Want to add color to your nails in a subtle and chic way? Then this idea is for you. These nails have a French manicure look but instead of white tips, these tips are colorful instead. The tips have a gradient design  that changes from one color to another. It is a stylish idea that is perfect for the ladies who don't want very bold nail art. Try a similar look to this or you can paint the tips in one vibrant shade.
6. Pink, Orange and Yellow Neon Nails
The next design we have to show you features trendy neon colors! Each nail is painted in a different neon shade ranging from yellow to pink. A manicure like this will be perfect for the summer and for vacations. Recreate this look or you can use neon colors on short nails too.
7. Neon Toe Nail Design
Don't forget to add color to your toe nails too! Here is a fabulous idea you can try. This is another look that features neon colors. Each of the nails is a different color and one of the nails has a funky accent design. This manicure will look amazing with your summer sandals and it is perfect for a day at the beach.
8. Colorful Glossy Nails
Next, we have a bold and vibrant nail idea. This is another manicure where each nail is painted in a different color. We love these looks because it allows you to wear so many colors at the same time! The shades used here are bright and will give you one stylish and statement making manicure. This look was created with Luxapolish colors in shades Flash, Don't Trip, Hard Candy, Purple Crush and Drop Dead Tiffany.
9. Matte Vibrant Nails with Glam Gold Gems
Our next idea is another matte look. Four of the nails are painted in colorful matte shades which include blue, pink, yellow and orange. The last nail is covered in gold gems. As you can see, the gold crystals just really glam up the manicure. You can wear gold like this with any bright color.
10. Bright Pastel Nails
Instead of the very bold and vivid colors, you can try pastels instead. Pastel shades are still colorful but they are just a little more toned down. Here is a beautiful example of how to wear pastels. Each nail is a different shade and this color combination will be perfect for the spring and summer season. Recreate this look or you can use one color on all nails.