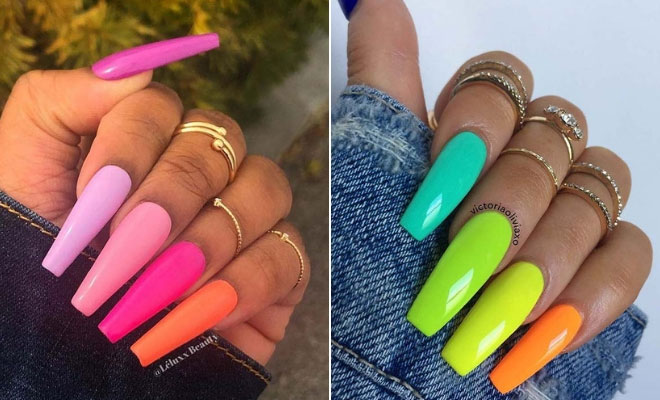 Instagram
Beauty
43 Colorful Nail Art Designs That Scream Summer
By
|
11. Colorful Gradient Nails
Looking for a cool nail trend to try? Then this is for you. Here we have stylish gradient nails. Gradient nails feature a beautiful color change and this manicure starts blue and ends green. There all different colors in-between and most of the nails have two different tones too. There are tutorials online to help you create gradient nails at home.
12. Bright Ombre Nails
The next idea we have to show you features ombre and pastel colors. Some of the nails are painted in light blue and yellow while the others are pink ombre. This is such a cute idea! You can recreate this or use your own color palette. There are tutorials online to help with you the ombre design.
13. Summer Neon Nails
Next, we have another neon nail idea to show you. All of the nails are coffin shaped and each one is painted in a different neon shade. This is an amazing manicure and it will be fabulous for the summer. The look was created with Floss Gloss Tropic Set which includes shades: Con Limon, Neon Nacho, Bikini Coral, International Hot Girl and Maliboob Job.
14. Vibrant Neon V Tips
V tips are another stylish nail trend that you should consider trying. This next manicure features a colorful version! Each nail is a nude shade with a vibrant v tip design. All of the tips are different colors and there is even a gold sparkly one too. There are tutorials online to help you create a similar look but you can use nail tape to create the v.
15. Magical Colorful Nails
Our next nail idea looks magical! These nails feature more toned down colors and the design has been described as sherbet ombre. It is such a stunning manicure and the colors are beautiful. A design like this is perfect for someone who wants to add color and glamour to their look with a little touch of magic.
16. Colorful Ombre Nails
Love the ombre nail ideas? Then you need to check out this next manicure! Each nail has an ombre design and the tips are either yellow, pink or light orange. The nails are finished off with pretty crystals too. This is a beautiful nail idea that is elegant and colorful. Recreate this design or try one of the colors on all nails.
17. Pink and Orange Nail Idea
Look pretty in pink with our next nail idea. For this look, each nail is a different color and these include orange, pink and purple. It is such a beautiful color palette! We love the colors used and similar shades would look amazing with a design like this and they would look gorgeous on their own too. Colors like these can be created on any nail length and shape.
18. Colorful Matte Coffin Shaped Nails
Next, we have another colorful matte nail idea. These nails are long and coffin shaped and each one is painted in a different color. It is such a bold and beautiful look. Nails like these would be a great choice for anyone who wants a vibrant manicure that stands out from the crowd.
19. Pretty Pastel Nail Design
If you love pastel colors then this next idea is for you. All of the nails are painted in a different pastel shade including: blue, pink, purple and yellow. A manicure like this would be amazing for the spring and summer seasons and it is easy to recreate too. Just paint your nails in similar pastel colors. You can buy pastel polishes online.
20. Candy Color Nails
The next idea is cute and colorful! This manicure features nails that are painted in pink and red shades with a yellow accent nail. The colors used here are some of our favorites because they look tropical and remind us of candy and cocktails! A manicure like this will be perfect for the summer and vacations.