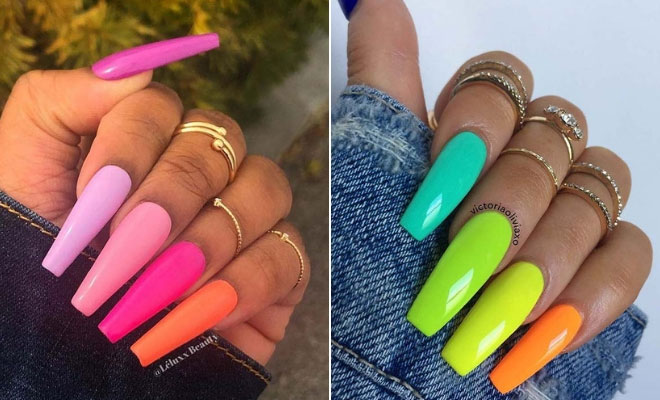 Instagram
Beauty
43 Colorful Nail Art Designs That Scream Summer
By
|
31. Trendy and Bright Nail Art
This next nail idea is so trendy and fun. The nails are all a different color including blue, purple, pink and orange. Each nail also has a stripe of color near the tip that is a darker shade. It is a simple idea and it is so statement making. You can recreate similar nail art with a stencil or nail tape. Try the different colored look or you can use the same color and design on all nails.
32. Short and Colorful Nails
If all the long nails are not for you, then you can try a cute design like this on your shorter nails. For this look, each nail is a different color and they are all pastel tones. It is such a pretty and statement making look. You can recreate this or use one of the pastel shades on all nails. Either way, they will look amazing. The colors used for this many are all by Ella + Mila and are in shades Earth's Finest, My Rain-Beau, Team Sweets, Macaruin My Diet, Hooray of Sunshine and Sugar Rush.
33. Summery Neon Nails
Neons are another must-have for summer and next we have a pretty and easy way to wear the colors. The nails are shorter and each one is painted in a different neon color. We love this mani because it looks so summery. Not only that, but it allows you to wear different neon colors if you can't decide on just one. Recreate this mani or you can try other neon colors such as blue and green.
34. Glam Pastel Summer Nails
Glam up your look this summer with a mani like this one. Here we have coffin shaped nails and each one has a different design. Some nails are a matte pastel color, one is sparkly and the rest are different colors with shards. The colors are stunning and the glitter and rhinestones really jazz up the look. There are tutorials for the shard art online.
35. Nude Nails with Rainbow Tips
We love this next nail idea! This mani features nude nails with rainbow tips! So, each nail has a different colored tip. This is another one of our favorites because it is like a summery and vibrant version of a French mani. Recreate this or try different colors for the rainbow tips. Maybe recreate this look on one hand with green and blue colors on the other.
36. Short and Subtle Pastel Nails
Next, we have another summery nail idea for those with shorter nails. For this look, the nails are painted with soft and subtle pastel colors. Most of the nails are orange but there are yellow and blue shades used on each hand too. It is a pretty and easy to wear design. Try something similar or use one of these pastel colors on all nails. We would gladly rock this design on our toes, too!
37. Vibrant Summer Nails
The next nail idea features more vibrant summer nails. This time each nail is painted in a different neon color. There is every color from the rainbow including green, pink and more. It is such a bold and statement making look. Recreate this simple and vivid mani or you can jazz it up with glitter or even color matching rhinestones!
38. Short and Matte Pastel Nails
Love the pastel ideas? If so, take a look at this! Here we have shorter pastel nails and each one is painted in a different soft shade. The colors used include purple, pink, white and yellow. It is such a pretty and feminine design. Try a similar look or use this design on longer nails like stiletto that would look stunning.
39. Pastel Coffin Nails
If you like the multi color looks, then you need to see this design. This mani features coffin nails and each one is painted in a different glossy, pastel shade. The colors used are stunning and they are perfect for the spring. A design like this will suit everyone and it will look gorgeous on all nail lengths and shapes.
40. Statement Making Nail Design
Make a statement this summer with a vibrant manicure like this one. Each nail is painted in a different vivid shade to create a rainbow look. The shades used are so bright and the overall mani is just amazing. This is a fun and cute mani that will be perfect for vacations, festivals and more.
41. Chic Spring and Summer Nails
This next nail design is great for the spring and summer! Here we have short nails that are painted in pretty pastel colors. The colors used are so beautiful and the pastel green looks amazing. These nails are perfect for any occasion and will even suit special events like weddings. Of course, the design can be recreated on longer nails as well.
42. Rainbow Gradient Nails
Next, we have another gradient to show you. This time the gradient starts blue and ends with a pink shade with yellow, green and orange in-between. It is another summery way to wear a gradient and it does have a rainbow look. You can find tutorials online for rainbow gradients. Keep the nails simple like this or jazz them up with rhinestones or glitter.
43. Easy DIY Colorful Nails
Love the neon nail colors? If so, check this out. Here we have short and vivid nails. Each nail is painted in a different neon tone from pink to orange. It is a fun and easy to wear look that will suit everyone. Neon colors like this look amazing on both short and long nails. This mani is perfect for all summer events and it will be great for festivals too.
We hope you have found a colorful nail idea to try!