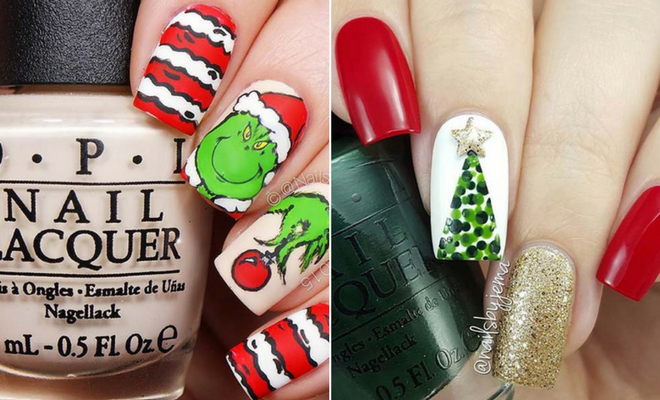 29 Festive Christmas Nail Art Ideas
Christmas is coming! The holiday season is a time where fashion and beauty becomes fun, vibrant and glittery. An easy way to give your look a festive vibe is with nail art. So, we have put together a list of 25 of the best Christmas nails. There is a nail design for everyone, take a look and find your favourite.
1. 3D Candy Cane Christmas Nails
First up we have this 3D candy cane nail idea. Candy canes are very festive and make cute nail designs. This art has a candy cane accent nail, there is also a glitter nail as well dark green nails. You could recreate this easily at home, you will need a green polish, glitter polish and a candy cane. Candy canes like these can be bought online.
2. Snowman Nail Idea
We couldn't have a Christmas list without mentioning snowmen! These iconic characters are in movies, songs and can be built on snowy days. Our next nails feature awesome snowman art. Each nail has been painted with coal button and scarf design. We love this and you could recreate yours with a different colored scarf to make it unique.
3. Bauble and Trees Christmas Nails
A big part of Christmas is the Christmas tree. So, it is no surprise that the trees inspire nail art. This next design features a cute multi tree pattern and a bauble on a Christmas tree. There is also a glitter and polka dot design. Nails like these would be perfect for any Christmas occasion from putting up the tree to the big day.
4. Christmas Holly Nails
Next we have this super stylish holly design. Holly is featured on Christmas cards, is in songs and is a popular decoration. The design featured has two dark green nails with two nails covered in holly. Nails like this would be great for a Christmas party. The art will need some practice but it will be worth it.
5. Cute Christmas Nail Designs with Reindeer
Reindeer are very popular at Christmas, especially Rudolph. This next nail art idea features one accent nail with a cute Rudolph design. The rest of the nails have been decorated with jazzy glitter. Nails like these would suit any age and will look pretty all the way through the festive season.
6. Christmas Wreath Nail Design
Christmas wreaths are seen on many doors during the holidays. These decorations can now also appear on your nails. This next nail art idea features a Christmas wreath design, just the top of the wreath is visible. Nails like these are cute and stylish. You could recreate these and maybe make the ribbon a different color.
7. Snowflake and Glitter Nails
Christmas is in the winter season so snowflakes are popular designs at that time of year. These nails feature a festive red polish with a white accent nail with red snowflakes. The color combo and design are perfect for Christmas. You can also jazz the nails up by adding a glitter accent nail just like this one.
8. Red Nails With Candy Cane Stripe Accent Nail
If you liked the candy cane design from earlier in the post, then you may like our next idea to. These nails have been inspired by the traditional red and white candy canes. Each nail is painted red with one accent nail. The accent nail features red and silver stripes. We love this stylish design and it is simple to recreate. All you will need is the two colors.
9. Sparkling Nails with Christmas Tree Accent Nails
Want Christmas nails that will wow? Then this next idea is for you. The nails feature a bold all over glitter and two Christmas trees. To create the glitter look you will need a nail polish like Serendipity. We love these glam and festive nails!
10. Pretty Christmas Tree Nail Art
Your nails don't have to be red to be festive. You could go for a cool minty shade like this one. These nails also feature a Christmas tree accent nail. Nails like these are perfect for the ladies who want to celebrate Christmas in style. A color like this will also suit a snowflake design.
11. Purple Glitter and White Winter Pattern
Glitter is perfect for Christmas. These next nails feature a purple glitter shade. There are also two accent nails with a cute winter pattern. You could recreate something similar or create something unique by adding your own shapes. Maybe even try a different glitter shade to.
12. Cute Gift Nail Design
A big part of Christmas day is gift giving with family and friends. These next nails have been inspired by the surprises that we wake up to on Christmas morning. We love the look of these nails as they have a vintage vibe to them. With some practice you could recreate these at home.
13. Christmas Light Nail Art
Decorate your nails with Christmas lights. This cute manicure features nails that have red and green lights painted on them. Nails like these will suit any age and will look awesome all the way through Christmas. You could recreate these with different colored lights.
14. Green and Gold Creative Christmas Nails
Our next pick features a Christmas tree design. We like this design because it isn't like the classic tree which makes the overall look creative and unique. The art has a one line of color to create the look of a tree. These nails are in a green and gold color palette but you could use other colors to.
15. Santa Nail Designs
We couldn't have a Christmas list without mentioning Santa! These next nails feature super cute Santa designs. Two are painted red, one is painted as a Santa coat and the other is painted as Santa's face. You could just use the face or the suit to create your own look.
16. Snowflakes and Glitter Nail Idea
If you like snowflake designs, then this next idea is for you. The nails are festive red with a white snowflake design. There is also a gold glitter accent nail. You could recreate these with or without the accent nail. Snowflakes can be painted freehand or with a stencil.
Products used: Sally Hansen 'Golden Rule' (gold glitter), 'Wedding Glitters' (gold base) and 'OMGhost' (white); MoYou-London Festive Collection 06 plates, OPI 'Innie Minnie Mighty Bow' (red).
17. Cute Christmas French Manicure
Give your French manicure a festive look with a Christmas design like this. The nails have the classic white tips with the nude color polish. Each nail also has a Christmas garland design to. Nail art like this will suit any age and is chic and stylish.
18. Creative Christmas Tree Design
Next we have a Christmas tree design that is trendy and unique. The tree was created two different green colors that have been dotted on the nails. The tree has been finished off with a 3D star. All you will need to recreate this look is two green polishes and the star which you can buy online. You could also have the red nails and gold glitter nail to.
19. Grinch Christmas Nails
The Grinch is a very popular Christmas character. This next nail art was created with a Grinch design. Two of the other nails have been designed in a Dr. Seuss style. We love these nails as they are fun and creative. You could recreate the Grinch look or just the stripes.
20. Christmas Tree, Penguin and Snowflake Nail Art
Looking for cute Christmas nails? Then this next pick is for you. Two nails feature snowflakes, one nail has a Christmas tree and the other nail features an adorable penguin. You could recreate this look with just the snowflakes and the penguin, or go all out and add the Christmas tree to. Nails like these will take a lot of time but the result will be worth it.
21. Rudolph Accent Nail Design
Liked the Rudolph design from earlier in the post? Then you might like this idea to. These nails feature a Rudolph accent nail with red glitter polish on the rest of the nails. We love the Rudolph and the red combo as it suits the red nose theme perfectly.
22. Silver Glitter and Snowman Nail Design
Next we have a cute snowman design. One nail features a snowman, the other has stylish snowflakes and the others have silver glitter. We love these design elements because they all tie into a Christmas winter theme. You could recreate these with just the snowman or go for all the styles.
23. Santa, Polka Dot and Glitter Nail Art
Our next pick is a must-have Santa nail design. The Santa accent nail features a cute face while the other nails have been painted in polka dot, white and glitter. This is a festive design that would suit any age. You could use all the designs or just pick one.
24. Cute Gingerbread Accent Nail Idea
Gingerbreads are a favourite festive treat. Now you can enjoy gingerbreads on your nails to. The nails feature red glitter polish with a gingerbread man accent nail. A design like this cute and unique. It would be perfect for any festive occasion.
25. Christmas Tree and Glitter Nails
Last on our list are these Christmas tree glitter nails. The nails have a bold green glitter polish on each nail except one. On the accent nail there is a cute traditional Christmas tree design. You could recreate nails like these in any glitter color.
26. Easy Polka Dot Nail Design
Products used: China Glaze 'Mingle with Kringle', 'Running in Circles', 'Ruby Pumps' and 'White on White'.
27. Santa Claus Christmas Nails
This lovely Santa Claus nail art design will 100 percent get you in the holiday mood.
28. Festive Christmas Nails
Products used: Ciaté London 'Boudoir' (red) and Fit For a Queen (silver), OPI 'My Boyfriend Scales Walls' (off-white), Essie 'Hors D'Oeuvres'  (silver/gold shimmer), NYC in High Line Green (green shade) and China Glaze 'Mingle with Kringle' (gold foil).
29. Cute Santa Nails
Bring back the child in you with these super cute Santa nails. The design looks complicated but it's surprisingly easy to re-create using a dotting tool.
We hope you have found your perfect Christmas nails.