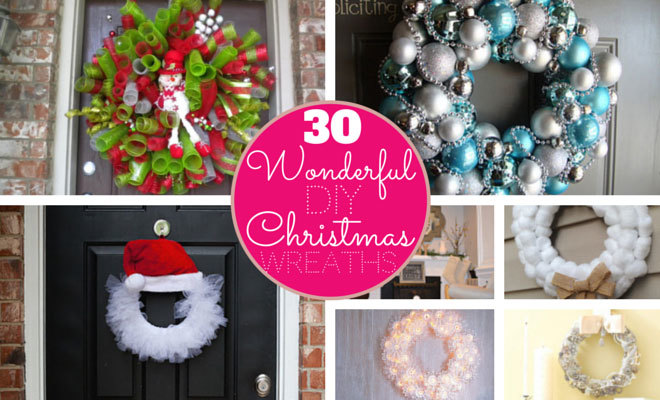 Lifestyle
30 Wonderful DIY Christmas Wreaths
By
|
Although it's still November, that doesn't mean we can't get really excited about the upcoming holidays, right? Christmas is about family, friends, delicious food, Christmas decoration and great gifts.
Christmas wreaths are always a perfect choice for lovely indoor or outdoor decoration. You can hang them delicately on a big window in your kitchen, over your bed or on your front door. We collected 30 most amazing Christmas wreaths that have been created and crafted by some talented ladies. Here's something for everyone's style:
1. Woolen Christmas Wreath
If you want to be creative but you don't have time for DIY projects, this Christmas wreath might be the perfect choice for you. It's one of the easiest and quickest we found! You will need ribbon, woolen scarf, wreath form, few safety pins and 5 minutes of your time.
2. Christmas Candy Wreath
Candy wreath for all candy lovers! To make this wreath you need your favorite wrapped candy (it should be wrapped with the little twists at the ends). This is also a great DIY gift for someone special in your life.
P.S. Try not to eat it before Christmas.
3. White Christmas Wreath
This beautiful, white Christmas wreath is made of coffee filters. Yes, you read it right. You'd never think of them when you looked at this amazing Christmas decoration.
4. Vintage Christmas Wreath
What makes this wreath special are the little details – Christmas trees, deer and garland. Adorable!
5. Lumber Jack Antler Wreath
It may look like a complicated DIY wreath idea but it's not! You can make it in 5 minutes and it will cost you around $6.
6. Elegant Christmas Wreath
Simple, yet elegant Christmas wreath that can adorn your home this year. Check the link below to find out how to make your own.
7. Rectangle Christmas Wreath
This wreath can proudly hung on your front door this year. It's so good looking that you can use it after the holidays as your regular home decor.
8. Felted Balls Christmas Wreath
This colorful wreath will delight the guests in your house and warm people's hearts. It takes some time to make but it's worth it! You can use it for few years.
9. White & Blue Wreath
If you want something less traditional, this Christmas wreath might be the perfect choice for you. We love the pop of the blue against the white – it looks very mystical and snowy.
10. Candy Cane Christmas Wreath
Instead of black ribbon, you can use the green one to make it more suitable for Christmas.
11. White Lighted Christmas Wreath
White wreath with lights for delicate Christmas. Doilies look somewhat like snowflakes. This type of decor can be used for weddings, too.
12. Candy Christmas Wreath
Another Christmas wreath using sweets. Besides looking so beautiful and perfect for Christmas, we are sure it smells wonderful, too.
13. Red & Green Christmas Wreath
Red and green colors are always a perfect choice for Christmas decoration.
14. Gold Christmas Bulb Wreath
Note that you're using breakable ornaments so avoid precarious places. Finished wreath looks glamorous and it's perfect as indoor and outdoor Christmas decoration.
15. Luxury Christmas Wreath
If Santa Claus, bulbs, or ribbons aren't your type of Christmas decoration, we have a perfect solution for you – luxury wreath made of costume jewelry.
It looks a-m-a-z-i-n-g!
16. Christmas Star Wreath
Easy and darling! Crafted starts can also be used as ornaments or gift tags.
17. Christmas Wreath from Plastic Bags
For this tutorial you'll need only three things: wire hanger, plastic bags and pliers. Total cost: $0
18. Rudolph the Reindeer Christmas Wreath
There is no cuter Christmas wreath than this one, right?
19. Blue & Silver Bulb Wreath
The combination of colors on this wreath makes it  like ice-ish and perfect for winter.
20. White Pom Pom Wreath
Fluffy, soft and pretty!
21. Bulb & Red Ribbon Wreath
This wreath screams "Christmas" because it's made of traditional green and red ornaments.
22. Coffee Filters Wreath
This wreath looks so elegant  and expensive even though it's made of coffee filters.
23. Christmas Twig Wreath with Snowman
This beautiful and simple wreath proved that sometimes less is more! You can bring this cute wreath together by following instructions below.
24. Cotton Ball Christmas Wreath
As you can see, there are some surprisingly things you can do with cotton balls. Finished wreath looks like a pillow of snow! Total Cost: $2
25. Ice Skates as Christmas Wreath
Now you know how to re-use your old ice skates – turn them into a creative Christmas decoration for your front door.
26. Pearl Christmas Wreath
Classy and easy to make wreath that will brighten up every front door! We really love the simple, minimal appeal.
27. Snowman Front Door Decoration
Completely adorable and easy to make. We love it!
28. Christmas Burlap Wreath
You don't need to spend the money on a big fancy Christmas wreath this year. Try to make one by following instructions below.
29. Colorful Christmas Wreaths
These wreaths will surely put a big smile on people's faces.
30. Santa Christmas Wreath
Total cost of this interesting wreath is around $10.
Have we inspired you to make your own Christmas wreath this year? Some of these DIY wreaths take less than 10 minutes so you should definitely give them a try. Feel free to share and pin them!