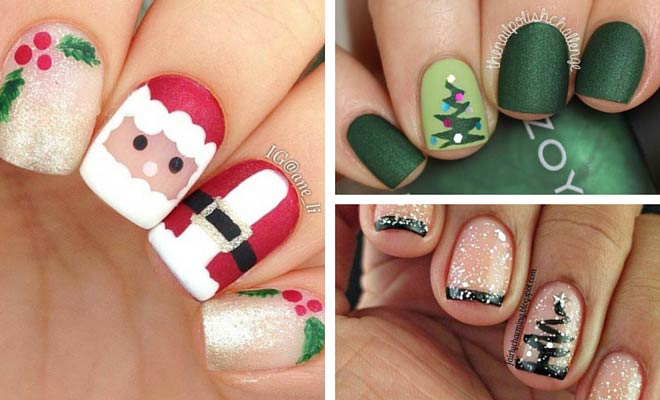 81 Christmas Nail Art Designs & Ideas for 2020
Christmas is coming and the goose is getting fat… Or however the old Christmassy song went. The festive season is now well underway with many already having their Christmas decorations up, and most of us wishing we'd started our gift shopping a lot sooner!
Remember to take some time out to treat yourself this festive season! What better way than to get the party season kick-started with these Christmassy delights – 81 Christmas nail designs you have to try this year!
1. Cute Santa Claus Nails
Nothing says Christmas quite like Santa Claus and this design is one of the easiest and best to start with for Christmas 2020. A red nail with a white stripe going along the centre vertically, and then along the edge of nail horizontally gives you the perfect backdrop for Santa's belly, and the belt is also an easy addition.
For the rest of the nails, keep things elegant and simple with a nude bottom coat (easy to pain Santa's face on to), with just the right amount of gold glitter to keep things elegantly festive. The mistletoe is an optional extra but you never know… Mistletoe sure comes in handy when there are cute guy's around to smooch!
2. Polka Dots + Christmas Tree
Who said polka dots couldn't be festive? You have a classic cream bottom coat with red, gold and green dots added either scattered, or in the shape of a Christmas tree like the one feature nail shown here. The gold star embellishment adds a beautiful finish!
3. Candy Cane Nails
Those red and white stripes that make up the candy cane design is so symbolic of Christmas yet we often forget about this simple, classic design when we look for Christmas nail designs.
You can get strips of nail foil which you can place over a red or white backdrop, before painting over the entire nail with the alternate color. When you remove the foil strips, the contrasting color will pop through, giving you an easy way to recreate this look at home when you've only got a few minutes to spare. Handy hint – red nails can be added to with ease so if you're stuck for ideas, always go with a festive red base!
4. Santa Claus Suit Accent Nail
Remember I said that red was the best festive base color you could go for? Well, this nail design is a classic example of why. You can add a festive red glitter topcoat to keep things simple. You could also add a green gem embellishment to add a little something extra. If you wanted to take things even further, you could always steal that Santa Claus suit you painted in the first design in this post on one feature nail.
5. Christmas Trees Manicure
This is such a unique look and one that not many people will be rocking this Christmas, that's for sure! (Well, not until now anyway!) If you want something classic, elegant, simple and yet stands out this festive season, these green and white Christmas tree nails are the perfect design for you. It's a classic white backdrop with tape used to form the Christmas-tree-triangle. The watercolor effect is a little harder to achieve if you're a beginner, but there are plenty of tutorials online you can copy. The good news is that you don't need any other color than the two you have here. They can be mixed together to recreate the marble, watercolor look.
6. Festive French Manicure
If you've already got a French manicure and you only have a few minutes to jazz up your nails, the easiest thing you can do is add a touch of glitter. In fact, just like the red base coat I suggested, I would highly recommend you always have a glitter top coat to hand. It's amazing how instantly revamped these classic nails are with the addition of some sparkle, and the mistletoe is once again a little added extra!
7. Elegant Christmas Nails
See… I told you glitter was great! Another great and simple look, the black tip is easy enough to recreate yourself, and the Christmas tree-shape might take a few shots but practice makes perfect. Add those random glitter sparkles over the top and what do you have? Five minute festive nails!
8. Christmas Gift Nails
Not just great for creating that candy cane design from earlier on, nail foils are a great way to add something really beautiful to your manicure. Simple red nails (again with the red!) are instantly glammed-up with the addition of a few silver foil strips, and the bow embellishment is another great way to add a bit of bling.
9. Cute Manicure Idea
Sometimes you just need to go cute and what cuter than this adorable reindeer design? Pick your favorite nail and make that one your feature nail, or go all-out and have each one differently festive-themed like you can see here. Who cares if you can't pick your favorite – have them all!
10. Holly & Candy Cane Nails
In order to keep your festive nails for longer, always make sure you add a base coat before applying any designs. This will give the polish something to stick to, and when you apply a top coat too, it seals in your finished masterpiece giving you chip-free nails for longer. Plus it helps to avoid that awful staining that you can often get with bright colors such as red and green…
11. Matte Christmas Manicure
If I could give you one nail tip for this season, it would be to buy a bottle of a matte nail polish. You can apply it over any glossy color to achieve the matte effect you can spot here, giving you at least two ways to wear every single bottle of nail polish you own. Alternatively, you could opt for matte nail polishes just like this one which just so happens to be perfect for Christmas!
12. Santa Manicure
Even short nails need a festive revamp from time to time and if you have shorter nails rather than longer ones, you should try something cute and simple like these Santa nails. Easy to achieve on both fingers and toes, it's a classic way to remind yourself it's Christmas!
13. Red & White Snowflake Nails
If you want a super-sharp finish, you need to forget about using Q-Tips to clean up those edges. A quick slick of petroleum jelly around the nail will help wash off any color that gets on your skin, and an old (or new) lip brush dipped in nail polish remover is the easiest way to mop up any accidents.
14. Candy Cane & Christmas Tree Design
Embellishments are an easy and simple way to revamp any nail design and when it comes to Christmas nails, that's definitely true. These nails would be simple and almost bland without the gold additions, but with the help of some nail glue and a few shiny extras, you have 3D nails that are bound to make an impact.
15. Santa's Hat Nail Design
Rounded nails are a beautifully classic nails and this Santa Claus inspired look gives you just one way to wear them. Treat each tip like a Santa's hat and once again, add that glitter to the feature nail, and you have a look that is classical stunning, and pretty festive too!
16. Perfect Festive Design
You've got Christmas trees, there's glitter, even a few baubles! These are perfect Christmas nails if you can't make up your mind which look you want to go for. It's blingy enough to stand out but at the same time, still relatively understated so it doesn't look like Christmas overload.
17. Pink Christmas Nails
If you want a look that will last the entire festive season, go with glitter. Glitter is renowned for being a real pain to get rid of and often needs a lot of going over with a remover-pad. If you want something that won't easily look chipped, or will just longer than a few days before getting smudged, a glitter top coat or finish is the way forward.
18. Cute Reindeer Design
With a white backdrop, there's no Christmassy look you can't achieve. This reindeer is a simple enough addition once you realise it's all just circles of color, and you could even carry the look on to each nail either side if you want something more than just one feature nail.
19. Simple & Elegant Nails
In order to get a clean, smooth finish like these beautiful nude Christmas inspired nails, you need to be prepared to be patient. Quick dry polish might help you get the look quicker but these can actually be quite bad for your nails. They typically dehydrate them and over time, this can lead to an uneven nail bed. When you have an uneven nail bed, looks like this won't be easily achieved unless you want to look at falsies.
20. Pink & Sparkly Nails
Who said pink wasn't a christmassy colour? With the right mixture of textured glitter and the odd bauble / pink bow, this is a look that could be created for any number of colors including peach, blue, and many other pastel shades.
21. Easy Tutorial
If you need to dry your nails quickly, which you often will with layered designs such as this triangle Christmas-tree look, have a bowl of freezing cold water to hand. After you've applied each layer of polish, blow them dry for a couple of minutes and then completely submerge them in the water to harden them quicker!
22. White & Red French Manicure
It's a French manicure but just festively done! A simple red and white combo matches the festive theme perfectly and the look is given a perfectionist finish with the silver nail foil strip. It's simple yet very effective… Great to wear with beautiful red lips too!
23. Christmas Puddings
Christmas wouldn't be Christmas without a Christmas pudding so why not add a sweet-touch to your nails this year? A simply brown and white combo is easily completed with the little hint of mistletoe and what's even better is that these are EASILY done by hand. You might not get it right first time but with a bit of practice, this will take you only a few minutes to complete.
24. Creative Design
Don't be afraid to go a little outside of the lines when it comes to your Christmas nails this year. Let the kids grab a brush and lend a hand, or have a bash at it yourself. Looks just like this one are easily achieved with a bit of practice, and doing them at home could save you a small fortune over going to the salon.
25. Christmas Baubles Design
If you have peeling or dry nails, you may find that super-glossy looks like these festive bauble-inspired nails are hard to achieve. Before applying any polish or falsies, make sure you're taking care of the nails themselves. Use an acetone-free remover as much as possible, and always give your nails time to breathe every now and again between manicures. Last but certainly not least, massage in cuticle cream. Your nails instantly look better when you have good cuticles.
26. Ginger Bread Nails
On first thought, brown might not be a color you would normally associate with Christmas but when you add a featured gold-glitter nail, you have a look that actually looks pretty festive, don't you think? The gingerbread men features add a little bit of cute-factor but just the matte brown nails alone with the one gold feature nail would be festive enough. These nails almost look good enough to eat!
27. Gold Reindeer's
Did you know that appropriate storage of your nail polishes is essential for making them last? Ideally you should keep them in the fridge or at the very least, in a cool and dry place. If they are kept in a warm place, or in the path of direct sunlight, the color or shade can alter and you may even find they go thick and stodgy.
28. Sparkly Red & Gold Design
Gold glitter instantly Christmasses-up any look so this is one of those bottles I would always suggest you have to hand. Plus gold glitter goes with practically every other colour you can think of. You don't even need to necessarily 'keep within the lines' for this one, making it easy to do at home. Using an old, thin lip brush (or angled liner brush), you can create the straight lines without the worry of using tape.
29. Reindeer Accent Nail
Here's a little tip for all those leftover bottles of almost-dry nail polish you have at home. Rather than throw them out, give them a new lease of life by dropping a little bit of nail polish remover into the bottom. It helps you get a couple more uses out of the old, dry nail polish you had left over from last Christmas!
30. Red & Green Festive Design
What's wrong with a bit of classic painting? Think of your nail like a blank canvas and get as creative as you look. The detail on this featured Christmas tree nail is pretty amazing and with the right artist, could be anything festive you wanted it to be. Look at your favourite Christmas cards and get those designs painted on your nails instead!
31. Green Glitter Gradient
Normally the focus is on the tips when you add a bit of glitter to your nails for Christmas but with this look, things are somewhat reversed. Rather than adding a contrasting color glitter on the tips, add it to the base. It's like ombre nails but much more festive looking!
32. Candy Cane Heart Nails
Candy cane nail art is very popular at Christmas and here is another cool nail idea inspired by the sweet treat. These nails feature a festive, dark green color with a candy cane accent nail. The accent nail has two small candy canes that make a cute little heart. You can create this look at home with similar nail polish colors while the candy canes can be created with stencils or stickers.
33. Chic Snowflake Nail Design
Looking for chic festive nails? Then these could be for you! Here we have matte black nails with beautiful silver snowflakes. This is a gorgeous nail idea that will look amazing for Christmas parties. A design like this will suit all nail lengths and shapes.
34. Bold Blue Snowflake Nails
Make a statement this Christmas with nails like these. Here we have bold blue nails with glitter and snowflake accent nails. This is a fun and festive idea, perfect for the exciting time of year. You can recreate this look with similar color polishes and a snowflake stencil or sticker. Also, you can try other colors like red or green, too.
35. Sparkly Silver Santa Nail Idea
Santa's suit is usually red but he has had a glam makeover for this next nail look. These nails are an amazing sparkly silver with two Santa accent nails. One design is his face and the other his suit. This is a cool nail idea that combines the magic and sparkle of Christmas with one of it's iconic characters.
36. Glam Gold Christmas Nails
Bring a touch of glamour to your look this holiday season with these nails. The nails are white with beautiful gold glitter designs. We love the little Christmas tree, it is so cute and festive. You can create a similar tree to this with tape and there are tutorials online to help you out.
37. Festive Holly Nails
Next, we have a very festive look! Here we have dark green nails with two accent nails. One is gold glitter and the other has Christmassy holly. It is a cute, vibrant and stylish look that can be worn for any occasion during the holiday season. Recreate the whole look or try just the green and the holly.
38. Christmas Wreath Nail Idea
A traditional Christmas decoration is a wreath and these nails have been inspired by them. The nails are dark green and gold with a stunning accent nail. On the accent nail, there is a beautiful green wreath with a glam gold bow. You can paint a Christmas wreath or buy 3D versions to stick on your nails.
39. Cute Snowman Nails
We couldn't have Christmas nail art without showing you snowman nails! Here we have festive, red nails with a snowman accent nail. The snowman is very cute and Christmassy. You can use snowman art like this with any nail color.
40. Adorable Deer, Winter Nails
Deer are another iconic character for Christmas. These nails have been inspired by these cute animals and feature an adorable deer. You can recreate this pretty blue and white look or use the deer on festive colors like red. This nail design would look cute with some glitter, too.
41. Christmassy Nutcracker Nails
Our next idea is inspired by another traditional decoration. These nails feature an amazing nutcracker solider design. This is a beautiful festive manicure. You can recreate the silver look or put the cute solider with any other festive color. A design like this will take some effort, but the result will be worth it. You can put as much or as little detail on the nutcracker that you like.
42. Festive Poinsettia Inspired Nail Art
The Poinsettia is a beautiful, Christmas plant. Our next nail idea uses this plant to create stunning nail art. The nails are a sparkly dark red with two accent nails. Both accent nails are white with a Poinsettia plant design. This is a chic, festive look that will look amazing for the holiday season.
43. Christmassy Plaid Nails
If you are looking for stylish and sparkly Christmas nails, this next design is for you. Here we have a beautiful nail look that features red, black and gold plaid with two accent nails. One is gold glitter while the other has a shimmering deer. This is a stunning nail idea. Recreate the whole look or try just the plaid.
44. Elegant Snowflake Nail Idea
Add elegance to your Christmas look with nails like these. The nails are a very soft and light color with silver glitter tips. There is also a beautiful snowflake. Nails like these would be perfect for a Christmas party or formal event. A design like this will suit any nail length and shape.
45.  Green Stripe Nails
Next, we have a fun and festive nail idea that will make your manicure stand out from the crowd. The nails are a stunning, sparkly green shade with two stripe accent nails. We love these nails because they have candy cane style stripes but with a unique and Christmassy color.
46. Cute Christmas Light Nail Art
Our next idea is inspired by beautiful Christmas lights. Each nail has red glittery tips with bright lights. This is a cute idea and not only is it great for those who love Christmas, but also fans of Stranger Things too. Recreate the whole look or use the light design as an accent nail.
47. Glam Christmas Nails
When deciding which nail look to try next it can be difficult to choose. So, why not have a different design on each nails like this! These nails are a soft and light color with festive art on each nail. One of the nails has lights with gems, the next has a bauble, then a snowflake and finally tinsel. Recreate the whole look or just try one.
48. Pretty Pink Snowflake Nail Idea
Next, we have another pink idea. This one features white and pink snowflake nails with one glitter accent nail. Pink is a pretty and elegant color that looks beautiful with snowflakes. You can choose a bright pink like this or choose a softer tone like a pastel pink.
49. Winter Wonderland Nails
One of the best things about Christmas is the snow! These nails have taken inspiration from the wintry Christmas weather to create winter wonderland nails. The nails are a stylish grey shade with white snow and trees. This is a chic and festive look that will look amazing for the holiday season.
50. Christmassy Green and Glitter Nails
If you are going to a Christmas party, consider choosing nails like these. The nails are dark green with a sparkly design. This is such an elegant and Christmassy idea that will look stunning on any nail length and shape. Try a glitter look like featured, or try a different glitter color like silver or gold.
51. Festive Snowflake Nails
The last Christmas nail idea we have to share with you is this festive snowflake look. There is a different design on each nail. One has a snowflake, the next has polka dots, then a Christmas jumper design and finally a red nail. This is such a stylish idea! Recreate the whole look or use one or two of the designs.
52. Candy Cane Christmas Nails
Candy canes are so festive and next we have a nail design inspired by the sweet Christmas treats. Two nails are red, one is white with red stripes and the last nail is sparkly with two candy canes. It is a beautiful, fun and Christmassy nail design. You can check out what products were used to create these nails on the page below so you can try the look yourself!
53. Festive Polka Dots
If you are looking for a chic manicure, then this idea is for you. Three nails are sparkly green and the other two are white with Christmas colored polka dots. The colors are amazing and the polka dots are festive and very stylish. You can see what nail polishes were used on the page below. Neat polka dots can be recreated with a dotting tool which can be bought online.
54. Glam Nail Design with Christmas Baubles
It wouldn't be Christmas without baubles and this next nail idea features bauble nail art! Some nails are matte red, one nail is silver and the other nails are white with beautiful baubles. This is a glam and Christmassy nail design that would look amazing for Christmas day. You can buy bauble nail stickers online so you can create a similar design.
55. Cute Santa Nail Design
If you love Christmas, then you need to check out these nails! Three nails are red with a white snow design, one features Santa and the last nail has Rudolph nail art. It it ticks all the Christmas boxes and it is a must-have for those who enjoy everything about the holiday season. To recreate the look, you can hand-paint the nail art or you can buy similar nail stickers online.
56. Christmas Tree Nail Design
Are the red, green and other festive colors not for you? If so, this nail design could be perfect. This manicure uses bright blue and silver rather then the classic Christmassy colors. Three nails are blue and one is silver. Each nail is also decorated with rhinestones and these designs include a Christmas tree and a bow. It is is a glitzy and fun idea. This look was created with OPI Gelato On My Mind and Champagne For Breakfast.
57. Bold and Unique Christmas Nail Art
This next nail design is perfect for those who love to go all out at Christmas! Each nail is decorated with all things festive. The designs include glitter, candy cane stripes, Santa nail art and much more. We love this mani, it is one our favorites and it is definitely one we would like to wear this Christmas day! Recreate the whole look or you can try just one of the designs.
58. Glitzy and Glam Festive Nails
Next, we have a glitzy and glamorous nail idea. Three nails are green and sparkly, one features silver glitter and the other has a stylish zig zag design. Festive and chic nails like these will be perfect for Christmas parties and for the special day. Try the green look or you could recreate the design in red and gold too.
59. Stylish Matte Nails with a Rhinestone Christmas Tree
Matte nail colors are still a must-have look and next we have a festive version to show you. Almost every nail is painted in a different matte color and one nail features a rhinestone Christmas tree. We love the Christmas tree because it is so unique and glam. You can recreate a similar tree with gold studs which can be bought online and you can stick them on with nail glue.
60. White Glitter Nails + Stripe Accent Nails
Love the striped nail designs? If so, this could be the perfect festive mani for you! Most of the nails are painted white with added sparkle on the tips. There is an accent nail too which is white with red and green stripes. This is a cute and vibrant look that will suit any Christmassy event, from a party to a family dinner. You can hand-paint stripes or use nail tape or a stencil.
61. Sparkly Red and Gold Nails
Next, we have a nail design that will wow during the holiday season. Three of the visible nails are sparkly and one is simply red. The glitter nails are red and gold and there is a mixture of the two as well. This is another amazing, festive look. It would be perfect for Christmas parties and it is a must-have for those who love Christmas, glitter and bright colors.
62. Festive Holly Nails
The next nail idea is another very festive one. This time, some nails are red, green and there is Christmassy nail art which includes candy canes and holly. We love the colors and the nail art, it is such a cute and bold look for Christmas. You can hand-paint holly which there are tutorials for online or you can buy nail stickers.
63. Red Christmas Nails
If you want a manicure that celebrates the festive season but you would prefer not to wear candy canes and other designs like that, then this idea could be perfect for you. Here we have stylish coffin shaped nails and each one is painted in a rich red shade. Different textures have been used on the nails and these include glossy, matte and glitter. As you can see, all these textures create such a chic and glam mani. Nails like these would be perfect for Christmas parties and for nights out during the holiday season.
64. Santa Inspired Manicure
Next, we have a nail design inspired by Santa himself. Three nails are a beautiful red shade, one nail is sparkly and gold and the last nail has cute nail art based on Santa's suit. It is a festive and unique idea. You can hand-paint the Santa nail art and there are easy to follow tutorials online. Recreate this or you can add even more Santa nail art by maybe painting his face on another nail.
65. Red Festive Nail Art
This next nail idea is another one of our favorites. Four nails are red with festive white nail art and one nail is gold. The white art is different on each nail and includes a Christmas sweater design, snowflakes and peppermint candy art. All was hand drawn and you can find tutorials online that will show you how to create similar looks.
66. Christmas Coffin Nails
If you love the candy cane nail designs, then you need to see this one too. For this look, some nails are red, there is one stunning snowflake nail, next we have a sparkly nail and finally the last nail features a white and red candy cane pattern. We love this design because it combines different Christmas favorites such as the snowflake and candy. It is a gorgeous mani and it would be perfect for Christmas day.
67. Cute Reindeer Nails
Bring cute to Christmas with nails like these! All of the nails are nude but they feature different nail art. One nail has two red rhinestones, next we have a gold snowflake, then an adorable reindeer and finally red stripes. It is a fun and unique mani and it is very festive and chic too. You can buy reindeer nail stickers online and you can stick a red gem on its nose to recreate a similar reindeer to the one below.
68. Red Glitter with Christmas Baubles
Next, we have another bauble nail design. This time, some nails are sparkly red and two nails are white with stunning red baubles. We love this version because it looks like the baubles are hanging off the Christmas tree as there are green branches. It is a beautiful design and it is perfect for the festive season. You can recreate this look or try a different colored bauble, maybe one that is similar to the ones on your actual Christmas tree.
69. Red Coffin Nails for Christmas
Looking for a chic and glam Christmas mani? Then this is for you! Only four nails are visible and two are glossy red and two are nude with red tips. The rich red shade and the nude color compliment each other perfectly. There is also a little Christmassy sparkle added to the tips too. This is a stunning and stylish design that is easy to wear. We would use glossy red on the thumb nail also.
70. Disney Inspired Christmas Nails
This next nail idea is a must-have for Disney fans! Each nail has a different design but most of them include Mickey Mouse's head. The Mickey design has been used with snowflakes, cute ho-ho-ho art and more. This is a fun and unique manicure. Recreate the whole look or just one of the designs for all nails.
71. Festive Nails with Candy Art
Next, we have another candy inspired mani. This time, the nails have a red or green peppermint design. It is such a festive and gorgeous idea. You can recreate the red and green design or just choose the red. Either way, your nails will look amazing! There is a full list of the products used as well as a tutorial on the nail artist's page below.
72. Acrylic Red and White Nails
Our next pick is another holly jolly manicure! This design is perfect for women who want to include a few fun nail art designs on their nails. This look features a popular candy cane design that is jazzed up with some gold glitter, a simple red nail, an accent nail with a big, white snowflake, while the last nail mimics the cable knit texture of a winter sweater that she is also wearing on the photo.
73.  Cute Pink Glitter Nails
We don't know about you, but nothing gets us in the holiday spirit like transforming your nails into a christmassy manicure! Instead of going with traditional red, white or even green nail polish, you can opt for a girly pink shade that is also very popular during Christmas time. Recreate these cure reindeer nails and you're sure to turn heads!
74. Elegant Snowflake Nails
Gold sequins, glitter and a big white snowflake make a nude manicure more festive. This design is for those who don't like bright Christmassy hues and designs. The snowflake design can be easily recreated using  a thin brush and white acrylic paint – just make sure to have a steady hand!
75. Candy Cane Coffin Nails
It's the most wonderful time of the year, so it's time to transform your fall burgundy nails to your Christmas nails! If you love coffin nails, our next pick is for you. This design will look great on all nail shapes but we really love it on these long coffin nails. The design has winter and Christmas symbols, so you can rock them as soon as Halloween ends. If you don't have a steady hand for the candy cane design, there are nail wraps that are pretty easy to use.
76. Cute Gingerbread Nails
You know it's Christmastime when your entire house smells like gingerbread cookies. The gold sequin dots really transform this cute mani into a glam one.
77. Simple Polka Dot Nails
Polka dot nails are not quite a Christmas staple, but this designs shows how you can jazz them up by adding a cute reindeer design with a red and white hat. Just by adding a Christmas design to one of your nails, the manicure can easily be transformed into a Christmassy one. Small polka dots can be created using a dotting tool.
78. Red Gel Christmas Nails
If you're looking to jazz up a red manicure, adding a snowflake, a gingerbread cookie and cable knit sweater design is the way to go! Unfortunately, it's not quite the easiest way to transform your classic mani, but the end result will be worth it!
79. Blue Glitter Acrylic Nails
This sparkly glitter manicure has tons of glitz and glam, and the snowflake design helps take it to the next level. This is another look for those who don't like classic red and white Christmas manicures and want to have an elegant and subtle nail design that still represents this special time of the year. This nail design is fit for a winter queen!
80. Cute Grey Winter Nails
Get in the holiday mood with these cute grey winter nails that are quite simple and clean. The nail artist opted for a grey matte base with two white reindeers and tiny white dots that represent snow. You can achieve this design with thin nail brushes, red and white acrylic paint and of course, some patience.
81. Christmas Reindeer Coffin Nails
This year, celebrate Christmas by rocking these cute reindeer nails with white snowflakes. This nail design shows how neutral shades can also be worn during Christmastime. With just a few festive details, you can transform your matte neutral polish into a manicure fit for the holidays.
Hopefully now you have plenty of inspiration to get started on Christmas nail ideas! There are so many to choose from, and so many ways you can make seemingly un-Christmassy colours more festive… Now which one goes better with that little black dress?