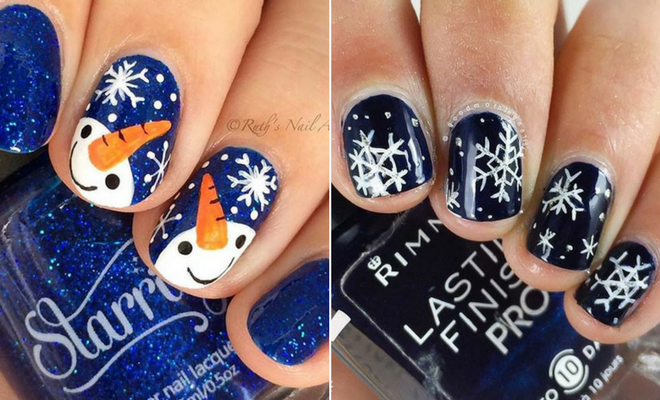 Instagram
Beauty
23 Latest Winter Inspired Nail Art Ideas
By
|
The winter season is almost here. Not only will it bring colder weather and festive holidays but also new fashion and beauty trends. An easy way to update your look for the new season is with nail designs. You can wear the latest colors and patterns easily without breaking the bank on a new outfit. We love winter nails so have put together 23 of the best winter inspired nails. There is something for everyone from cute to stylish. Take a look to find your favourite.
1. Dark Red Nails With White Snowflakes
Dark red is a must-have color for the winter. This manicure has used the stylish red with an added white snowflake design. The red polish and white snowflakes look very cute together. You can recreate something like this at home. There are tutorials online to help you with the snowflake design.
2. Stunning Snowflake and Glitter Nails
Our next pick features a stunning snowflake accent nail. The nails have been painted in a light nude tone with silver glitter along the tops. The accent nail features a beautiful and delicate silver glitter snowflake. Nails like these would be perfect for a special occasion. Maybe even a winter wedding.
3. Winter Fair Isle Print Nail Design
Fair Isle is a knitting technique, so it will be on many winter sweaters. It isn't just on your clothes that you can wear this cute pattern but on your nails to. This nail idea features different Fair Isle patterns on each nail. You could be creative with this idea and create your own pattern.
4. Cute Snowman Nails
Winter brings with it cold weather and snow. One of the best things about snow is that you can build snowmen! Even if it doesn't snow this winter you can still build or paint a snowman. This next manicure features two accent nails with two cute little snowmen. The rest of the nails have been painted in blue glitter but you could choose any color.
5. Winter Tree Nail Design
Snow covered trees are in any perfect winter scene. Our next pick shows how to design winter trees on your nails. Each nail has been painted in a blue glitter with two tree accent nails. The trees have been painted in white with white snow around them. To create nails like these you will need a white nail pen or nail art brush. Then just create the tree look with lines. The trees do not have to be perfect so just have fun.
6. Sparkling Snowflake Nail Design
Next we have a pretty pink winter nail idea. The nails feature a light matte pink on two nails, pink glitter on another and a sparkling snowflake on the middle nail. A snowflake like this can be recreated with a silver polish, just make sure to use a very thin brush. Then add some gems and finish with a topcoat. You could use a similar pink shade as the base or choose something vibrant.
7. Vibrant Winter Nails
Want vibrant winter inspired nails? Then these nails could be for you. These bold nails were created with bright shades from China Glaze. Nails like these are a cute way to combine color and the winter season. You could recreate the design or just choose the trees or snow.
8. Icy Snowflake Nails
If you like snowflake designs, then you may like this one to. This art uses icy blue tones and blue glitter to create winter inspired nails. The snowflakes are delicate so will need a steady hand and a thin brush. You could also use a stencil. We love this idea, nails like these will look beautiful all winter long.
9.  Burgundy Nails With Winter Pattern Accent Design
Burgundy is a trendy color for 2017. So, why not include the shade in your winter nail art. These nails feature a dark burgundy with two accent nails. The accent nails feature a light base shade with a winter pattern which includes gold deer. Nails like these will look cute with any winter outfit. You could recreate a similar design or create your own pattern.
10. Snowflake and Glitter Winter Nails
Next we have a cute snowflake design. The nails feature a bright pink polish with silver snowflakes and these also have two silver shimmering accent nails. The combination of pink, snowflakes and glitter creates a pretty and elegant look. You could recreate something like this and just have snowflakes instead of the accent nails
11. Snowflake, Polka Dot and Glitter Nails
Want winter inspired nails that will make a statement? Then these nails could be for you. Each nail is different and has a bold look. One nail is all over red glitter, one nail has a simple Fair Isle design, the next one has polka dots and the nail after that has a black snowflake design. With practice you could recreate these. You could also just choose one design and paint it on all nails.
12. Winter Inspired Nails
Our next nail idea looks like it could be featured on a Christmas card. It is like a beautiful winter scene. Each nail features a different part of the scene. Two nails feature cute houses, one nail features a church and the other one features a Christmas tree. Nails like these would be perfect for the Christmas season.
13. Fair Isle and Glitter Nails
Like the Fair Isle pattern? Then these nails could be for you. These nails feature one nail a black and white Fair Isle design, two burgundy nails and one silver glitter nail. All these designs create one stylish manicure. You could recreate this look with different colors to.
14. Black, Glitter and Snowflake Winter Nails
Want to add some glamour to your winter look? Then you need to check out these nails. The nails have a gorgeous pink and black snowflake design with one glitter nail and one black nail. Silver and black is a glamorous combination so suits the snowflake design perfectly.
15. Light Blue Snow and Snowflake Nails
During the winter season icy tones become must-haves. This next nail idea features a light blue with a white snowflake design. The combo of the white and blue create an icy, snowy look that is perfect for the winter. You will need a steady hand and a thin nail brush for this design but it can be easily created at home.
16. Cute Winter Pattern Nail Design
Loved the winter and Fair Isle patterns? Then this next nail idea is for you! These nails feature two patterned nails, one light pink nail and one white nail with a gem snowflake. With nails like these you can let your creativity shine. You could create a pattern like this with your own shapes to make it unique.
17. Pink, Snowflakes and Glitter Nail Design
Look pretty in pink this winter with our next nail design. All the nails have been painted in a light pink with a white snowflake design over the top. The nails have been finished off with a sprinkle of glitter. Nails like these would be perfect for a special occasion such as date night.
18. Red and White Fair Isle Pattern Nails
Like Christmas sweaters? Then you our next nail idea is for you. These nails feature a red and white fair isle pattern. This pattern looks like it is straight off a Christmas sweater. Nails like these are cute, fun and will look great for the festive season. We love these winter inspired nails!
19. Winter Snowflake Nails
The next idea uses light winter tones as inspiration. Two nails have a silver glitter polish and two have a snowflake design. Even though we can't see the thumb we think the silver glitter would look great on the thumb nail to. The snowflake nails feature white snowflakes with iridescent flashes underneath. We love this glittery winter look.
20. Ombre Snowflake Nails
Ombre nails are super stylish. These nails use a blue and white ombre to create beautiful winter nails. You could have just the ombre design but you could step it up by adding some snowflakes like these. The snowflakes are very cute and feature little gems. There are plenty of snowflake tutorials online to help you get the look.
21. Bling Snowflake and Glitter Nails
Add some bling to your look with winter inspired nails like these. The nails feature a vibrant purple with Glimmer polish on the top and an accent nail with a sparkling snowflake. You can recreate the look with similar colors just try to get the 3D snowflake. Snowflakes like these can be purchased online.
22. Pretty Pink Winter Nails
Light pink is a color that never goes out of style. These next nails show how you can wear the elegant color in the winter. Two of the nails are the soft pink with glitter over the top and there are two accent nails. The accent nails have a snowflake and tree design. You could recreate something like this with a stencil and you could also just have Christmas trees or snowflakes.
23. Navy and Snowflake Nails
Last on our list are these navy nails. The navy would be a stunning color choice for the winter so you can wear as it is or add snowflakes like these. Snowflakes are perfect for the winter. We love the navy and white combo it looks very chic and stylish.
We hope you have found some ideas from our winter inspired nails.