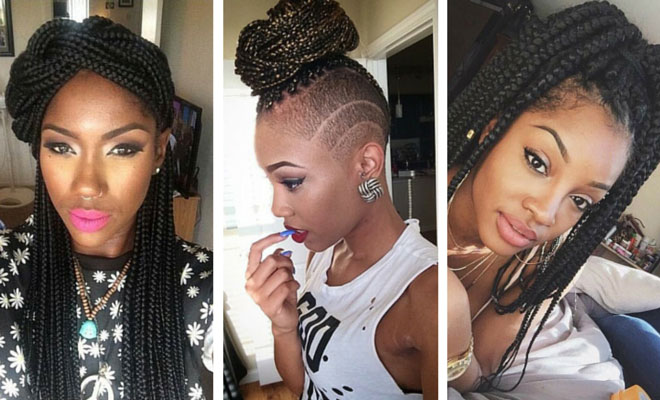 Instagram
Beauty
70 Box Braids Hairstyles That Turn Heads
By
|
21. Chunky French Side Braid
We are madly in love with red box braids, especially when they are braided into a big, chunky French braid. You cannot go wrong with braided hairstyles, that's obvious.
22. Purple Box Braids
A great way to make your box braids even more sexy and dope is to add some color. If red isn't your color, then you definitely should try out these purple braids. Life is too short for boring hair, right?
23. 4 Updo Styles for Box Braids
We've told you there are hundreds and hundreds of styles that you can experiment with your box braids. Here are another six ones. Updos and box braids are seriously so hot right now!
24. Twisted Half Updo
For this cute hairstyle, you'll only need to twist your braids for few times. Yes, it's that simple. When you get the look you want, make sure you secure the twist with as many bobby pins as possible. We want everything to stay in the place.
25. Box Braids High Bun with a Scarf
Jazz up your braids with a scarf! Box braids are perfect for scarves, head wraps and statement earrings. Also, scarf is a great hiding tool for days when your braids begin to get messy.
26. Easy Braided Updo Tutorial
Need a quick and easy updo for that formal event? We got your back! Just follow these easy six steps and you'll have your updo in no time.
27. High Ponytail + Shaved Sides
The next time you feel bold and edgy, make sure to show this hairstyle to your hair stylist. Shaved sides and high ponytails make our jaws drop!
28. Super Long Box Braids
Super long box braids are an eye-catcher, especially if you style them into a high ponytail like pictured. The options of styling long box braids are endless. Be creative!
29. Box Braids into a Twist
We love the versatility of box braids. Here we see a cute and simple way to style your box braids. To achieve this look, take two strands of box braids and twisted them around each other. You can twist only few strands at the front or all of them. Lovely!
30. Big Box Braids Bob
Short box braids won't put as much stress on your natural hair, but they will still look exotic and sexy. You can adorn them with gold beaded hair cuffs for some hair bling!