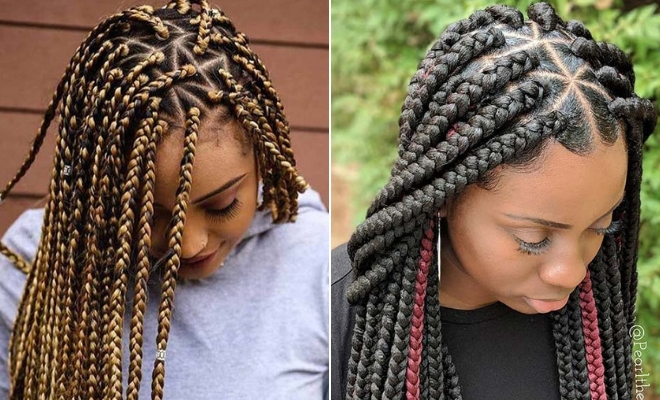 Instagram
Beauty
41 Pretty Triangle Braids Hairstyles You Need to See
By
|
One of the hottest braided looks are triangle braids. These funky braids are a different take on the much loved box braids. Instead of boxes, your hair will be sectioned into triangles. By using this shape instead, you get a cool, creative and trendy hairstyle. We love triangle braids and think you will too so, we have found 41 of the best looks on Instagram. There are colorful braids, accessorized styles and more. Take a look, you won't be able to decide which one to try first!
1. Red Triangle Box Braids
First up we have these gorgeous red triangle box braids. The braids are chunky, long and are in a bright red shade. We love this look because the red color really makes the triangular pattern stand out. It is a trendy hairstyle that is perfect for the ladies who want to look bold. These braids have been finished off with a cord, you can use a cord or not, depending on your own style.
2. Stylish Thick and Thin Triangle Braids
You can make braids look unique by creating cool patterns like these. Here we have triangle braids with very thin braids in-between the triangles. This is such a stylish and creative idea! You can be as simple or as intricate as you like. So, recreate something like this or add in a few more small braids, maybe even try different colors too.
3. Jumbo Triangle Box Braids
Next, we have jumbo triangle braids that have been accessorized with cords and cuffs. Accessories like these can really jazz up your braids and make your hairstyle unique to you. Go for something glam and gold like featured or add some vibrant cords and other things like beads.
4. Multicolor Triangle Part Braids
Looking for a hair idea that makes a statement? Then these braids are for you. Here we have long triangle part braids that start off black then blend into light purple, blue and then yellow. This is such a gorgeous set of colors. You can recreate this or try your own color palette. Multicolor styles like this work best on longer braids so you get the full effect of the color change.
5. Triangle Goddess Box Braids
Another way you can glam up your braids is with added curly hair. These long triangle braids have curly hair at the ends. This combination is gorgeous and it just gives the braids a chic and stylish look. You can have long braids like featured or try curls with shorter braids too.
6. Long, Accessorized Triangle Braids
Our next hairstyle features gorgeous triangle braids with more cool accessory ideas! Instead of cords and cuffs, here we have cords with shells and a braid wrap. Little accessories like these make the simplest of braids look amazing, and you can express your own style by choosing your favorite colors and patterns.
7. Caramel Blonde Triangle Braids
Next, we have a stylish braid idea. These chunky triangle braids are a beautiful caramel blonde shade. Blonde looks so trendy with braids. This blonde color will suit everyone, but you can choose a cooler and brighter blonde if you prefer. Either way, blonde braids like these will give everyone hair envy!
8. Thick Triangle Part Braids
If you are looking for a beautiful hairstyle that is easy to wear, this next idea is for you. Here we have thick and long triangle braids. We love the triangle pattern used here because is so neat and stylish, it looks amazing. You can recreate long braids like these or try this pattern with short braids too.
9. Sleek and Stylish Triangle Part Box Braids
Next, we have another braid idea that looks effortlessly beautiful. These are long triangle braids but the triangular pattern is different. The triangles used here are smaller so the pattern looks more intricate. This is a gorgeous hairstyle that will suit everyone. To jazz it up a little, you can add braids in other colors.
10. Black and Copper Braids
When adding color to your braids, you don't have to go all out. You can just add a few bold braids to your look, just like this. Here we have black and copper braids. As you can see, the color still looks gorgeous but it is subtler than the styles where all the braids are colorful. Copper is a stylish color and it will look amazing on any braid length.