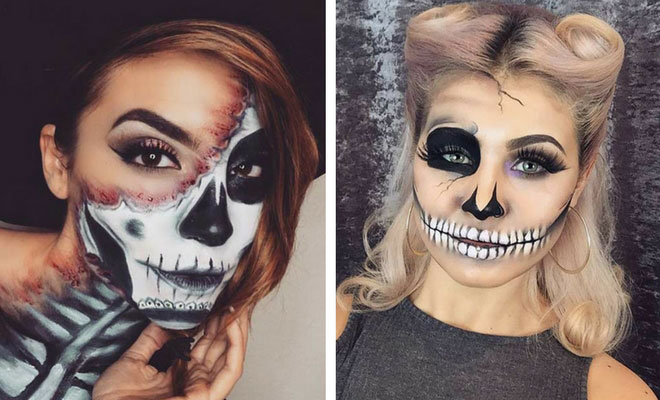 Instagram
Lifestyle
23 Cool Skeleton Makeup Ideas to Try for Halloween
By
|
11. JLo Inspired Skeleton Makeup
In 2015, Jennifer Lopez turned up to Heidi Klum's Halloween Party (the 16th annual) with her boyfriend at the time. They were dressed up as skeletons. Except they weren't just dressed up as any old skeletons – they were dressed up as super cool skeletons, and JLo herself was wearing a seriously plunging black dress.
Why not recreate her look like this makeup artist has? You've got a smokey eye, and you've still got red lips too … Technically it's get everything you'd need for glam Halloween makeup.
12. BFF Skeleton Makeup Idea
What's better than one skeleton at a Halloween party? Two skeletons at a Halloween party. Because usually, skeletons have no-body to go with… Did you get it? We're funny, right?
These two girls have gone for different skeleton looks with their makeup designs, and we can't work out which one we love the most. We'll let you pick – left or right?
13. Sexy & Cool.
Once you've added your white base of foundation and powder, it's time to get really creative with your cool skeleton makeup ideas for Halloween. We'd suggest starting with the eyes – using black eyeliner or black eyeshadow, paint a huge circle / oval from eyeliner right around.
You can smudge this up later on, but we'd suggest using the eyeliner to create those boundary lines. Think of it as coloring in and staying within the lines!
14. Black & Gold Glitter Skeleton Look
If you love glitter as much as we love glitter, you'll love this black and gold glitter skeleton look. It's a great way of incorporating some serious sassiness into your Halloween costume for this year.
The idea is very simple – it's the same skeletal makeup pattern, but rather than eyebrows, you add glitter. And instead of the white that you would usually use in place of the teeth, you add gold glitter. It's simple.
15. Terrifyingly Cool Skull Makeup
One of the hardest things to work out is how to have your hair when you have cool skeletal makeup ideas for Halloween like this one. You could use dry shampoo to create white-grey look for just one night, but just be sure to be careful if you're out in the rain otherwise it'll start running down and totally ruin your outfit.
It's not just the hair we love about this look though. We also love the way that sophisticated and elegant glam has been added alongside the traditional skeleton look. It's a great way to put your own unique spin on things.
16. Creepy but Cool.
This is more of a modern, edgy look when it comes to skeletons, but it's one we love nevertheless. We feel that it deserves a special mention.
Once again you have that traditional half and half skeleton look, but this time red shading has been used to give it more of a 3D, and to add a little more 'blood and guts' to the occasion. Isn't that what Halloween was made for?
17. Half Face Skull
It's smart to remember other areas of your body when you're creating these cool skeleton makeup ideas for Halloween. We love the way the next has been used as a feature piece in this design. It's a half and half look, but one that has a little something extra.
This is the perfect look if you're wearing an outfit that shows off your neck and collarbone. When you decorate it in this manner, you can forsake the accessories such as necklaces.
18. Half-Faced
When it comes to the shading of the darker makeup, it's wise to spread it down right into your neck even if you aren't going to feature it within your design.
Your neck will look more 'deathlike' if you add a bit of clever shading – darker patches running down the edges / outsides, and a lighter patch down the middle. You could also add darker touches where the shadows natural appear. Adding shadows along your collar bone, for example, will make them look more pronounced. Like contouring, but for your neck.
19. Totally Cool and Totally Terrifying.
Smart and clever makeup like these skeleton designs are best applied on clean and dry skin. If you have particularly oily skin, you may find a full face of makeup like this quite daunting. It's never a pleasant experience when your makeup is running down your face.
If you do suffer from oily skin, before you start applying your Halloween makeup, it's a great idea to blot the skin and mop up any excess oil. A cotton wool ball dipped in some astringent wiped over the area beforehand will also help to keep that excess oil at bay.
20. Blue and Black Skeleton Look
Skeletons don't have noses, and that's why you'll always a skeletal design with the tip of the nose blacked-out. You should aim to make this black shape an 'M' shape to make it appear naturally skeletal-like, with just the hint of the bridge-bone running down the center.
The cheekbones are easily painted in with contouring using black and white makeup rather than the Mac neutrals you're used to getting your hands in. The whole aim of the game is to make the fleshier parts of your face appear to have sunken in.
21. Perfect Last Minute Makeup Look
The best thing about using skeleton makeup ideas for Halloween like these is that they can be used with a number of different outfits. This gives you something easy to pull out of the bag when the big day finally comes around and you realise you've left everything to the last minute.
All you need is some white and black makeup. Most of us already have something along those lines in our makeup bag anyway. Perhaps you should start getting creative? Practice makes perfect, as they say.
22. Melting Skeleton
This melting skeleton look is beyond bonkers, and it's definitely one we'd love to recreate ourselves some day. The top half of the face has been left completely natural. Well, as natural as you would normally look on a day to day basis with a face full of makeup anyway.
The bottom half of the face is where all the action happens, and the skull markings have only been added to the mouth and jawline. To bring the entire look to life, liquid latex has been used to make it appear the skin has melted and dripped down. It's definitely a great way to reinvent a traditional Halloween look.
23. Floral Skeleton
What do you think about this stunning floral skeleton look? The bright red hair and flowers are a great addition but it's the makeup that brings this entire look to life.
The 'Day of the Dead' is a big thing right now – basically the Mexican's version of Halloween. Fake blood and liquid latex has been used right down the center of the face to really define it all, with the classic skeletal makeup look used on just half the face.
So now you have 23 brand new cool skeleton makeup ideas for Halloween, which ones have tickled your fancy? We can't work out which one of these is our favorite, but we sure know we want to try them all!