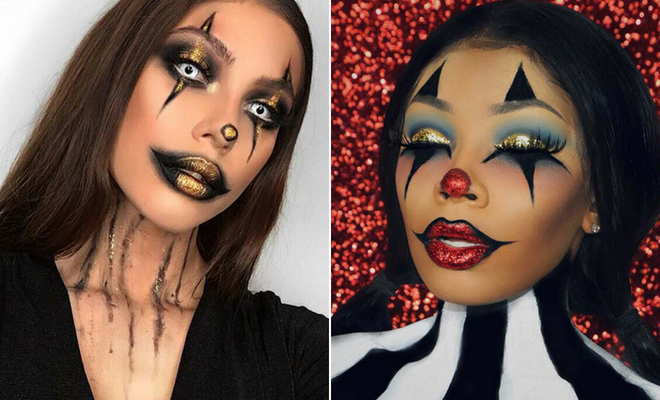 Instagram
Lifestyle
63 Trendy Clown Makeup Ideas for Halloween 2020
By
|
Want to be a clown this Halloween? Haven't decided on makeup? Then we are here to help! We have found 63 of the best clown makeup ideas. There are scary clowns, famous clowns and even some cute ones too. Take a look and get some inspiration, whether you want to trick or be a treat, you will find the perfect clown makeup here.
1. Glam Gold Clown Makeup
Our first clown idea is this glam design. The artist has used gold on the mouth and nose with beautiful eye makeup. Clown makeup like this is perfect for anyone who wants to join in with Halloween but still look cute too. The products used are: Makeup Forever Flash Palette, Urban Decay Naked Ultimate and Heat Palette with Too Faced Black Liquid Liner.
2. It Clown Makeup
Next, we have a half clown makeup idea. One side of the face is normal while the other half looks like a clown. The clown used here is inspired by IT but you can use any clown design you like. Don't forget about the creases on the skin as it gives the half design a more realistic look.
3. Gory Gangsta Clown Idea
Want an idea with more gore? Then this is the makeup for you. The artist has created a gangsta clown design with a wound on her neck. By adding fake blood like this, you just get a scarier look. You can recreate similar makeup to this, or choose different clown makeup. Also, you can change the wounds and blood to a different place too.
4. Cute Clown Makeup
Just because it is Halloween, it doesn't mean you only should use dark colors. Why not create a cute and vibrant look like this? Even though the colors are bright and happy, the clown still has a creepy look. Take inspiration from the image and recreate this design or use bold shades to create your own unique clown look.
5. Skeleton Clown Makeup
Our next idea is a skeleton clown. This makeup combines two Halloween classics so it would be a great choice for a party. The artist has used the traditional red clown makeup with added skeletal features. You can use this idea or use different clown makeup and combine it with a spooky skeleton.
6. Easy IT Clown Makeup Idea
IT is a scary clown and with a recently made movie, this famous clown has made a comeback. Our next makeup idea was inspired by IT's new look with the bright eyes and red makeup. It is quite a simple design to recreate and it is perfect for any Halloween celebrations.
7. Glitter Clown Makeup Look
Next, we have a creepy clown idea with some sparkle. The artist has used classic clown features like the eyes and mouth but made it look fresh and glam by adding black glitter. You can recreate this look or choose glitter in a different shade. Either way, a sparkling clown looks awesome.
8. Easy Clown Makeup
If all the glitter and intricate makeup is not your thing, then this design could be for you. Here we have a clown idea that is simple but spooky. The artist has used dark colors to create a clown look and added a skeletal like mouth. This is an easier option for those who don't want to take on a very difficult design. You can find out what products were used on the artist's page.
9. Unique Gangster Clown Makeup
Our next idea features a unique clown design a – gangster clown. It reminds of 1920's gangsters with the hat and suit. The makeup is different to all the others because it has a tattooed look. This is an awesome makeup idea that would be great for a party.
10. Creepy Clown Makeup
Next, we have a creepy but kind of glam idea. This clown design features black and gold makeup with scary contacts. We love the combination of the stylish black and gold and the Halloween contact lenses. You can recreate a similar look or try different contacts. You could also swap the gold for silver or any other color of your choice.