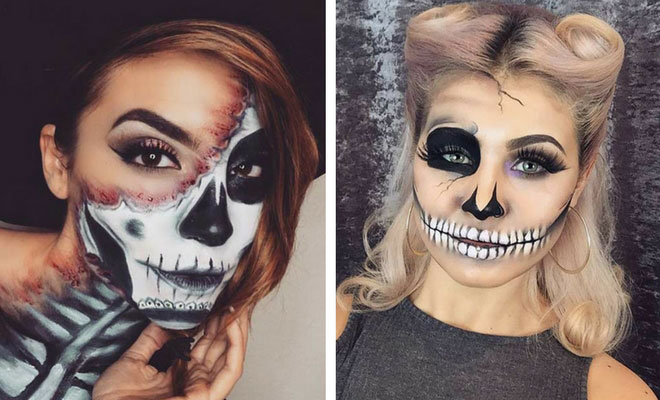 Instagram
Lifestyle
43 Cool Skeleton Makeup Ideas to Try for Halloween
By
|
Here's a fun Halloween treat for you – myths and legends have said that if you see a spider on Halloween, you're being watched by someone in the spirit world. That might not be overly comforting to some, but it's nice to know someone's paying attention … right?
Speaking of all things Halloweeny that start with the letter 'S', how do you feel about skeletons? It's a look that just goes hand in hand with All Hallow's Eve, and there are plenty of fun and fabulous ways to rock the look. We've found 43 cool skeleton makeup ideas to try for Halloween …
1. Bloody Half Face Skeleton
Halloween actually started about two thousand years ago, and October 31st was believed to be the last day of the calendar of the Celtic people. The pagan holiday back then was known as the traditional, Old Hallow's Eve, and it was a day to celebrate the dead. Why not play dead while you celebrate the dead? This skeleton makeup look is incredible, and when you consider that it's just a combination of black and white makeup cleverly mixed together, you must admit it's temping to try for Halloween 2019?
2. Half Skull Makeup Look
Speaking of white faces, (which we totally were with the whole skeleton theme), the white mask that you see in the spooky movie, Halloween, wasn't actually designed to be a scary mask. Michael Myer's scary face once belonged to William Shatner – they just painted it white for the movie. You'll need a few tools to hand if you want to recreate these cool skeleton makeup ideas to try for Halloween. To start with, make a list that consists of – an angled eyeliner brush, some white eyeliner, an eyeshadow brush, black eyeshadow, black liquid liner, and a light-colored foundation. The lighter the better, in fact; think ghostly!
3. Pin Up Skeleton
In order to complete the skeleton look that goes hand in hand with this makeup, you'll need the right outfit although that often comes much easier. Black booties with black leggings (or black jeans), a black body or top, and a leather jacket – that's how we'd rock it. If the jeans and top were cheap enough to replace, we might even get some white fabric paint and get inventive with bones.
4. Half Face Glam Skeleton
The good news about the skeleton makeup look is that it doesn't need to be perfect. In fact, far from it. The less perfect you can make this look, the better it will end up being. Don't worry if things don't exactly match on both sides. Why bother with both sides at all? A half and half face is a decent enough scary face for us. Plus it only means half the work, which makes it an instant winner.
5. Couples Skeleton Makeup
While we're on the subject of bones, did you know that there are 206 bones in the adult body? That's not the fun fact though … the fact that will wow your Halloween audiences is that when you are born, you actually have more bones than that – 300. Over your younger years, the bones fuse together and that's why you have less. The good news is this is a great Halloween look that a couple can wear – it's unisex, his n' hers, and it's pretty macho too. We're sure your significant other won't find a single thing to complain about!
6. Pop of Gold Glitter
If you ever break a bone, the bone will repair itself as long as it's set in the right place. That's why doctors will use a plaster cast over a broken bone. The idea is to keep it still so that the bones can then fuse together. We're all learning loads this Halloween! We'll even let you use these facts as your own to your friends and family. This is a great way to modernize and customize your cool skeleton makeup ideas to try for Halloween – add a pop of glitter. Just because you're dead doesn't mean you can't still sparkle!
7. Grey Skeleton Makeup + Flower Crown
And if you want to sparkle with glitter, you can flounce around in flowers too – who doesn't want to be a dead little skeleton flower girl? This look is both cute and creepy in equal measures, and we think that's why we love it so much. Plus you still have one 'normal' eye, which means you can still pull out your killer eye makeup skills. We are in love with this Halloween look!
8. Scary Skeleton Look
When looking to recreate this look for your own spooky Halloween festivities, start with the foundation. I know that sounds obvious, but a lot of makeup artists these days start by working on the eyes and then move on from there. The white base makes life a lot easier when you're piling on heavy and thick black eyeshadow, so apply this first.
9. White & Gold Skeleton Makeup
This look is a super simple way of recreating these cool skeleton makeup ideas for Halloween. It just uses brown and white eyeliner with a hint of glitter thrown in for good measure. You can even leave your eyebrows totally 'on fleek'. It's a half and half look that we can totally work with. You can still get away with killer eye makeup, whilst still carrying that spooky air about you.
10. Burned Skeleton Face
This is a different kind of look entirely, and you're verging into special effects makeup with this skeleton look. It's a half and half skeleton face, but with much more detail than you've seen before. We love that the blood has been added around the edge of the face, making it appear as if her skin and flesh has been completely ripped off.