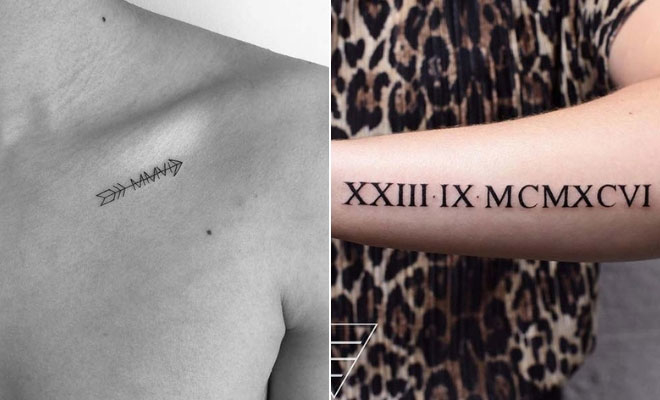 Instagram
Lifestyle
23 Roman Numeral Tattoo Ideas That Are Simple Yet Cool
By
|
11. Stylish Spine Tattoo
Next, we have a stunning tattoo to show you! This Roman numeral design has been placed on the spine. As you can see, the numerals look amazing going down the spine and the tattoo really makes a statement. You can have a spine tattoo like this with any date that means something to you and you can also have a smaller design if you prefer. We think the Roman numerals would look amazing in a more elegant font as well.
12. Tiny Hip Tattoo with Roman Numerals
The hip is another popular place to get inked and next we have a super stylish design. Here we have Roman numerals in a small and simple font that have been placed on the hip. As you can see, the tattoo is minimal, subtle, trendy and it has an edge too. This is perfect for those who want a more low-key tattoo that can easily be covered.
13. Lioness with a Crown
Earlier in the post we shared a lion and a crown tattoo. If you loved that idea, then you may like this one too. This design features a lioness instead of a lion and it has a different crown design. We think this would be a gorgeous tattoo on its own or maybe you could turn the lion and lioness designs into a couples tattoo. Then the Roman numerals could be for the date you met or it could represent a different special time for you both.
14. Minimal Arm Tattoo
This next tattoo idea features another minimal and trendy Roman numeral design. The Roman numerals have been tattooed in a simple font along the arm. It is a very easy to wear tattoo that will look amazing on everyone. The simplicity of the design makes it timeless too. It is a low-key and beautiful way to represent a meaningful time in your life. You can also have a similar tattoo placed elsewhere on the body.
15. Pretty Tattoo with Roman Numerals
Next, we have a pretty tattoo design to show you. The actual Roman numerals themselves have been tattooed in an elegant font and the design features a flowery pattern too. This is a delicate and beautiful tattoo that will suit everyone. Recreate this or choose different flowers that you like.
16. Large Roman Numeral Tattoo Idea
Thinking about choosing a bolder tattoo? If so, this idea could be perfect for you. Here we have a large piece of body art that features three rows of Roman numerals. All these numerals symbolize family's birthdays. It is a statement making tattoo that has special meaning too. Try a similar tattoo or you can go for an even larger font.
17. Roman Numerals and a Rose
Add a pop of color to your look with a tattoo like this. Here we have Roman numerals with a rose above. The rose has beautiful yellow petals. We love the yellow rose because it makes the tattoo really stand out. Recreate the rose or maybe you can choose a birth flower to match the date. You can also opt for any flower type in any color.
18. Cute Roman Numerals Tattoo Idea
The next tattoo is so cute and pretty. This design features small Roman numerals with hearts in-between the numbers. By adding hearts, you just give the Roman numerals a softer and more delicate look. Have small black hearts like these or you can choose hearts in vibrant colors like pink. Either way, your tattoo will look gorgeous.
19. Mystical Moon Design
If you are looking for a unique tattoo, then you need to check out this next idea. Here we have geometric shapes with a crescent moon and Roman numerals inside. The moon gives the tattoo such a magical and mystical look. A moon design like this is perfect for those who love star gazing and the night sky.
20. Personalized Tattoo with Roman Numerals and an Arrow
Next, we have another arrow tattoo. This time the design features a pretty and delicate arrow with an elegant name and Roman numerals underneath. It is a beautiful tattoo to symbolize someone special such as a family member or friend. A design like this can be placed anywhere on the body.
21. Subtle Finger Tattoo
Maybe you would like a subtle and stylish tattoo? If so, check this out. Here we have a Roman numeral design that is tattooed on the inside of the finger. It is a low-key design because of where it is placed and it will only be visible when you choose. A lot of people are choosing to have their ring finger tattooed as a symbol of commitment and this is often done just after a wedding or for an anniversary.  This would be another great wedding or anniversary tattoo.
22. Geometric Tattoo with Roman Numerals
Earlier in the post we featured a geometric tattoo idea. If you loved that design, then you need to see this one too. This is another tattoo with a triangular design. Four triangles have been tattooed with different thicknesses and patterns. One of the triangles also has Roman numerals too. This is a very unique and trendsetting tattoo that will make you stand out from the crowd. You could have a similar tattoo or try a similar design with different shapes.
23. Bold Roman Numerals Tattoo
The last tattoo idea that we have to show is beautiful and bold. This design features large Roman numerals that have been tattooed down the arm. The placement and size of the font makes this a very statement making tattoo. This would be perfect for someone who wants body art that will stand out!
We hope you have been inspired by these Roman numeral tattoos!