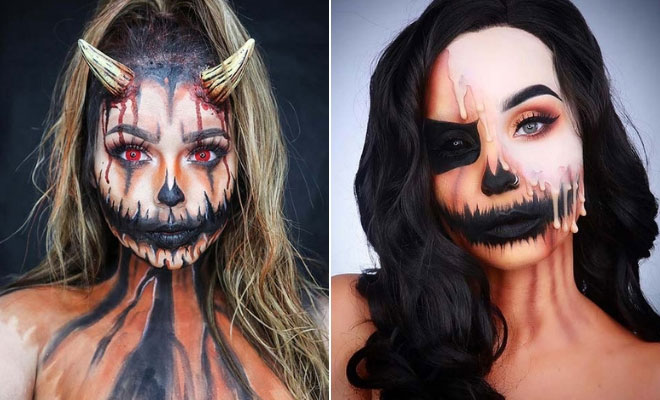 Instagram
Lifestyle
25 Pumpkin Makeup Looks for Halloween
By
|
11. Spooky Illusion Makeup Idea
If you want to wow everyone this Halloween, then this makeup idea could be perfect for you! The makeup artist has used different shades of orange and black illusion makeup to create a scary pumpkin look. This design features one glam eye but you could go all out and have pumpkin makeup all over you face. Either way, it will look amazing. This look was created with Morphe 39A & B palette, Violet Voss Flamingo palette, The Crayon Case Lashes & Black liquid lipstick and Urban Decay Glitter liner in Space Cowboy.
12. Half Pumpkin Makeup with Drips
Like the half makeup designs but want yours to stand out? If so, you should pick a design like this one! Here we have a half glam and half pumpkin face. The makeup artist has made it look so scary by creating the illusion that her skin is dripping! Dripping skin is so gory and horrifying, so it is perfect for Halloween! There is short tutorial on the Instagram page below or you can go to the makeup artist's YouTube channel for a more in-depth video. You can also see the products used too.
13. Simple but Creepy Makeup Idea
This next makeup idea is a little simpler compared to some of the other face and body designs. Even though the makeup doesn't cover her whole face, it is still so creepy! Her eyes are orange with a cool black design. She has also used black illusion makeup on her nose to make it look skeletal and on her mouth for that big wide grin that pumpkins are known for. This is a cool and scary idea that will be amazing for parties.
14. Cool Halloween Pumpkin Makeup
Next, we have a cool and creepy makeup idea to show you. This makeup artist has painted her face and body orange with a black pumpkin design. She has vibrant orange eye makeup too. Makeup like this is perfect if you are going out for Halloween because you can still look a little glam but scary too. Recreate this look or just paint your face.
15. Demon Pumpkin
If you are looking for unique and terrifying makeup, then this idea could be perfect for you! Here we have an evil demon pumpkin. The makeup artist has created a black and orange pumpkin design and the look is complete with red contact lenses and horns. This is a very unusual and creative idea. You can check out a tutorial on the page below.
16. Pumpkin Face and Body Makeup Idea
The next makeup idea is creepy and spooky. She has created the popular pumpkin look where all of the face is covered except one eye. The design is also on the body too. We love how she is wearing a different colored contact lens because that just adds to the scariness. You can recreate this look or just paint your face.
17. Half Pumpkin, Half Glam
Earlier in the post we shared an Enchanted Pumpkin. This next idea has been inspired by this. The artist has created the same magical black makeup but she has created a different pumpkin look with beautiful eye makeup. We love this because it shows how you can see an amazing idea and recreate it yourself with your unique twist. This one looks spooky and glam! You can check out a full list of the products used on the link below.
18. Bloody Illusion Pumpkin Makeup
Next, we have a scary and gory illusion idea. This artist has created makeup that looks like her skin has peeled off to reveal a pumpkin underneath. She has done this by using blood and wound like makeup. The black contact lens is terrifying too! This is an awesome look and it is perfect if you want to give people a fright at parties or events. There is a full list of the beauty products used on the makeup artist's page.
19. Scary Pumpkin Makeup and Eye Mask
Looking for a creepy and creative makeup idea? If so, this could be perfect for you. Here we have pumpkin makeup with a scary mask illusion. The whole face has the pumpkin design except for the eyes. Her eyes are glam with creased skin around them to create a mask like look. This is like the half face illusions but she has stepped up the game to create a mask! We love this idea.
20. Sparkly Pumpkin Makeup
Earlier in the post we shared a sparkly pumpkin makeup look. If you loved that, then you need to see this one too. This one is a little similar with the orange face and body makeup but the glittery pattern is so much different. A lot of glitter has been used and the glitter is in a super cool pattern. We love her spider hair too. Makeup like this will wow for Halloween.
21. Halloween Illusion Makeup
The next idea features more pumpkin face and body paint with the area around one eye left plain. The makeup is so spooky because it looks like a classic pumpkin. This is a cool makeup look and it is perfect for any Halloween celebration. The makeup was created with Mehron makeup and Urban Layer lenses.
22. Simple Pumpkin Makeup
Next, we have a stunning makeup look. Even though her face is painted orange and it has a pumpkin design, the makeup still looks so chic and classy! The makeup artist has managed to make a Halloween pumpkin look glam. Makeup like this is perfect for those who want to dress up but still look beautiful too.
23. Pumpkin Makeup with an Illusion and Glam Eyes
If you love the pumpkin illusions, then you need to check out this idea. Here we have another pumpkin look. For this one most of her face has a creepy pumpkin design and she has one glam eye. Her skin looks creased which makes the illusion even more scary. This is a spooky idea and it will look amazing for any Halloween event.
24. Jack-o'-Lantern with Sparkle
This next idea has a classic pumpkin vibe. Her makeup looks inspired by the Jack-o'-Lanterns that are carved for the celebrations. It is a cool and easy to wear idea. The makeup is finished off with a little sparkle too. Simpler makeup like this would be great as a last minute costume.
25. Half Pumpkin Halloween Makeup
The last idea is very creepy. The makeup artist has created a half makeup look. Half of the makeup features a pumpkin design and the other side is normal. She has also added texture to the half line to make it look like the skin is peeling off. Recreate this or you can add blood for a more gory look.
We hope you have been inspired by these pumpkin makeup looks.