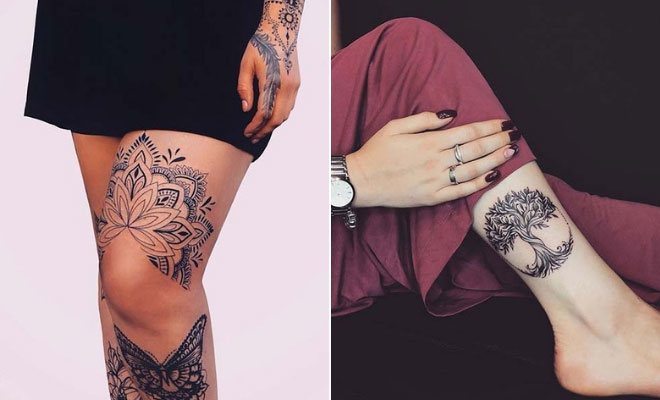 Instagram
Lifestyle
23 Sexy Leg Tattoos for Women You'll Want to Copy
By
|
Want a new tattoo but don't know what design to choose? If so, this is the right place for you. Today, we have found 23 of the best leg tattoos for women. The leg is a very popular place to get inked because you can choose the thigh, calf, knees or even the whole leg. As there is such a large area to work with, you can pretty much choose any design. You can be as bold or as subtle as you like. So, take a look and get some tattoo inspiration. There is a tattoo to suit everyone and the only decision you will have to make is which one of these amazing tattoos is the one that you want to recreate.
1. Beautiful Patterned Leg Tattoo
We did the the hard work finding the best leg tattoos for women so you don't have to. The first tattoo that we have to show you is a beautiful patterned design. This tattoo begins just below the knee and ends at the top of the foot. So, it covers the whole shin area. The design includes gems, charms, mandala patterns and more. It is a stunning piece of body art and it's important to note that shin tattoos can be more painful than other areas of the leg.
2. Sun and Moon Tattoo Idea
Tattoo designs with a sun and moon are so popular and with body art like this, we can see why! This tattoo features a patterned sun and crescent moon with dangling charms and gems. It is a gorgeous thigh tattoo and it will look amazing on everyone. You can recreate this or you can try a different sun and moon design, maybe something subtler or smaller.
3. Magnolia Flower
If you like floral tattoos, then this idea is perfect for you. Here we have a watercolor magnolia flower that is tattooed on the shin. A magnolia flower is not only beautiful but it can also symbolize things like love and joy. You can try a similar shin tattoo or this design can be placed on a different area of the leg such as the thigh.
4. Stylish Wolf Tattoo
This next tattoo is so stylish and unique. The design features a wolf. Half of the wolf is exactly like you would expect and the other half is made up of flowers. We love this tattoo because the floral side of the wolf looks stunning. It can also symbolize your strong and independent side but also your feminine and joyful side. Maybe like a balance between the two. Try a similar design to this or you can have just a whole wolf.
5. Unique Leg Tattoo Idea
Looking for an unusual tattoo that is statement making and unique? If so, check this out. Here we have a tattoo that has been placed around the knee. The tattoo covers the area above the knee and goes around the knee too. It is a beautiful tattoo that will wow. The patterns look amazing. You can recreate this or you can carry on the tattoo down the leg. This is one of our favorite pieces of body art.
6. Patterned Tattoo on the Calf
Another popular leg tattoo is a calf tattoo. This next idea is a gorgeous example of the type of design that you could have. The tattoo features a mandala pattern with an arrow style design and there are dotted patterns around the outside too. It is a unique and stylish tattoo. If you want a bolder piece of body art, then recreate this or you can opt for a smaller version.
7. Botanical Bracelet Tattoo
Next, we have a trendy botanical tattoo to show you. The design features a stylish leafy pattern that is tattooed around the leg like a band. We love this because the leafy design looks like it's naturally wrapped around the leg. You can try the botanical band on this area of the leg or you can take it higher towards the thigh.
8. Pretty Cat Tattoo Design
Earlier in the post we shared a patterned shin tattoo. If you loved that design, then you should take a look at this one too. Here we have another shin tattoo with patterns but this one also features a pretty winking cat. It is such a cool tattoo and the cat also has a mystical vibe. If you love cats and unique tattoos, this is perfect for you.
9.  Amazing Full Leg Tattoo Idea
There are a few different areas that you can tattoo on the leg. However, if you want to go all out, you could have the whole leg tattooed. This is an amazing example. As you can see, the leg is tattooed from the thigh to ankle. The design features a parrot, flowers and more. It is a stunning tattoo that will wow. Body art like this is for those who are ready for such a lifelong commitment. You can recreate this or try your own design. Think of it as a sleeve, so you can be as creative as you like.
10. Beauty and the Beast Inspired Tattoo
This next tattoo is a must-have for Disney fans. Here we have a thigh tattoo inspired by Beauty and the Beast. The design features the enchanted mirror with an illustration of the Beast and Belle on the inside. There are also roses around the outside too. It is a beautiful piece of body art and you can try something similar or maybe create a leg tattoo based on your favorite Disney movie.