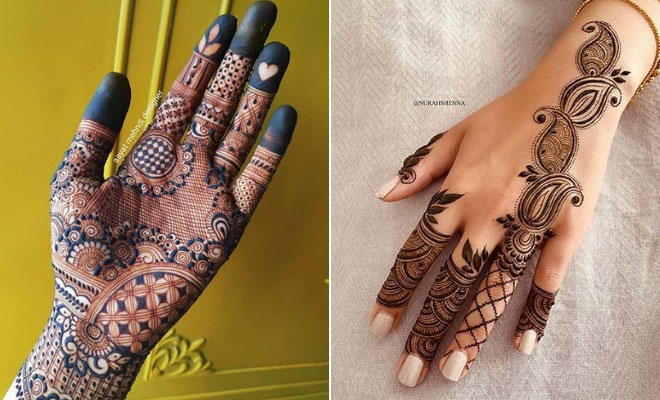 Instagram
Lifestyle
21 Henna Hand Designs That Are a Work of Art
By
|
11. Ornate Mehndi with Different Patterns
If you love the ornate mehndi patterns, then you need to see this next design. The henna features different patterns from nets and swirls to flowers. It is a stunning work of art and something like this will take time but the end result is so worth it. You can recreate the whole design or you could try just using the sections that you like to create your own unique version of the henna.
12. Floral Mehndi Idea
Next, we have another beautiful and floral design. The pattern is only really used on one side of the hand and it covers the little finger and the section below. It also carries on onto the wrist too. The flower are so stunning and the detail is amazing. We love this because it almost looks like an ornate piece of jewelry.
13. Intricate Henna on the Palms
The next henna idea features another matching design. For this look, the palms are covered in a net design with a floral section in the center. The fingers also have a leafy design too. It is a stunning piece of body art. Recreate this or you could try the net without the floral design and you can also have the henna on just one hand. Whatever you like best.
14. Unique Henna Hand Design
This next idea is another one that we love! The henna features a unique pattern that covers three fingers and the thumb. There is a delicate and leafy border that separates the design and each section is covered in amazing patterns. It is just so beautiful, chic and elegant. Henna like this is easy to wear and it would look gorgeous for any occasion.
15. Elegant and Elaborate Henna
You can add very unique features to your henna and this next idea shows an amazing example. This henna design is elegant and very elaborate, it has so many small and detailed patterns. Not only that, but a name has been added to the design too, which you can see on the little finger. Adding names and shapes that mean something to you is a beautiful way to make your henna different to all the rest.
16. Easy Henna Hand Design
Not all henna has to be very intricate and it doesn't always have to cover a large area. You could choose a simple henna design like our next pick. As you can see, only a section of the back of the hand has been used. The pattern only features two large flowers and the rest is leafy. This is simpler than some of the others but it's still eye-catching. Henna like this would look amazing for the summer, festivals and for weddings.
17. Henna Design on Fingers to Wrists
If you like the paisley style henna, then you should take a look at this. A section of the hand from fingers to wrists has been adorned with a stunning henna design. The henna does have a paisley look and each section is decorated with different patterns. It is a unique and amazing design and it will suit everyone. You can also personalize the henna by using different patterns.
18. Pretty Floral Henna Design
Earlier in the post we shared a henna design with a cute heart. If you loved that idea, then you should take a look at this too. The design features many beautiful patterns and a small heart has been added to the palm. As the mehndi includes hearts and flowers, it is a very feminine and pretty piece of body art. Recreate this or you could create a larger heart if you wanted it to make more of a statement.
19. Stunning Red Henna Idea
Henna is available in different shades and one color that does look amazing is red. Don't just take our word for it, check this out. Here we have a beautiful red henna design that covers the palm of the hand and fingers. There are many intricate patterns including paisley, flowers, nets and more. It is a gorgeous mehndi design and we love the color!
20. Beautiful Henna with Flowers and Swirls
Looking for a delicate and pretty henna design? If so, this could be perfect for you. The back of the hand and fingers feature swirls, flowers and circular patterns. As you can see, the lines and patterns are beautifully and lightly applied to skin. Henna like this would look gorgeous for a wedding.
21. Henna Hand Art
The last design that we have to show you is amazing and beautiful. Four fingers and the thumb are decorated as well as a section of the hand. The area on the hand features a leafy pattern with geometric shapes and the fingers are adorned with lots of different patterns. It is a statement making and stylish henna design that will suit everyone.
We hope that you have been inspired by these beautiful henna hand designs!