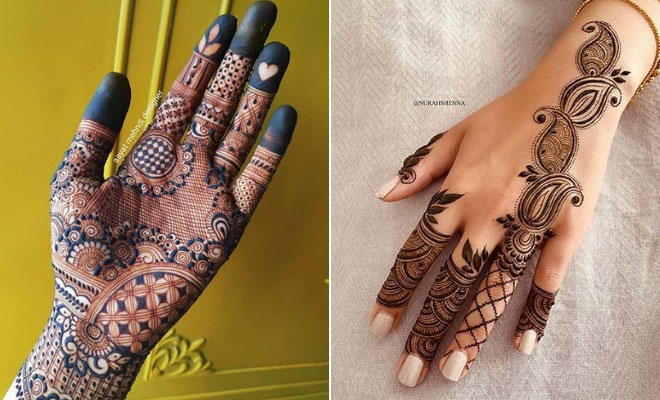 Instagram
Lifestyle
21 Henna Hand Designs That Are a Work of Art
By
|
Henna or mehndi is a traditional and temporary way to decorate the body. Over the years, henna has become very popular all over the world and now it is used for formal occasions like weddings and for fun events like festivals. We love henna because the patterns can be so intricate and the design ideas are endless. One of the most popular places to have henna is on the hands. So, today we are bringing you 21 amazing henna designs for the hands. We have a beautiful collection of patterns and colors so take a look at these gorgeous works of art!
1. Floral Henna Hand Design
We would like to begin by showing you this stunning floral henna idea. The design covers the whole of the palm and includes intricate patterns. Most of the henna has a delicate lace look and beautiful flowers have been added too. Mehndi like this will wow everyone. Try the whole design or you can just use the sections that you like best.
2. Blue Henna Hand Idea
The next idea is so bold and beautiful. This henna design is blue and different colors have also been used too. The pattern covers the whole of the back of the hand. We love the pattern because it is so stylish and statement making. Recreate this or you could try using this henna for two different designs. Maybe try the pattern on just the fingers or just the design on hand. That way you can have two different mehndi looks from one image.
3. Half Circle Henna Hand Tattoo
Next, we have a pretty henna idea and it is one of our favorite looks. For this, the back of the hand has been decorated with a half circle. The half circle use many different designs including lines, dots and a repeat pattern. There is also a delicate swirl in the center. It is a stunning idea and we think it looks unique too.
4. Matching Mehndi on Both Hands
You don't just have to have one hand decorated, both hands can be covered with stunning henna. Here is a gorgeous example of what you could wear. Both hands are adorned with a matching design that is on the hands, wrists and fingers. The detail is amazing and it just so delicate and beautiful. Recreate the whole design or just choose one section. Of course, you can try this henna on just one hand too.
5. Amazing Henna with a Flower
If you are looking for henna that will make a statement, then this is for you. Most of the palm is covered in an amazing repeat pattern. There is one area around the thumb that does not feature the pattern but it does have a beautiful flower. You can try this unique floral design or you can have the whole palm covered in a similar pattern without the flower.
6. Paisley Henna Hand Design
Paisley is a traditional henna pattern and it is one of our favorite looks! The fingers are covered in leaves, repeat patterns or a check design. While the back of the hand and the start of the wrist are decorated with stylish paisley. As you can see, the paisley looks so pretty! Try this design or you can decorate the paisley with any patterns that you like.
7. Henna Hand with Flowers and Geometric Patterns
This next mehndi idea is a work of art! The fingers are decorated with intricate patterns and the hand is adorned with flowers and geometric shapes. It is a very unique pattern and we have love how artistic the geometric design looks. You can recreate this or use the design as inspiration and create your own geometric henna with different shapes and patterns.
8. Beautiful Henna on the Fingers
Next, we have henna that features a beautiful net design. For this look, the fingers are decorated with intricate nets and there is a rose pattern below. It is such a striking and stunning design and it will definitely make a statement. Recreate this or you can carry the pattern on and add it to the back of the hand too.
9. Floral and Botanical Henna
If you love the designs where both hands are decorated, then you need to check this out! Here you can see both hands are adorned with henna but they both feature a different design. One hand is beautifully decorated with flowers and the other has a leafy botanical pattern. As you can see, they are stunning as separate designs but they look amazing together too. Try a similar look or you can use one design on both hands.
10. Stunning Whole Hand Henna with a Heart
The next mehndi design is another one of our favorites! For this look, the whole of the palm and fingers are covered and so is the wrist too. The henna is so intricate and features nets, flowers and more. We also love the design on the tips of the fingers because they are all dark except for leaves and a heart shape. It is an amazing idea that will really wow everyone.