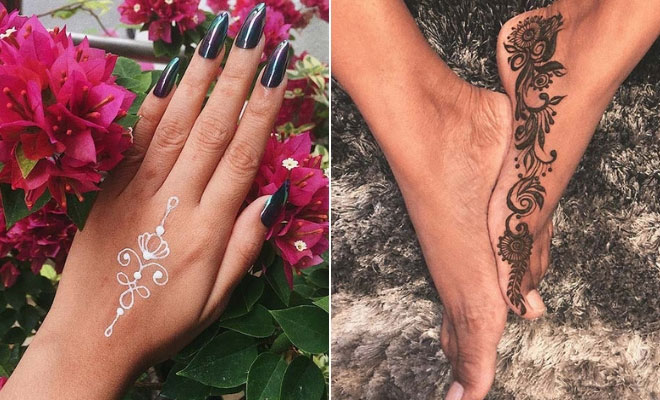 Instagram
Lifestyle
43 Simple Henna Designs That Are Easy to Draw
By
|
Henna or mehndi has been used to decorate the body throughout history. It has been dated back to Ancient Egypt and is still popular all over the world today. Henna is usually added to the hands and feet and it is available in a variety of colors. We love henna because you can have beautiful body art but without the pain of a tattoo. It is also temporary, so you can wear as many different designs as you like! To show you how amazing henna looks, we have found 43 stunning and simple henna designs. We have floral patterns, trendy geometric designs and more. You won't be able to decide which one to try first!
1. Elegant White Henna Design
We would like to begin by showing you this elegant white henna idea. The henna has been placed on the back of the hand. It is a simple design with beautiful lines and a floral look. The white henna is stunning and would be perfect for a wedding or if you want a stylish design for the summer. Of course, you create something similar in any henna color.
2. Botanical Henna Design for Hands
Flowers and botanical designs are very popular in henna art. Here we have a beautiful floral idea to show you. The henna is placed on two fingers and one design features small flowers and leaves, while the other has a natural plant pattern with elegant lines. This is an artistic idea and it will look stunning on anyone.
3. Simple Mandala Mehndi
Next, we have a mandala henna design. A mandala features stunning patterns and it is a symbol of spirituality. These designs can be as minimal or as intricate as you like. This henna idea has a simple design that is on the thigh. The lines and shapes used are beautiful. Recreate this or you can place a similar design elsewhere like the hand or the foot. You can also add other patterns too.
4. Simple Henna Design for the Hand
Our next idea is a pretty hand design. The henna is on the back of the hand and ends on the middle finger. It is a stunning Mehndi design and it looks like a beautiful piece of jewelry. The pattern is simple and it can be created in a henna color of your choice. You can make the henna even simpler by just recreating the large pattern without the henna on the fingers.
5. Pretty Henna Design with a Small Moon
Looking for a bold henna design? Then this is for you. The henna starts just below the wrist and ends at the tip of the middle finger. There are lots of patterns in-between including leaves, dots and there is a cute moon too. This is a gorgeous idea and it will look amazing on anyone.
6. Henna Art on the Fingers
Henna designs look so stylish when placed on the fingers and here is a great example. Each of the fingers has a different design but they all compliment each other. This is a trendy way to wear henna and you can recreate this or choose your own patterns. You could even have henna on one or two fingers instead on them all.
7. Red Henna
Next, we have a beautiful henna idea to show you. This design covers the hand from wrist to finger tips. The shape and patterns are similar to the ones seen in Indian henna and the red color finishes of the design perfectly. It is a gorgeous piece of body art and you can create a similar look or simplify it and wear just the hand or finger designs.
8. Floral White Mehndi
Love the white henna ideas? Then you need to check out this next design. Here we have henna on the arm with a stunning floral pattern. It looks so elegant and beautiful. We love this design because it combines the mandala and floral styles. Mehndi like this would be great for a summer wedding.
9. Henna on the Toes
Instead of the fingers, why not try henna on the toes? For this look, henna designs have been placed on each of the toes. As you can see, it is such a trendy idea! You can recreate this or you can use any mendhi design. You can have henna like this in any color too. If you want to make more of a statement, you can extend the henna onto the foot.
10. Stylish Wrist Design
Our next idea is another design that looks like a stunning piece of jewelry. The henna is on the wrist and goes onto the back of the hand. This is one of favorites because it has beautiful patterns and has a floral look too. Try a similar design to this or you could have just the wrist patterns. Either way, it will look amazing.