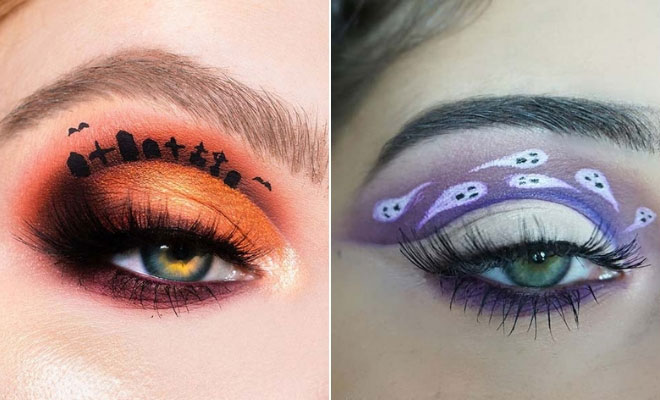 Instagram
Lifestyle
41 Stunning Halloween Eye Makeup Looks
By
|
Still looking for the perfect makeup to wear this Halloween? If so, the search may be over because today we have 41 spooktacular eye makeup ideas to show you! We love eye makeup because it allows you to celebrate Halloween but also keep the rest of your makeup looking glam and pretty too. You can also be as subtle or as over the top as you like. Maybe you will recreate just the eye makeup or try the eye design with added scary features like contact lenses and fake blood? Either way, any of these makeup ideas are perfect for Halloween. So, what are you waiting for? Take a look!
1. Devil and Angel Halloween Eye Makeup
The first makeup idea will show off your bad and good side. One eye has a red devil design complete with horns and the other side is more angelic with a halo. This is creative idea and the glitter makes the eyes very glamorous too. Recreate the whole look or you can add more drama by choosing a darker lip color. Either way, you will look amazing. You can see what beauty products were use for this makeup on the page below.
2. Glam Eyes with a Spider Web Design
Next, we have a glam and spooky idea. The makeup artist has used a blend of warm eyeshadow colors on her eyes that are perfect for the fall. She has finished off the look with a little glitter, bold eyeliner and a spider web design. This is one our favorite looks because it suits Halloween and the fall season too. You could also recreate this without the webs for cute eye makeup for a different event. A full list of the products used is available on the page featured below.
3. Bloody Eye Makeup
Bring the blood and gore to Halloween with eye makeup like this! Here we have a bloody cut crease design. She has red eyeliner on her upper and lower lash line and the look is finished off with blood on the crease of her eye and the inner corner of her eye too. This is such a cool and creative idea. You can view a tutorial and all the products used on the makeup artist's page.
4. Spider Eye Makeup for Halloween
Many people are scared of spiders so why not take inspiration from the creepy arachnids for your Halloween makeup? You could create something like this. For this look, the makeup artist has used dark lip and eye makeup which is a Halloween classic. She has finished off the look by creating a spider design on one eye. It is such a unique idea and once your eye is closed it will look like a spider! You can find tutorials for spider leg makeup online.
5. Haunted House Eye Makeup
If you love spooky haunted houses, then this makeup idea is for you. This makeup artist has used a beautiful eyeshadow blend and has painted a classic haunted house along the crease of her eye. The look is finished off with glitter. This is such an awesome and creative idea! Makeup like this will require practice and patience if you try to recreate it yourself but as you can see, it is worth it!
6. Happy Halloween Eye Makeup Idea
Just because it is Halloween it doesn't mean that you can't wear bright colors! You could try something like this. Here we have vibrant eye makeup with purple, green and orange shades. The look is finished off with glitter and a cute Happy Halloween message. We love this eye makeup because it celebrates Halloween but it allows you to have fun and be creative with your makeup too.
7. Horror Movie Inspired Eye Makeup
If you love horror movies, this makeup idea is for you! Here we have classic black eyeliner with dark eyeshadow. There is also red eyeliner on her lower lash line too. The look has been finished off with classic horror movie characters Freddy Krueger and Jason Voorhees from movie Friday the 13th. This is such a cool and creepy idea. You can recreate this look or choose any horror characters.
8. Purple and Green Eye Makeup with Spiders and Webs
Next, we have another spider makeup look to show you. This time the makeup artist has used a purple eyeshadow blend on one eye and green on the other. There is also spiderwebs on the outer corners of each eye and there is one spider too. We love the colors because they have a classic Halloween witch vibe and the spiders are super creepy too. This is a fun look that would be perfect for a party. You can check out what makeup was used on the page below.
9. Gravestone Eye Makeup
The next idea that we have to show you is very spooky! For this look, the makeup artist has created an orange eyeshadow blend. The eye makeup is complete with black gravestones and bats. This creepy design and the colors used are perfect for Halloween! It is another makeup idea that will require practice but it will be worth it. You can check out what products were used on the page below.
10. Pretty Eye Makeup with Red Devil Horns and Tail
One of the most popular Halloween costumes is the Devil and next we have a look inspired by the classic red devil. Her eyes have a glam blend of color complete with eyeliner and long lashes. The makeup is finished off with red devil horns and a tail. It is a cute and easy to wear look and it will be great as last minute makeup too.