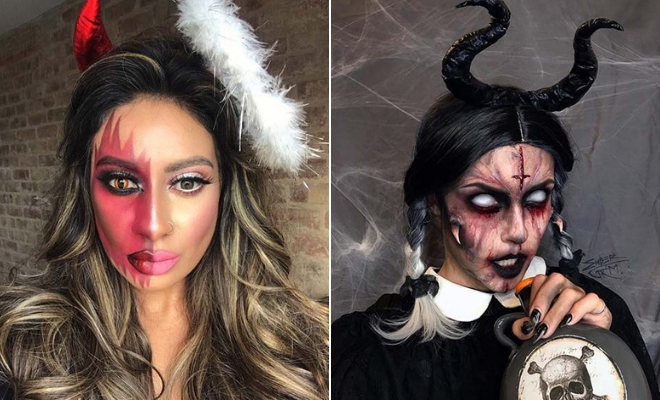 Instagram
Lifestyle
43 Devil Makeup Ideas for Halloween 2020
By
|
The devil is a scary and classic Halloween costume. It is no surprise that costumes inspired by the Prince of Darkness are so popular at Halloween because many of us have watched horrifying movies and have been terrified by stories too. So, to get you ready for Halloween, we have found 43 amazing devil makeup ideas. You will find frightening makeup, pretty devil makeup looks and more – there is something for everyone. Any of these will make you look devilish for any Halloween event. This is the perfect place for you if you want to give people a fright!
1. Classic Red Devil Makeup
First up, we have this red devil makeup. The makeup artist has painted her face and body red and the look is finished off with black makeup and horns. We love this idea because it is like a classic red devil. This makeup will be quite simple to recreate as the main element is the red face paint. Wear the makeup with a black dress and your Halloween costume will be complete.
2. Terrifying Illusion Devil Makeup
If you want to terrify people with your makeup this Halloween, then this idea could be perfect for you! Here we have devil illusion makeup. For this look, the makeup artist has made it appear as though her skin has ripped around her mouth revealing the devil underneath. She has finished off the makeup with very scary contact lenses and black devil horns. Makeup like this will be awesome for a party.
3. Half Angel, Half Devil
The next idea that we have to show you is one of our favorites because it is so creative! This makeup has a half design. One side of her face looks like the devil and the other side looks like an angel. This is such a cool idea because you get the best of both worlds – bad and good! To complete the costume, you could even have a half red outfit and half white outfit, too.
4. Horrifying Possessed Girl Makeup
When you watch movies about the devil they will often show scary possessions. This next idea has been inspired by this. Here we have makeup that features a bloody cross on her forehead, blood coming from her eyes, dark lip and eye makeup and horrifying contact lenses too. This look also has a Wednesday Addams vibe so it is like a mix up of Halloween costumes. You can recreate this or try the makeup with a different costume. There is also a full list of the makeup products used on the page below.
5. Half Skeleton, Half Devil
Next, we have a combination of two classic Halloween looks. This makeup artist has created half devil and half skeleton makeup. Her face is red with black contacts and one side of her mouth has skeletal teeth. One side of her body also has skeleton makeup. This is such a unique idea. You can recreate this or try a half design where one side is completely a skeleton and the other is a devil.
6. Simple Makeup with Devil Horns
Looking for simple and spooky makeup? If so, this idea could be perfect for you. Here we have devil makeup that is pretty and a little scary. The artist has created smokey eyes with red lips and has finished off the look with gory horns. You can check out the full list of products used on the page below but the horns were created with Ellimorph Plastic and were applied with liquid latex and spirit gum. If you bought the horns on a headband, then this would be a great last minute costume too.
7. Half Devil, Half Glam
The next makeup idea features another half and half design. This time the makeup artist has created a line down the center of her face and body. One side is glam and the other looks like a red devil. It is a pretty and devilish makeup idea where you can dress up for Halloween but also look beautiful too. The red makeup was created with Snazaroo face paint and you can check out all the other products that were used on the page below.
8. Bloody and Scary Devil Makeup Idea
This next makeup idea is so scary!! Her eyes and lips have dark makeup and the look is complete with gory horns, bloody hands and a star symbol on her chest too. Makeup like this will terrify everyone at any Halloween celebrations. The horns were made by the artist but you can find tutorials online that will show you how to create similar ones. You can also buy horns.
9. Creepy Devil Makeup with Crosses
If you want to go all out with your devil makeup, then take inspiration from this. This devil makeup ticks all the boxes. Her face is classic devil red, she is wearing contact lenses, there are upside down crosses, a cool illusion has also been used and the look is complete with a devil horn. It is a very creative and creepy idea. You can recreate this or paint all of your face red and wear two horns. This makeup was created with Mehron Makeup products and lenses are from Camo Eyes.
10. Scary Devil and Beautiful Angel Makeup Idea
Next, we have another angel and devil idea. This time one side looks like a beautiful angel complete with white hair and the other side looks a very terrifying devil with claws and a skeletal appearance. It is an amazing makeup idea and it captures the scariness of what the devil would look like. This is one of our favorites and something similar would really wow at any Halloween event.