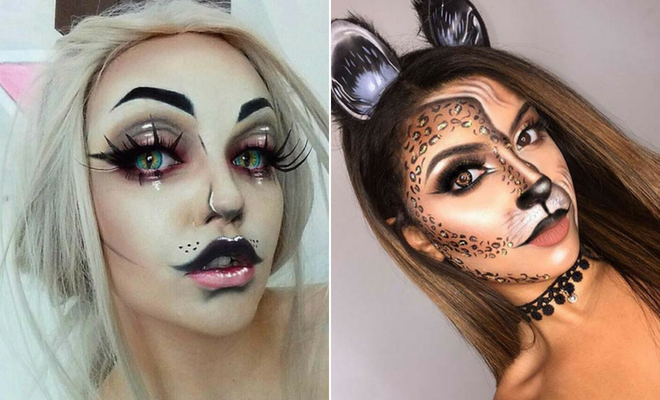 Instagram
Lifestyle
41 Easy Cat Makeup Ideas for Halloween
By
|
Cats are Halloween classics. We love cat makeup and could not let Halloween pass by without showing you the best designs. So, we have put together 41 easy cat makeup ideas for Halloween. There is an idea for everyone, from creepy cats to glam glitter cats. Any of these would look amazing for any Halloween celebrations, from parties to trick or treating with the family. Take a look and find your purrfect makeup!
1. Half Face Cat Makeup
First up we have this half feline design. Half her face is normal while the other half looks like a glam leopard. Makeup like this would be gorgeous for a party. Recreate the leopard look or use a different feline like a classic Halloween black cat.
2. Pretty Gold Cat Makeup
Next, we have a gold cat makeup idea. The artist has created a glamorous look by adding gold glitter to the cat design and by using a fierce feline flick on her eyes. Take inspiration from this and create a similar look or try using different glitter like silver.
3. Simple Cat Makeup
Want to wear cat makeup but don't want to go over the top? Then try a simple and cute design like this one. The look features eyes with a feline flick with a black nose and whiskers. Makeup like this is a great option if you don't want to try a complicated design. Also, it's a great idea for a last-minute Halloween makeup!
4. Sparkling Leopard Makeup
Our next idea is a stunning sparkling leopard design. The artist has used glitter to create a glamorous feline look. You can check out all the products used and a tutorial on the page featured below. This is an amazing makeup idea that will unleash your wild side this Halloween.
5. Pretty Halloween Cat Makeup
Creating a cat makeup look may sound difficult but you can actually just add a few extras to makeup you may already wear. Here is an example, this artist has pretty pink eye makeup that she may wear to a party and she has just added a nose, lip color and whiskers. Recreate a similar look to this one or create your own gorgeous eye makeup and cat combo.
6. Cat Face Makeup
One of the best features on a cat is their eyes. So, why not take advantage of this and create beautiful bold eyes like our next artist. She has made her eyes look larger and has used gorgeous lashes resulting in cat inspired eyes that wow. Try this design or add contacts for a unique look. All products used are available on the page featured below.
7. Glamorous Kitten
Next, we have a glam, chic and simpler cat design for you to try. The classic features are there such as the nose and whiskers but the eyebrows have been designed to look furry like a cat. This is a pretty idea, perfect for any Halloween party.
8. Cute Cat Makeup Idea
Our next pick features a cute cat makeup idea. The whole look is pretty but we love how the artist has managed to add red lipstick to the design. By adding red lipstick with glam eyes you get a stunning cat inspired look. You can recreate this look or try your own lip color and eye makeup style.
Check the video tutorial down below!
9. Crystal Cat Makeup
Looking for unique cat makeup? Then this idea is for you. This look features the cat classics like a black nose and whiskers but this one also has sparkling gems. Gems makes the traditional cat look so much trendier. We love the ones that look like fangs. You can create any crystal cat look, use this as inspiration.
10. Creative Kitty Makeup Idea
Next, we have a creative kitty idea. The artist has not used the classic black nose, mouth and whiskers. Instead she chosen red lips, brown nose and eyes with amazing lashes. All these elements create a unique and stylish cat design that will wow at any Halloween celebrations.